A Perfected Timeless Design
Steve Kovacs 1987 T-II RX-7
Words: Ray Wu
Photos: Ethan Caldwell
Discuss this car on the forums by clicking here!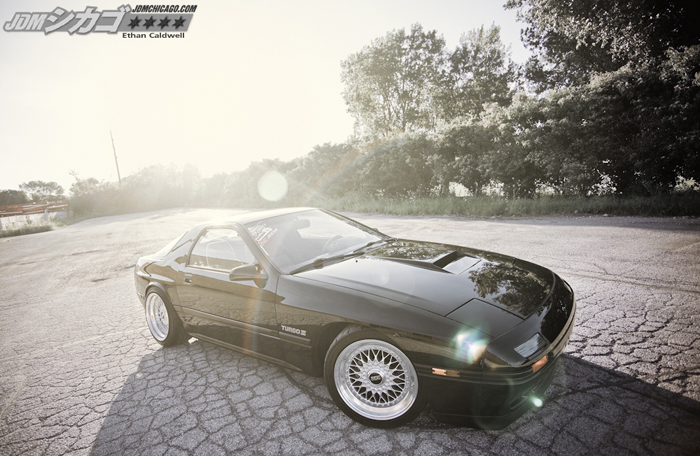 Innovation. One of the few words that raise eyebrows in the field of engineering. In Mazda's case, before they were embraced by the American public as merely "zoom zoom" they were known for one thing: their Wankel rotary engine. This innovative piece of engineering has less moving parts than a piston engine resulting in superb reliability, an impressive performance-to-weight ratio, and a very distinctive noise. Mazda had a tendency to offer rotaries in every car they made up until the oil crisis in the 70s. From that point on, the Wankel rotary would be reserved only for Mazda's flagship sports car. Introduced in 1979, the original RX-7 was renowned for being nimble and capable of outperforming cars such as the Porsche 924 while retaining comfort and reliability. Mazda brought further innovations on their second generation RX-7 which was known as the FC. Innovations include four wheel steering and an intelligent single turbo that acted like two. The suspension was completely overhauled from a live axle setup. The end result was a light and powerful car – especially in Turbo trim. The car was so impressive that it collected the Motor Trend Import Car of the Year in 1986 and appeared in Car and Driver's Ten Best list in 1987. On top of such massive success as a road car, the RX-7 would dominate the racing scene in the USA on multiple fronts. Rod Millen in his AWD RX-7 won the SCCA Pro Rally championship, finishing every single stage in every rally that year. The RX-7 took consecutive titles in IMSA GTU's class from 1980 to 1985, eclipsing the benchmark of all sports cars – the Porsche 911. In the course of a decade, the RX-7 had become legendary. Mazda wasn't merely "zoom zoom" during the 1980s; Mazda was a manufacturer dead set on creating the perfect sports car and made sure that it was no secret.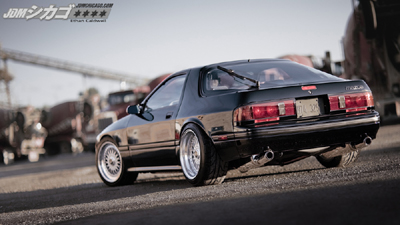 Today the RX-7 enjoys a vibrant owner base. While big block V8 swaps and drift-spec RX-7s show how versatile the Mazda design was; finding an unmolested FC is starting to be a challenge. Rather than mindlessly installing trendy accessories or going through a typical drivetrain swap, Steve Kovacs decided to pay homage to the RX-7. After finding a completely stock RX-7 Turbo II with only 45k original miles, Steve ordered a set of BBS RS wheels and Stance GR+ coilovers. With a few replacement parts and preventive maintenance, his RX-7 was mostly finished. Unfortunately, Steve's RX-7 would see itself in an accident when a driver lost control of their SUV, slamming into the RX-7's side.
After the accident, Steve faced a dilemma: he could either part ways with what used to be a pristine RX-7 Turbo, or he could repair the damage himself. From the ashes of a nearly lost FC, Steve rebuilt his RX-7 that pays homage to the original design, but also has a few modern touches as well. From his own garage, the twisted body was pulled back into shape. The rear quarter panels were pulled an inch outward providing an aggressive crease in the bodywork that looks like it came from the factory. Afterwards, a layer of primer was put down to be followed with four coats of Factory Pack Black. With the exterior fully repaired, Steve's goal of crafting a modern, simple, and aggressively stanced FC began. The exterior was exempt from unnecessary gaudiness. The only modifications were a Series 5 FC's taillights and a Volvo 740 Turbo front lip.
The stance was built upon the Stance GR+ coilovers that were undamaged from the accident. A rear camber adjustment kit was added to keep the tires in efficient contact with the road. The original set of BBS RS wheels fitted Steve's RX-7 perfectly before, but the much wider rear end necessitated a more aggressive rear set. 17×10.5 inch wheels were fitted in the back while the 17×9 inchers were kept up front. Before being shod in Dunlop Direzza Sport tires, the wheels were polished and finished to perfection.
Underneath the engine bay, the 13B was left mostly stock with simple modifications and bolt-ons providing the extra oomph. The fuel system was updated: dual 750cc injectors provide extra juice fed from a Walbro 255 fuel pump. The stock turbo was retained while other components found their way into the engine bay. A freer flowing Racing Beat Rev-II turbo back exhaust was added. The wastegate opening was ported out to 35mm while a flapper door was added to prevent boost creep. A Hallman manual boost controller gives Steve the ability to keep the turbo running at 11PSI – 1 under its max rating. An ARC blow-off valve rounds off the turbo improvements. Controlling everything is a modified stock ECU with a RTek v1.7 chip. In order to stop the car after the increase in power, new Powerslot rotors and Hawk HPS pads were installed.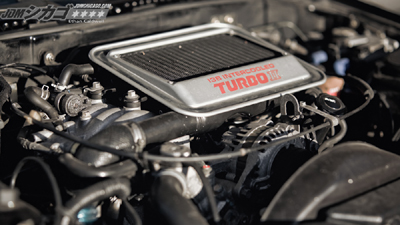 The inside was left nearly stock. A Momo Monte Carlo replaced the stock steering wheel. An RE Amemiya shift knob, Broadway mirror, and new shift/e-brake boots rounded off the changes. Autometer ES boost and oil pressure gauges allow Steve to keep tabs on the 13B's vitals.
After pouring blood, sweat and tears into his RX-7, Steve can be seen driving his beloved FC on a daily basis. Big block engine swaps and stripped drift cars have become the norm for FC RX-7s causing Steve's car to look understated. However, that is far from the case. His clean and unadulterated FC pays homage to one of the most memorable sports cars ever imported from Japan. There are no carbon fiber pieces, aftermarket bucket seats or a giant GT wing. Despite the lack of those parts, Steve's car is faster, turns harder and stops quicker compared to a stock FC. The car sits aggressively low while the body lines give the impression that the car came from the factory as is. Despite the rather modest amount of modifications, Steve's FX-7 is rarer than you'd think.
But without certain people, this project would have never come into fruition. For their help and support throughout various stages of his project, Steve would like to thank his father Ken for doing the bodywork repairs, his buddy Derek who helped with clear coating the car, Glen for lending him a fender roller, his brother Rick in helping with the wastegate modifications and offering sound build advice, Nick from THMotorsports and Vinny from his House of Destruction for providing the perfect parts and services.
-JDM Chicago
Gallery (click thumb to expand):
Comments
comments