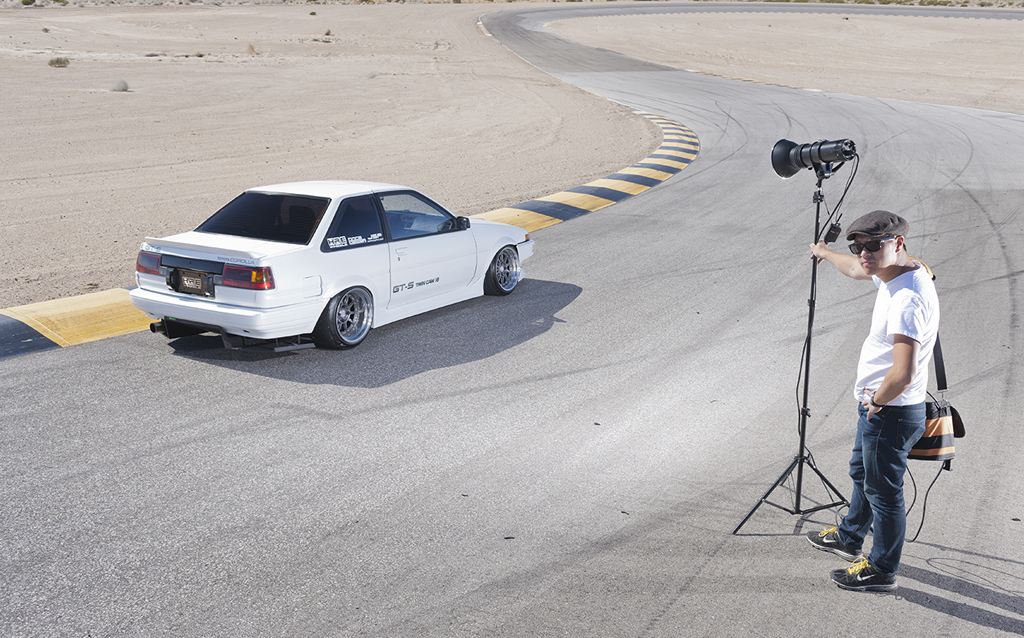 (Above "behind the scenes" shot supplied by our friend Nate Hassler)
I've been wanting to post up some helpful hints for up and coming automotive photographers for awhile, but never had time until now. This is just some basic shit that people don't seem to get. When we were starting out, constructive criticism (CC) was  highly appreciated.  In fact; if you look at our older features on JDMC, we seemed to have done everything backwards. haha! Luckily, we all helped each other out along the way and improved with time.  Some of the guys on our staff are now shooting for print magazines, being flown out for private shoots, commercial work, etc.  My point is- there is hope!
Today it seems as if everyone has some basic DSLR and are either delusional, or don't want to accept any feedback.  With social media and everyone looking for that instant gratification, many of the basics are getting lost. It's like when someone builds a terrible car and calls everyone haters for not liking  it.  Again, this write-up is just some basic stuff. I don't claim to to be the world's best photographer, but there is still some good advice here that you can hopefully use.

1. Details- If you're going to spend time on an edit, consider cloning out light poles, bushes, random people, etc. that are growing out of the car. This never looks good. You also want to remove/clone out random garbage, etc. in the photo. (I'll be lax on this rule if the shot is for an event and you are batch processing). 
2. Crazy Reflections- Use a circular polarizing filter. Don't have one? Get one. I know some reflections are cool and can work, but I don't want to see your tripod and yourself in the photo. Also, sometimes a minor reposition of the car can help reduce your issues.
3. Tripods at outdoor daytime events- why?
4. Signatures/watermarks- It's not a good thing when your "xxxxxxx photography" company logo is fancier then your cell phone shot.
5. Out of Focus shots- Why are you posting these? They should be in your garbage bin.
6. Shooting @ Loading Docks- OK. EVERYONE has done this at one time or another. Now you know it's time to move on.
7. HDR- Only a few people I know can do LEGIT HDR. HDR has a bad wrap because people have bastardized this technique. Step away from the HDR Button.
8. Ultra Wide Angle Addiction-  I'll admit I thought I was a true boss when I picked up my first UWA lens. Although distortion can give a cool effect at time, I see the opposite happening. For example, let's not make someone's wheel gap look 10x worse then reality.
9. Photoshop Flare-  Flare can add some drama to your shot, but please stop using the default photoshop flare filter! It looks super fake 100% of the time. This rule also applies to other techniques such as using smoke. It can work, but practice on making it look real.
10. Rolling shots- This is probably a bit more advanced, but a proper "roller" should look like the car is moving. So please stop shooting at like 1/1000.
11. Calling yourself a PRO- My good friend Jeremy Cliff said it best. "I'm 110% positive that if most of the new photogs spent as much time on practicing photography as they do promoting their FB/ IG/ MySpace/ Stickers/ Banners/ Patches/ More stickers/etc,  (and took some real CC ), they'd all be pretty good."
Thanks for reading and look out for part 2- "Vignetting isn't the answer."