Hot in Pink
Albert Fung's 1995 Nissan Skyline R33 GT-R
Words: Ray Wu
Photos: Jeremy Cliff @ the Photomotive
Discuss this car on the forums by clicking here!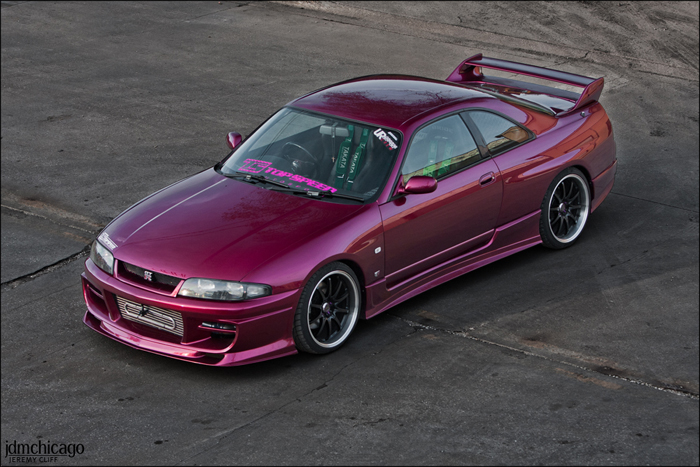 It takes quite a bit for an owner's car to grace the pages of any publication in a car-related scene. While it is true that there are many roads one can take in getting their car mentioned in a magazine, all are pretty difficult. An owner could develop his car into a dyno beast, pushing out 1200HP to the wheels while driving it to work every day. Or they could choose to display their mechanical aptitude by doing things such as fitting a Corvette drivetrain into a little Civic. Perhaps the owner would like to take yet another route and attempt to get their car featured by pushing boundaries. After all, the push to hellaflush sexiness was owners pushing the boundaries of how low a car can go while rocking legit kicks. So if one was to judge what Albert Fung was shooting for in his hot magenta R33 GT-R, they would probably claim that he chose the last route and decided to push the boundaries with a vibrant visual attack. But they'd be wrong, for this car's uniqueness is more than just skin deep.
When Albert purchased his car back in 2006 from the marketing manager of HIN, he formulated a plan of how his future show car was going to be like. Unfortunately, times have changed and with the economy on the down, Albert thought better of the JGTC wide-body, 1000HP build he had in mind. In fact, when the economy took a dump, the poor GT-R found itself sitting in Albert's garage, hoping and praying that it wasn't forgotten. Needless to say, when Albert got bit by the bug again, it was time for the plan to be put in action, albeit in a slightly altered way.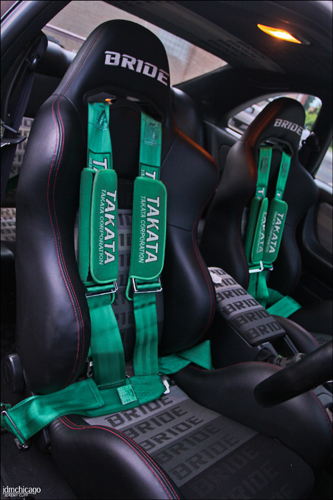 Inspecting the GT-R that's been finished in House of Kolor's Magic Magenta is akin to inspecting Hyori Lee in a bikini – you just can't stop staring! The ingredients for this exquisite gawker-attracting car include a Do-Luck body kit that was treated to House of Kolor's three-stage paint process, completed at DTM Autobody in California. Other subtle changes such as LED taillights act as garnishes for the tastefully finished exterior.
Sliding into the Bride Ergos 2 seats, drivers are greeted with a Personal steering wheel that rests on a Works Bell quick release hub. Takata seat belt harnesses keep the driver in place. Any shifts in the driver's eyes will result in a barrage of Bride fabric located throughout. The headliner, door panels, center console, shift boot and even the rear seats were completely reupholstered with exclusive Bride fabric. With the rest of the interior looking and feeling racy, a Pioneer head unit keeps Albert entertained while goodies from Blitz including a boost gauge, boost controller and turbo timer allows Albert to extract either maximum performance or maximum efficiency out of his GT-R.
Underneath the hood lies the infamous RB26DETT, which Albert had completely rebuilt with new pistons, rod bearings, cam shafts, oil pump and the like since the car's history wasn't as clear as Albert would like. Aftermarket performance parts include a Greddy intercooler which boosts turbo efficiency. Also lending a hand in improving the twin turbo's potential were HKS wastegate actuators which utilize larger diaphragms, decreasing spool-up time. A Fujitsubo catback exhaust system allows for freer flow of spent gases. Lastly, Albert had the valvetrain ported and polished to remove any gunk and improve the flow entering each of the cylinders.
Car handling was originally reliant on a set of HKS Hipermax II coilovers, but Albert found these to be too rough for daily driving on Chicago's streets. A call to Top Speed resulted in securing a set of Tein Comfort Sport coilovers, which have helped to keep Albert's spine intact. The car rests on a set of limited edition 19×9.5 Volk LE28N wheels finished in gloss black, which have been shod in 265/30/19 Falken 452 tires. This setup not only gives the car a nicely lowered stance, but the package offers handling prowess that is widely usable in Chicago's harsh roads.
While the car seems wild enough as it stands, Albert has plenty of plans for the future. A single-turbo conversion involving goodies from Top Speed's R34 GT-R including the HKS T04Z and AEM EMS are in the works. Regardless of what the future might hold for Albert's GT-R, its present state deserves admiration and praise. Despite the extremely loud Magic Magenta exterior, Albert's car isn't just a car that has been modified for the sole purpose of making it onto magazine covers and various websites. This GT-R has been perfected into a rare and unique car that can handle Chicago's rough roads and the twisties while still turning heads. We look forward to seeing how Albert's project progresses in the next few years as it will surely impress.
Albert would like to give a shoutout to all of those that have helped him with this project: Justin from Another Level, Joey and Mike from Top Speed and Ming from Fizz Autosports have all contributed in perfecting a bright pink gem roaming in Chicago's streets.
-JDM Chicago
Gallery (click for high res):
Comments
comments