Photography by Daean Chase.  Connect to him also via Facebook.
Kyle Roberts was not that typical kid who dreamed of owning a Lamborghini or Ferrari.  Something about the boxy lines and lack of sex appeal struck a chord with Kyle. This particular FXT is actually Kyle's 5th Subaru and quite possibly his last.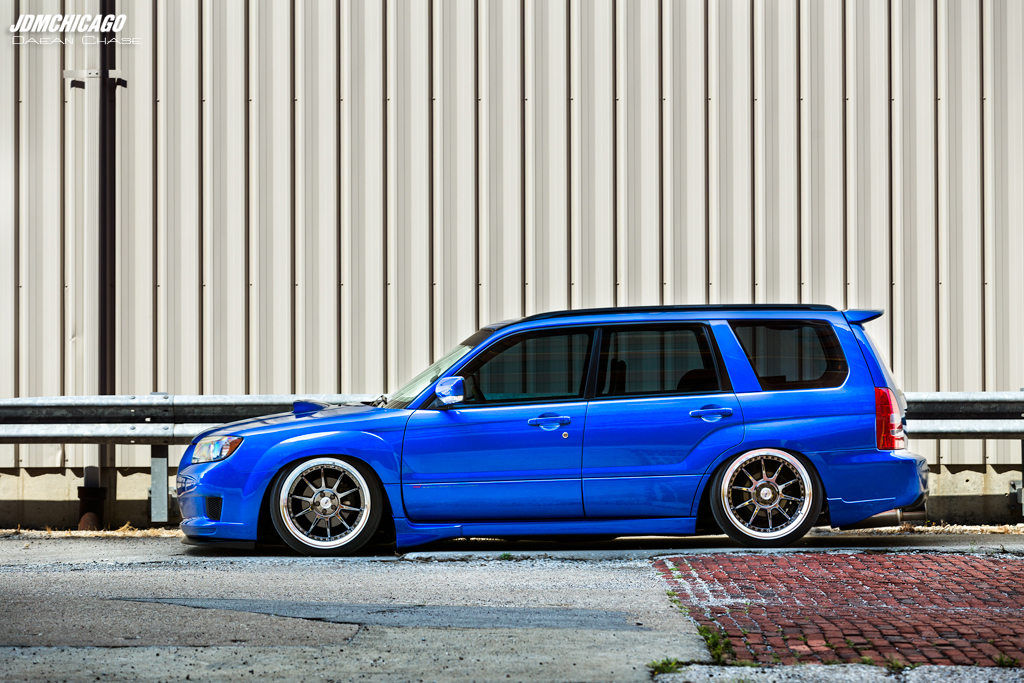 Kyle knew that he would one day own a Forester, but it took several years of research and searching to find this gem.  He almost gave up at one point; but as luck would have it, he was able to snag a relatively clean (and stock) example from Norcal.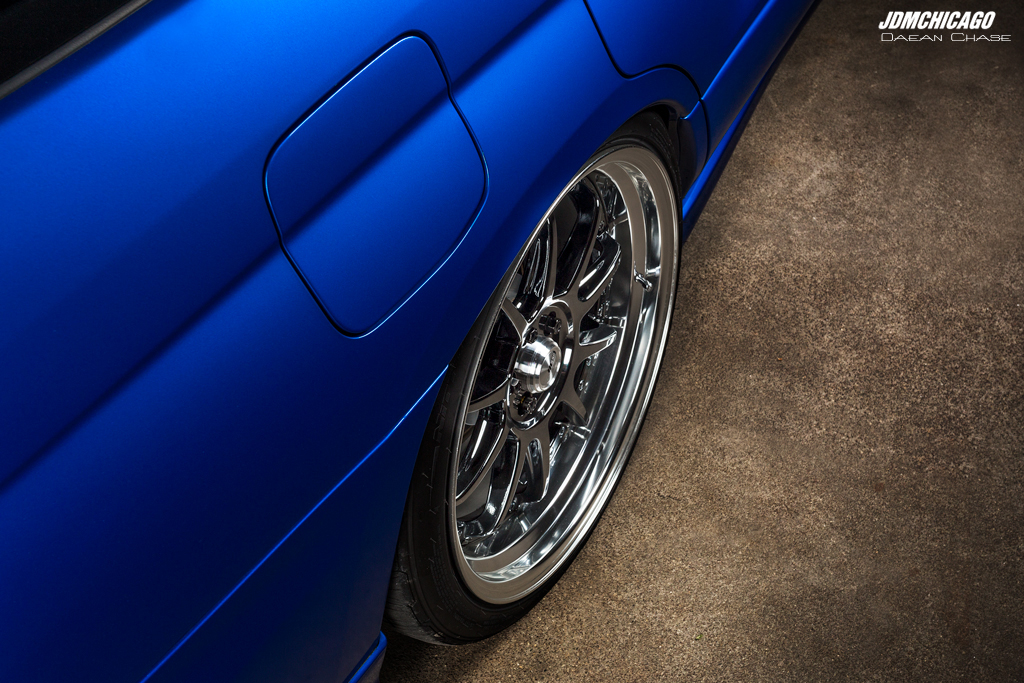 Kyle didn't want to take any chances, so he booked a flight to San Jose immediately after the seller agreed to his verbal offer. He was also excited to finally take that cross country trip  he had been planning for years.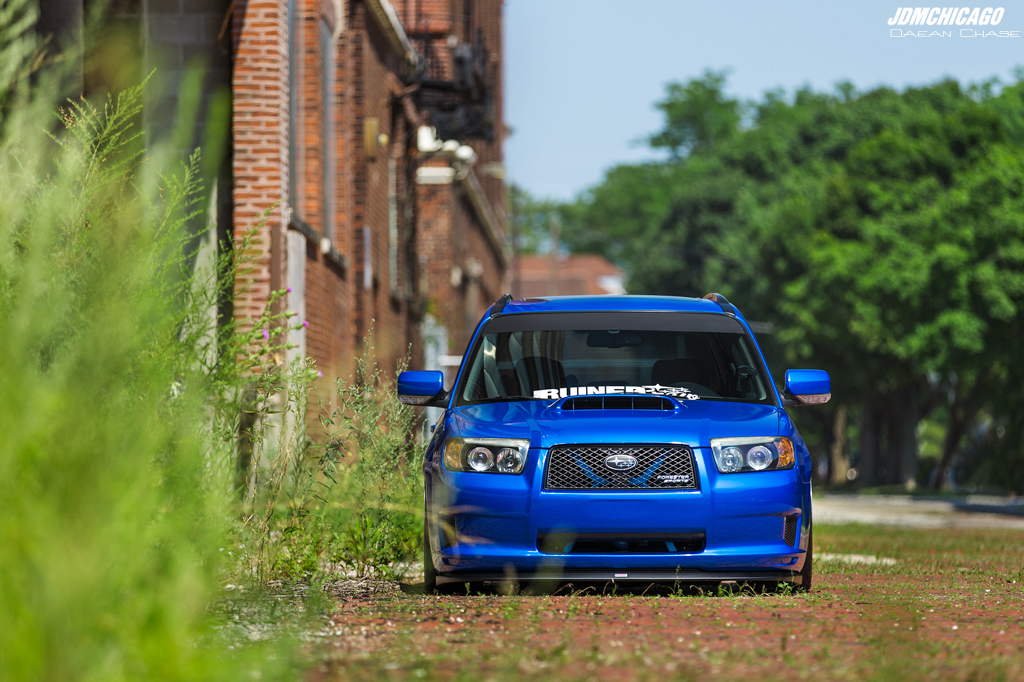 2,095 miles later, Kyle arrived at home and started to modify the car within 10 minutes of parking. He had some LED's laying around and an old shift knob that luckily matched the FXT's thread pattern.
Since then, Kyle has added a full Airlift Suspension system. He also went with SSR SP3's and tweaked his alignment to get that perfect fender kiss.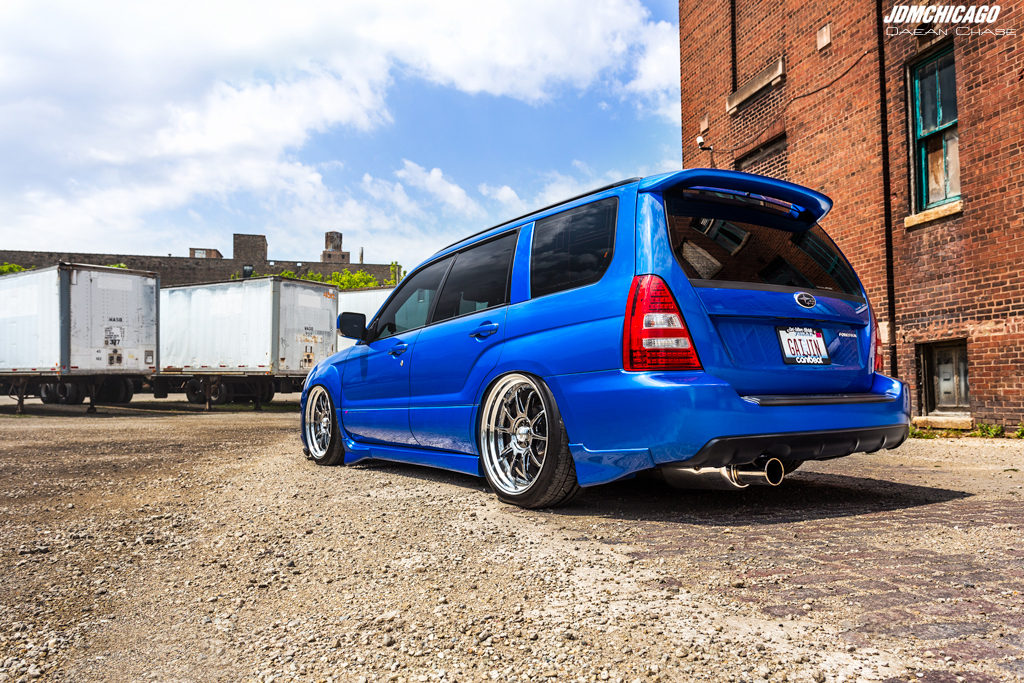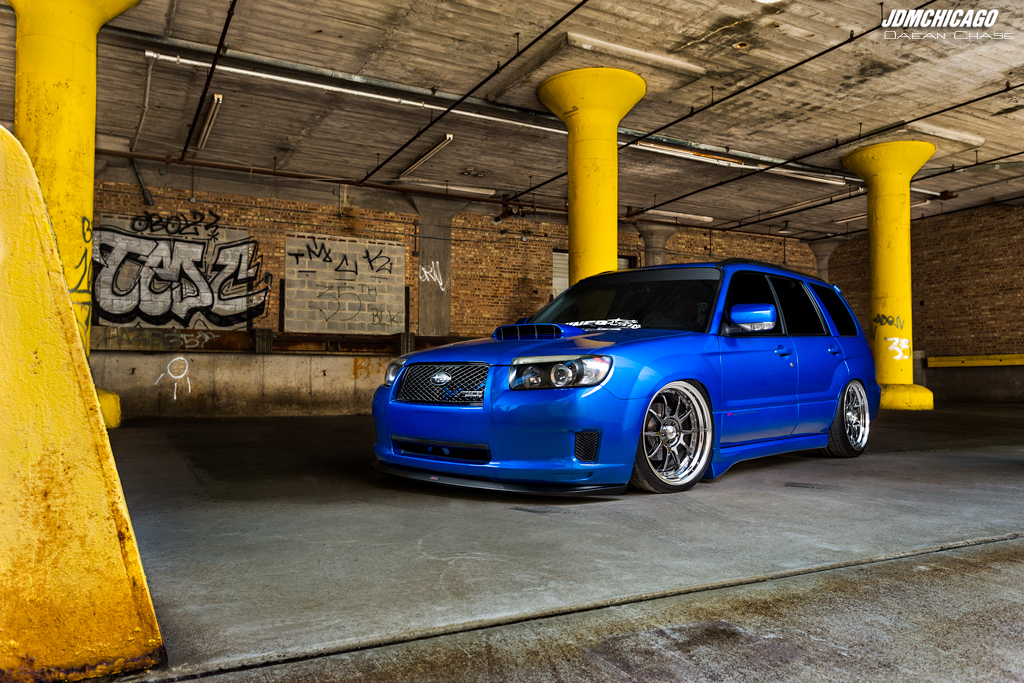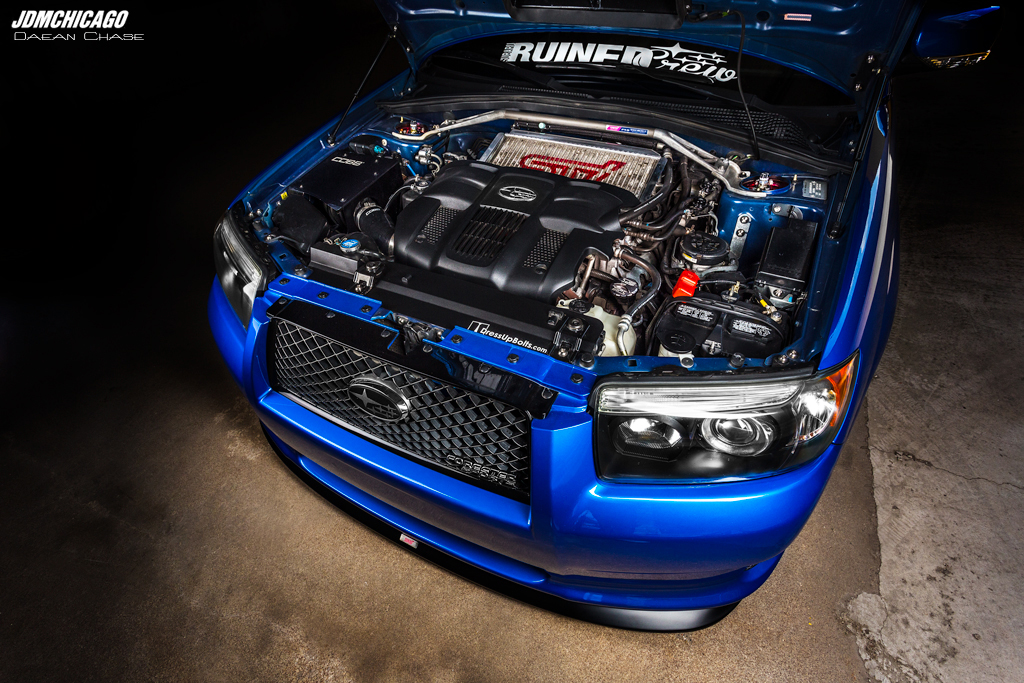 Some light performance modifications were also added to the car as well as some aesthetic dress-up parts.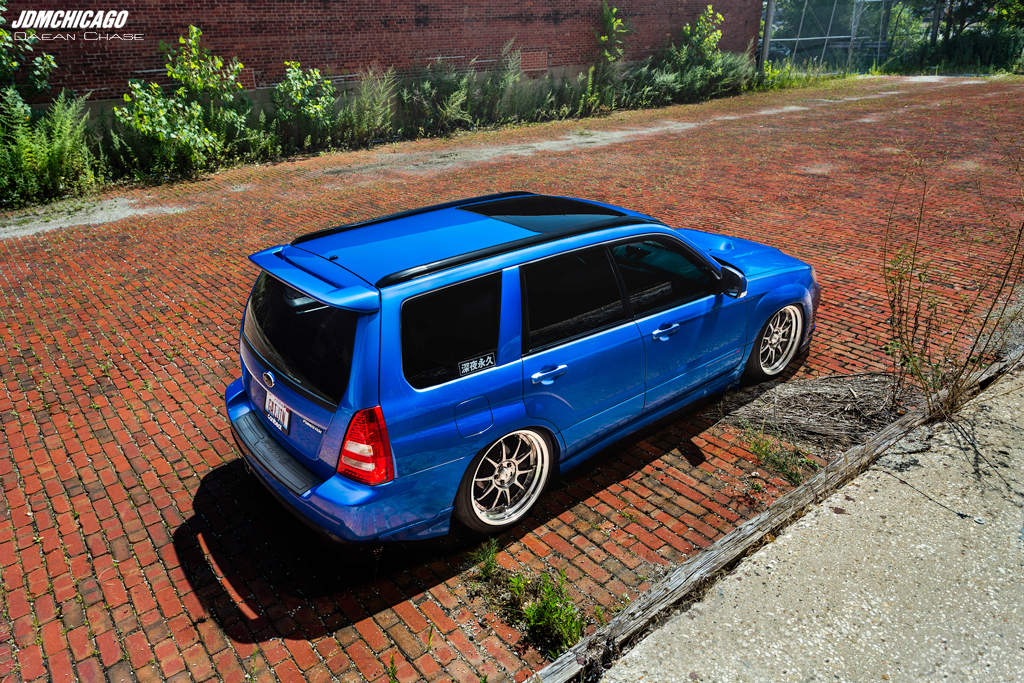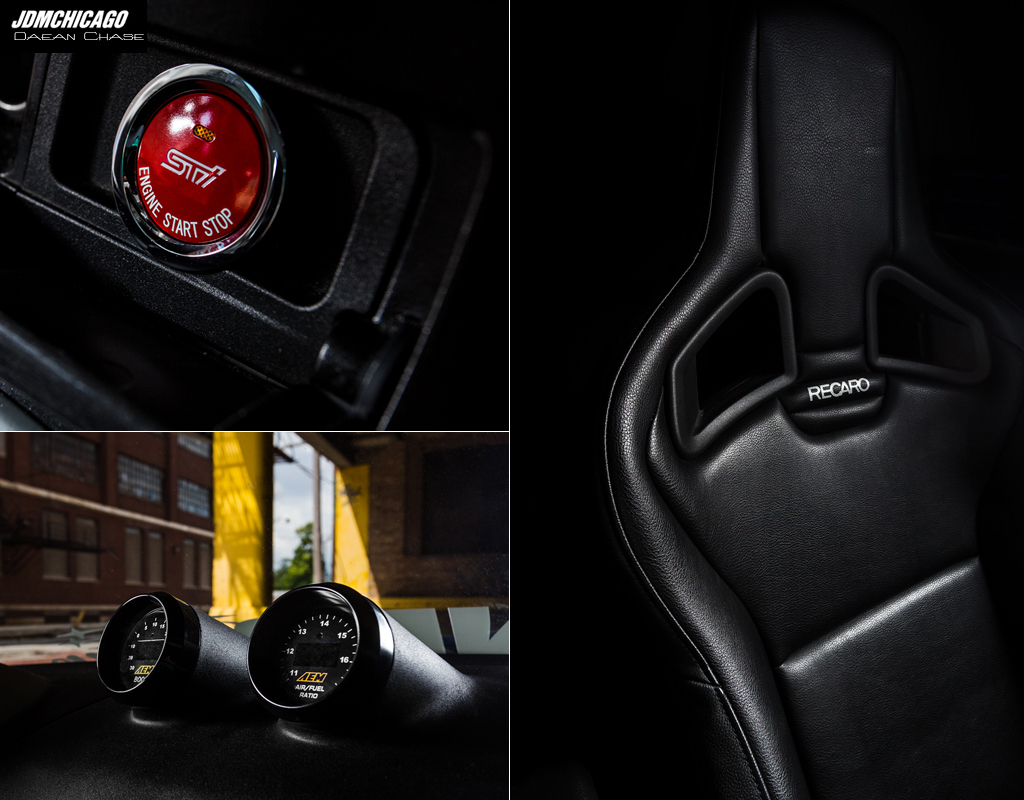 Recaro Sportster CS seats are one of the nicer reclinable aftermarket seats and fit his interior nicely.  There may be some more subtle change later this year, but for now Kyle is fairly happy with the car and his choice in modifications.  See the entire mod list below:
2007 Subaru Forester XT Sports
Engine
-STI TMIC
-Cobb SF Intake
-Cobb Post MAF Intake Hose
-Cobb Access Port
-SYMS Catted Down Pipe (V-band)
-Invidia G200 Cat Back Exhaust (V-band)
-SPT Heat Shield
-Torque Solutions Pitch Mount
-Subtle Solutions Radiator Shroud
-Subtle Solutions Hood Struts
-Dressupbolts.com Dress up Kit
Transmission
-ACT HD Clutch
-ACT Lightweight Flywheel
-Kart Boy Short Throw Shifter
-Kart Boy Polyurethane Mounts
Interior
-Recaro Sportster CS Seats
-Oem Black Leather Rear Seats
-STI Cluster Swap
-JDM STI Push Button Start
-Advance Keys Push Button Start System
-Clarion NX603 Headunit
-Ortiz Clock Gauge Pod (Designed by me)
-AEM Digital Boost Gauge
-AEM Digital Wideband
-Blox 490 Shift Knob
-LED Conversion Interior Lights (Natural White)
-LED Conversion Dash Lights (Red)
-DAMD "D" Shaped Steering Wheel
-3m Brushed Black Vinyl Wrapped HVAC
-STI Shift Surround (06-07)
Exterior
-Retro Fit Headlights
-OEM STI Hood Scoop (02-03)
-OEM Tail Lights (03-05)
-OEM STI Door Vinyl (04)
-OEM Forester STI Front Lip
-OEM Forester STI Side Spats
-OEM Forester STI Rear Spats
-Screate LED Tail Lights
-3m Matte Black Trunk Trim
-AutoCity Vinal Badge Overlays
Wheels
-SSR SP3 (19×9.5 +43)
-Nitto Invo Tires (245/35/19)
-Project KIK Lug Nuts
Suspension
-Airlift Suspension
-Autopilot V2 Air Management
-Cusco Power Brace
-STI Spec C Strut Bar
-STI Aluminum Front Control Arms
-Subtle Solutions Fender Bracing
Comments
comments