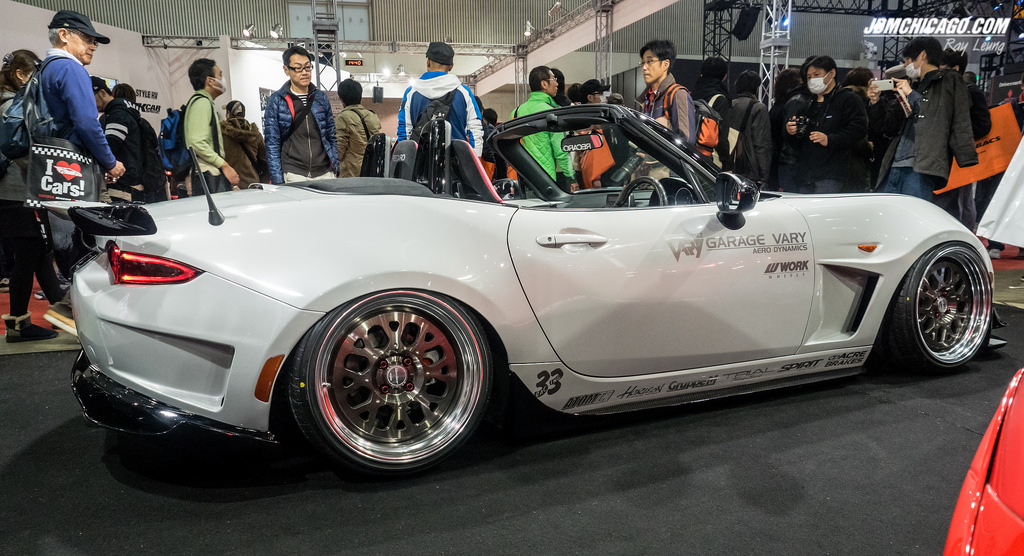 Back in 1989, Mazda debuted their first affordable "fun to drive" roadster dubbed the Mazda MX-5 Miata (aka Eunos Roadster in Japan). When the car debuted at the 1989 Chicago Auto Show, no one could have envisioned a 25+ year run and almost cult-like following.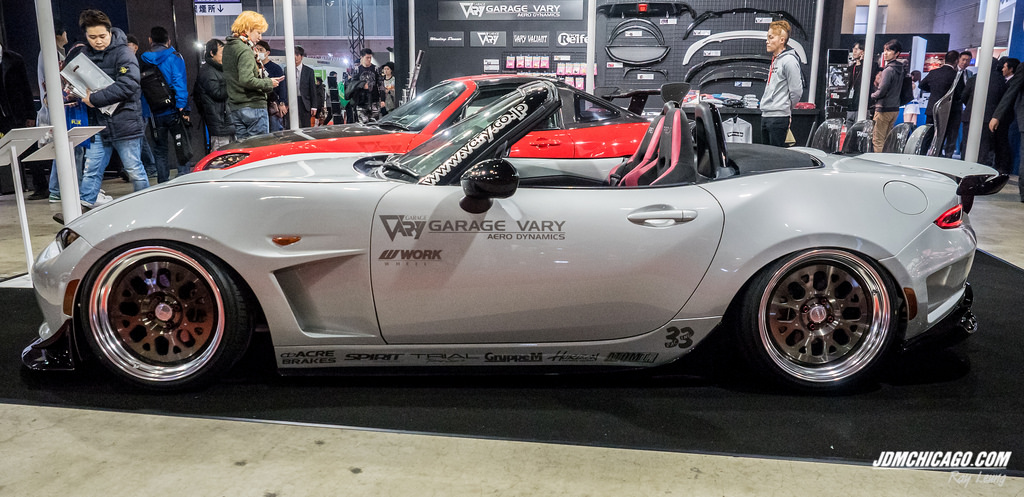 Fast forward 26 years later and what we see here is the 4th generation Mazda MX-5 (ND platform).  With a curb weight of 2332 lbs; The US spec 2.0L engine's HP/TQ near equal to each other at 155hp/148 lb-ft. The power to weight ratio makes this car quicker than its predecessor, and potentially a fighter for rivals like the FRS/BRZ.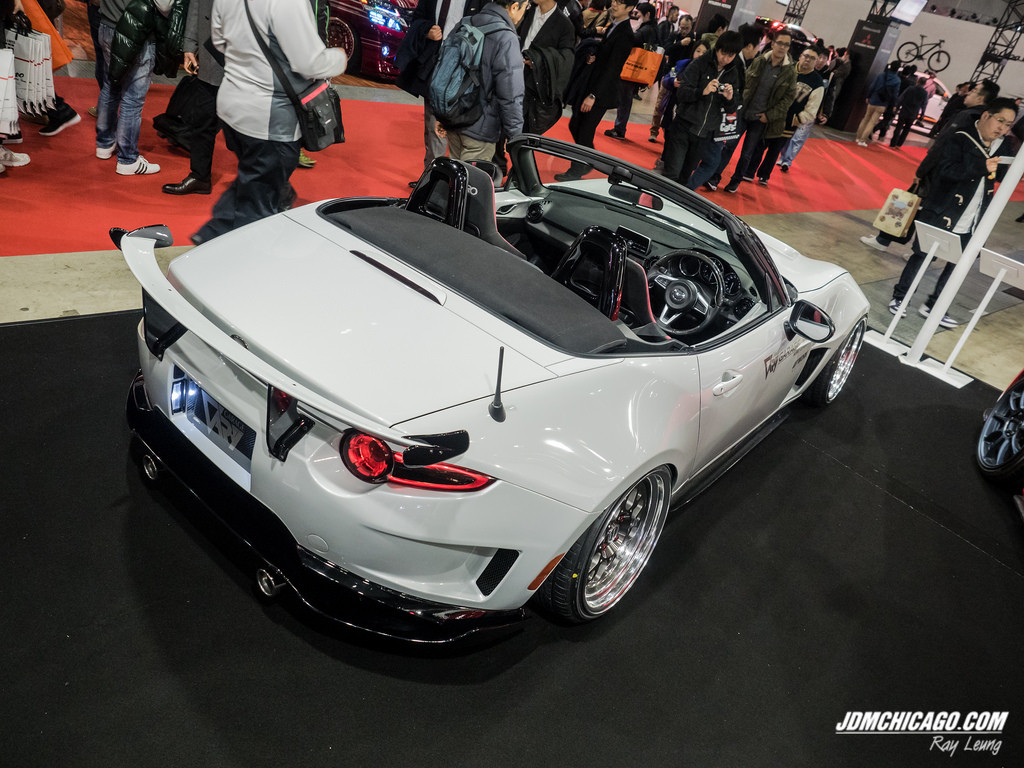 With its sleek looks and off the shelf performance, the aftermarket embraced this little car as demonstrated at this year's Tokyo Auto Salon. I personally counted over 14 Miata's on display with various body kits, lip kits, interior parts,  and exhaust systems.  Additionally, there were several new 4×100 wheels made specifically for this car.  With only 9 months since the car was released in Japan, there is already a healthy list of parts ready to be purchased.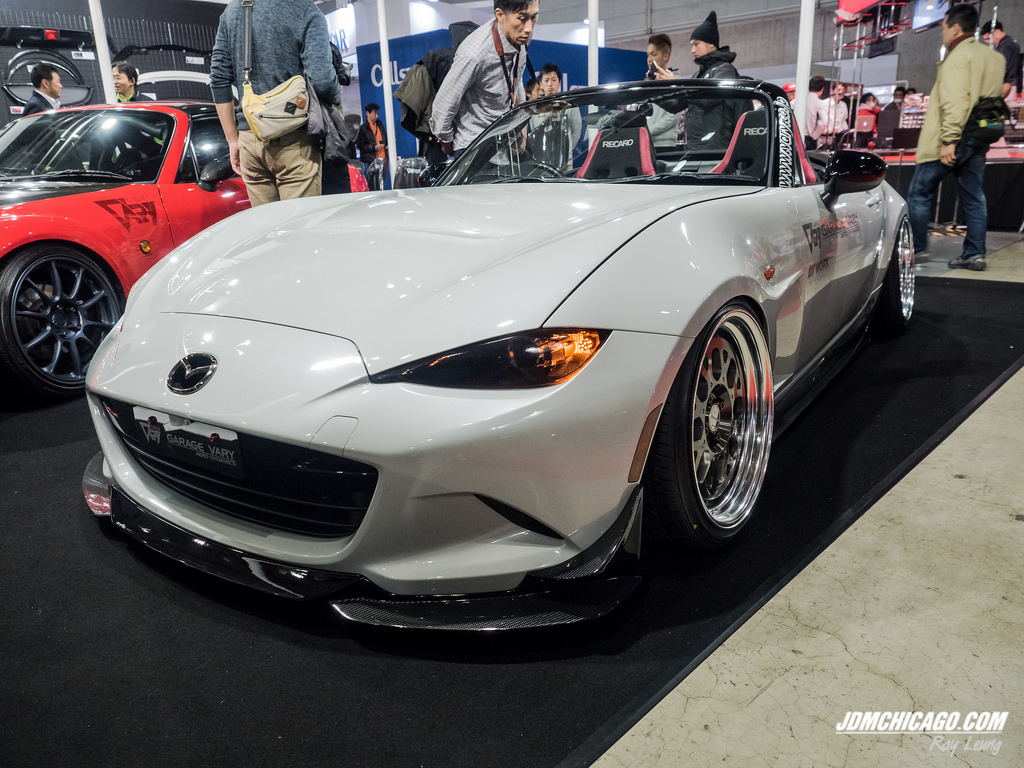 If people were following the trends in the last 3 years, everything was about "stance" and over-fenders. There wasn't a lack of that with companies like Aimgain and Greddy/Rocketbunny/Pandem releasing their typical bolt-on fender affairs and wild spoiler selections.  In my opinion, this was cool 3 years ago when the reboot of Kei Muira's "Rocket Bunny Style" hype was released on the FRS/BRZ, but for some reason that didn't appeal to me this time around for the new ND Miata.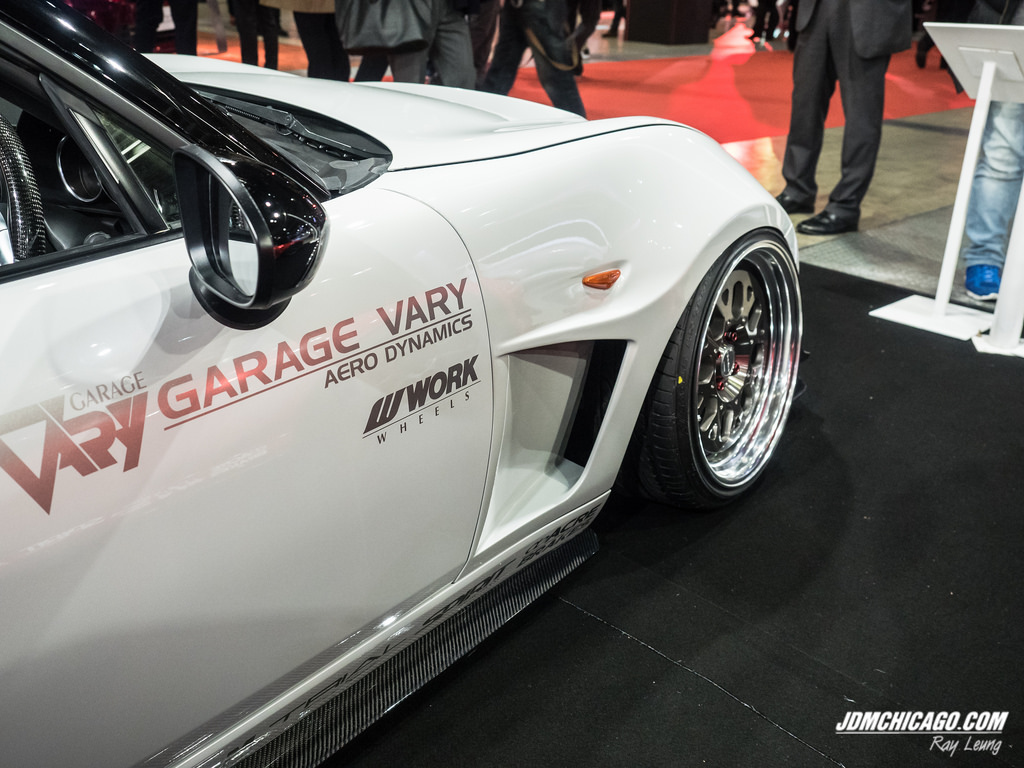 Garage Vary's ND Miata kit was one of the highlights of TAS. I honestly do not see any flaws.  The aero kit wraps around the curves on the ND Miata as if it was designed by Mazda themselves.  Special care and personal touches really struck a chord with me.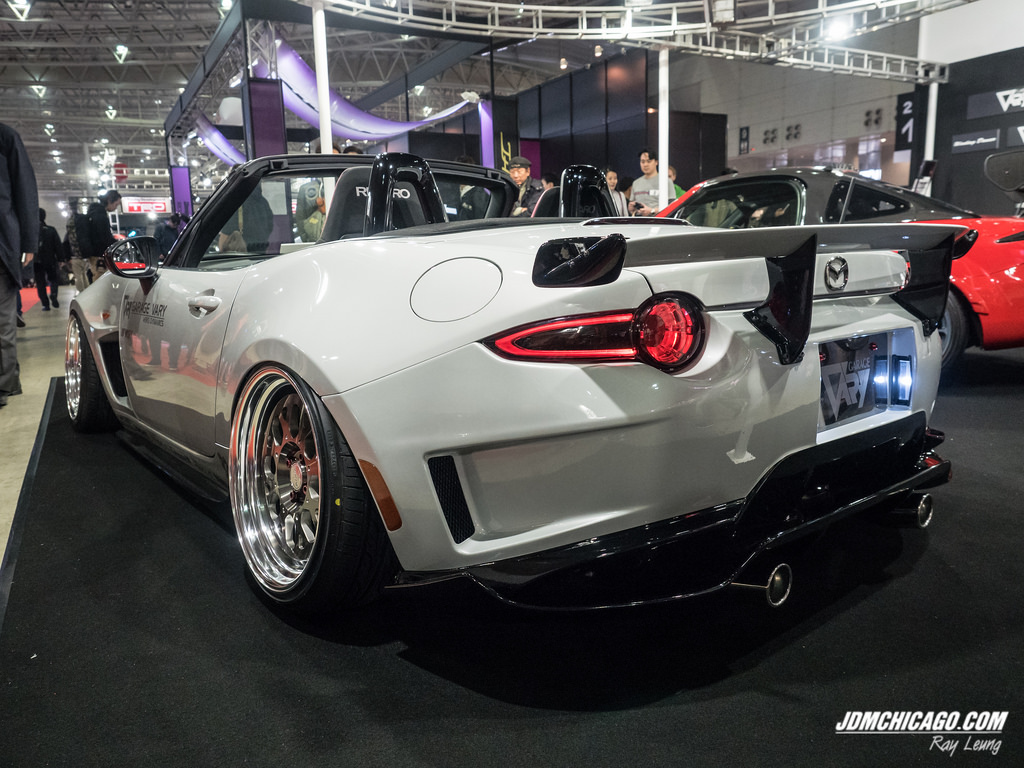 I loved the built in canards on the lip kit and the location for the rear plate.  The location shifted up allows for a huge diffuser to be mounted below it, giving that half cut bumper look to it and that ridiculously sleek looking bumper mounted spoiler with what looks like special directional end plates.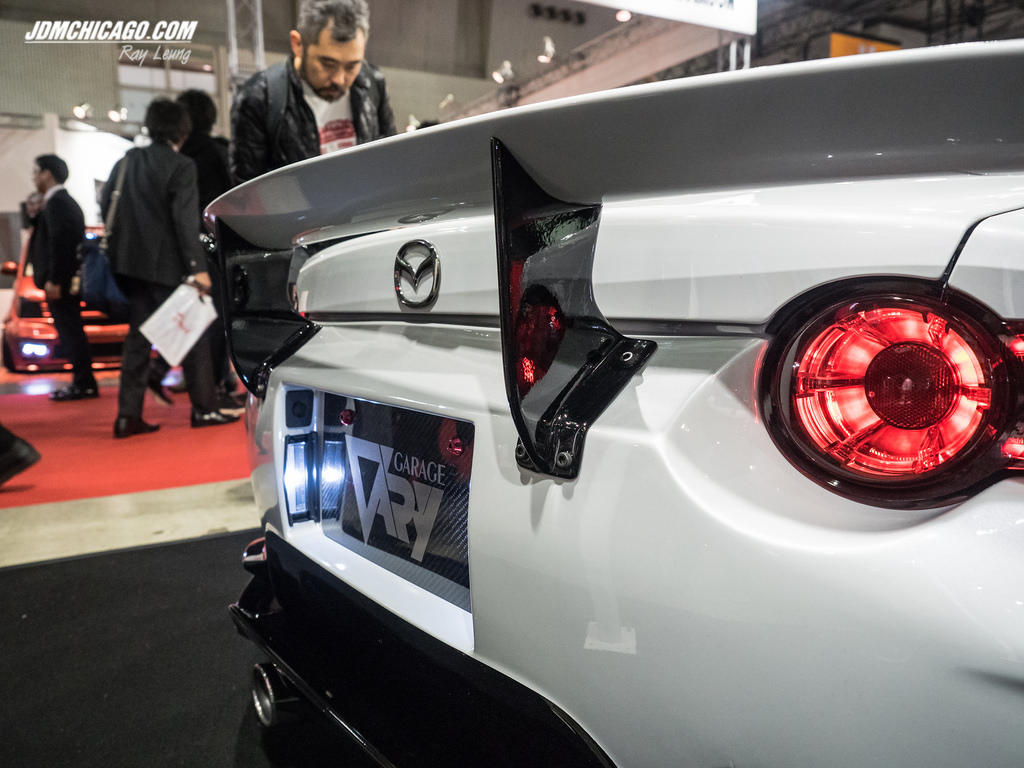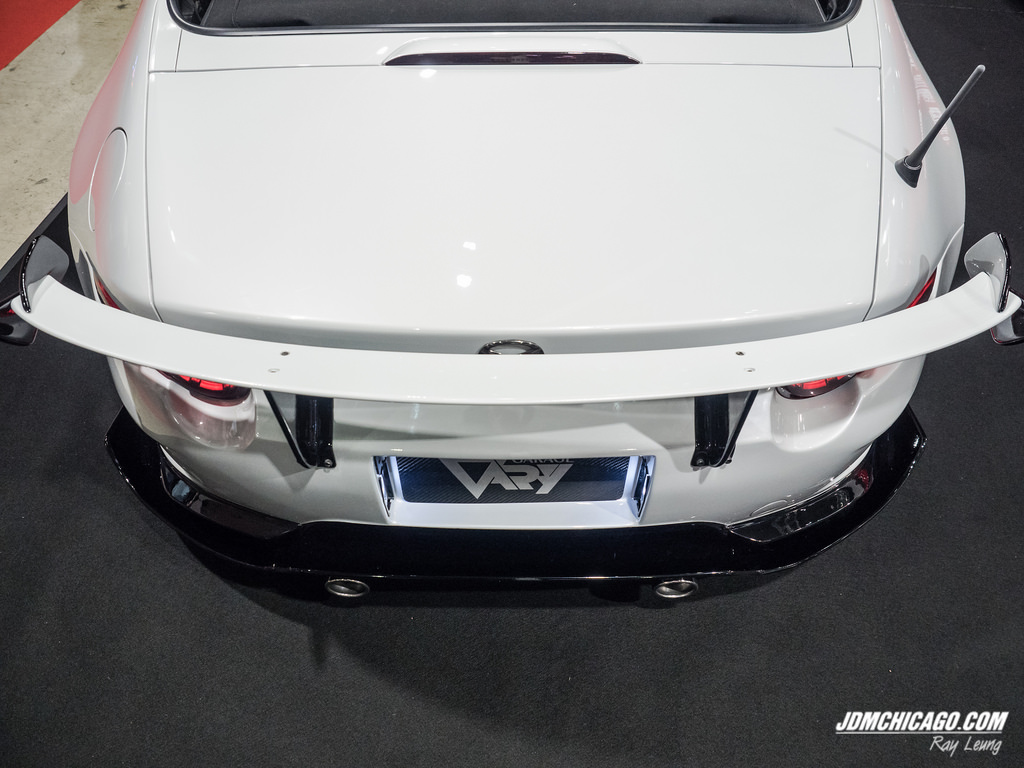 I spoke briefly to the owners of Garage Vary about the wing. They mentioned it was a last minute addition and they will be testing that setup on a circuit very soon to see how well the wing holds up to higher speeds and if any tweaks will be needed.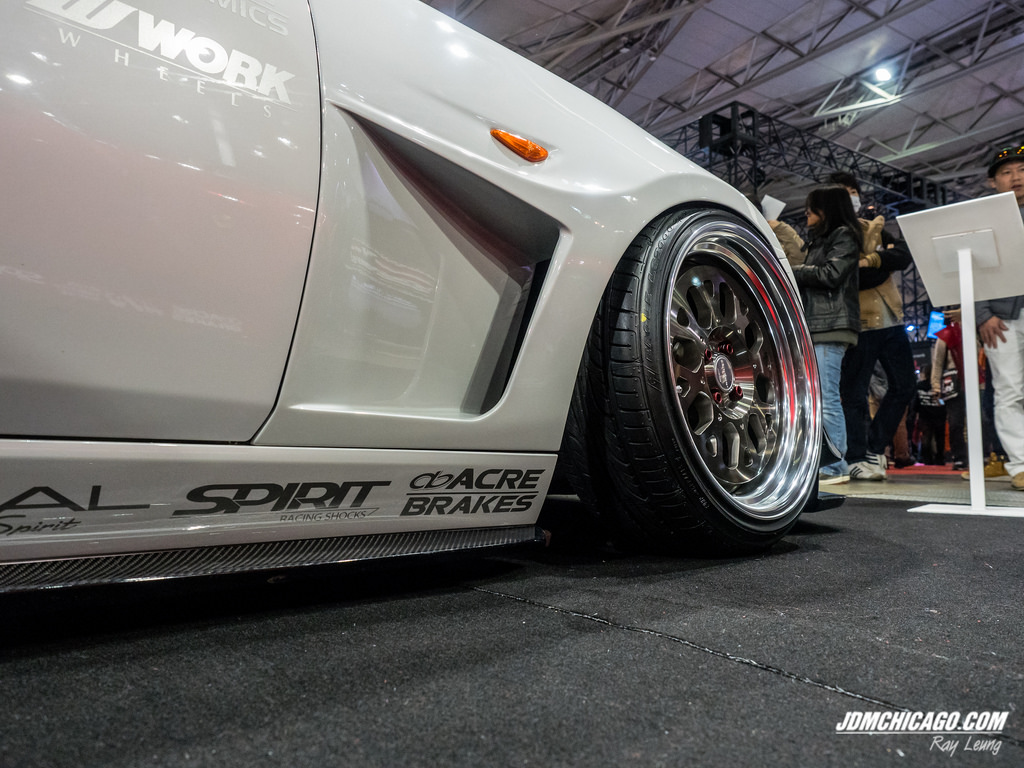 The Front fender burst vents were properly carried over to the rear bumper giving that widebody look on the car,  but with stock body lines and fitment.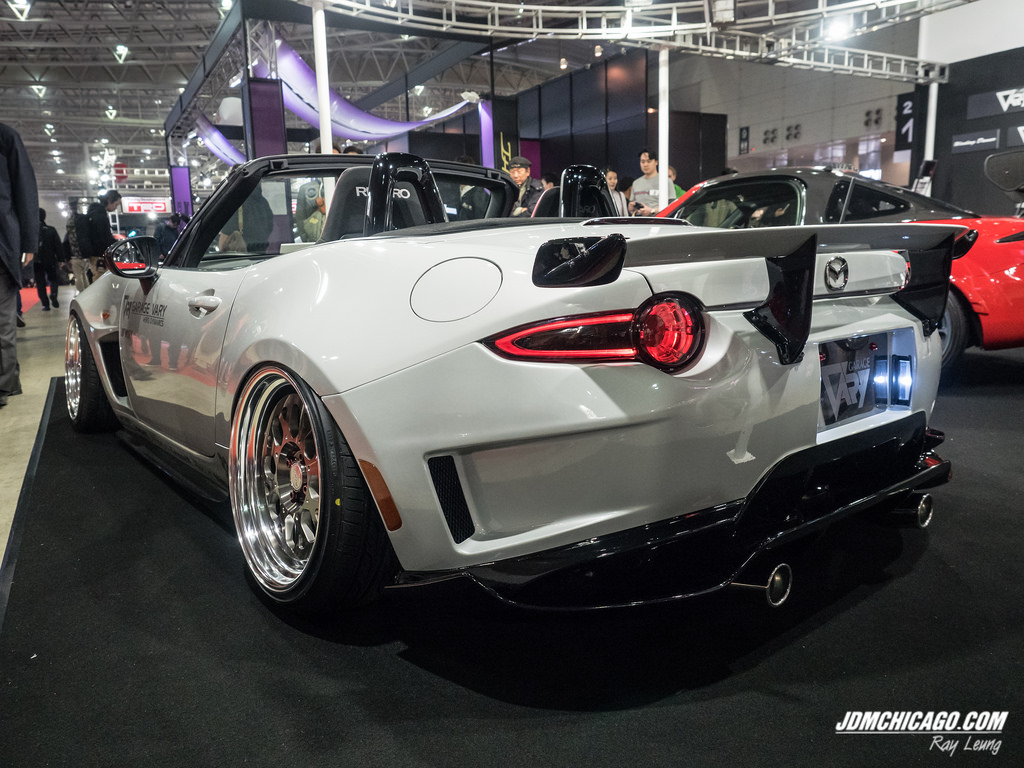 The subtle swoops of the front lip, side skirt fins,  and the rear diffuser all flow like a Tsunami wave coming at you at 500 knots per hour.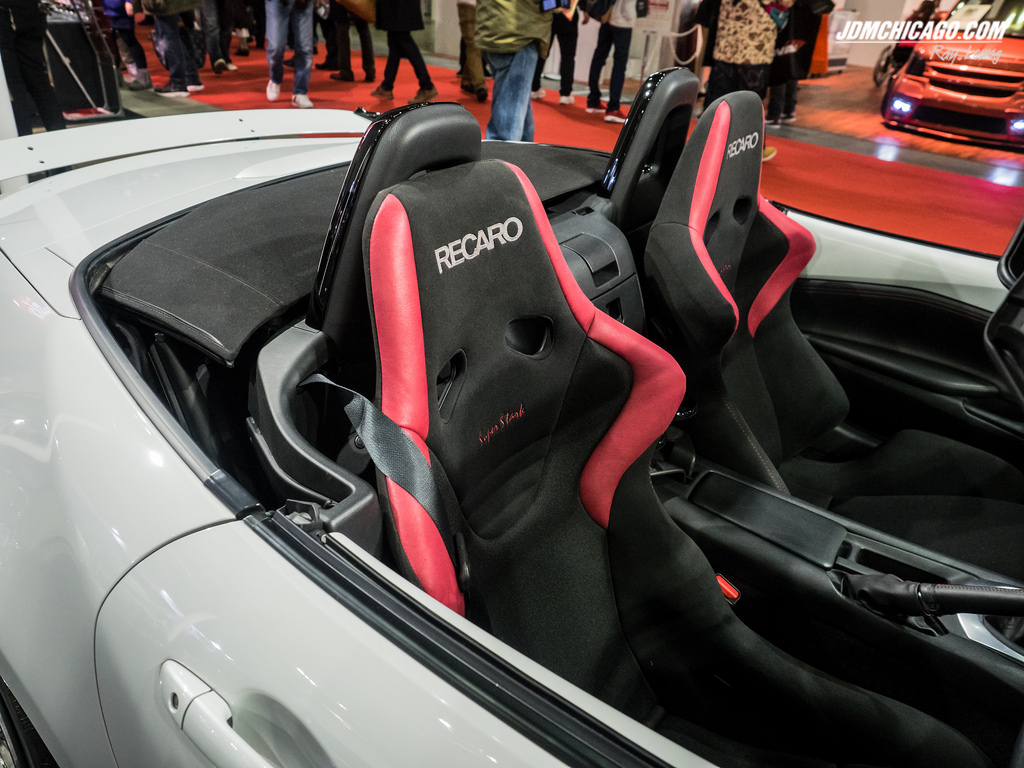 If you have an eye for detail, you will notice that this car is sporting some Limited Edition Recaro SR6 and RS-G Super Stark NU editions that came out last year. Only 500 pieces of each were ever produced in this trim which makes it a "must have" seat for a true enthusiast.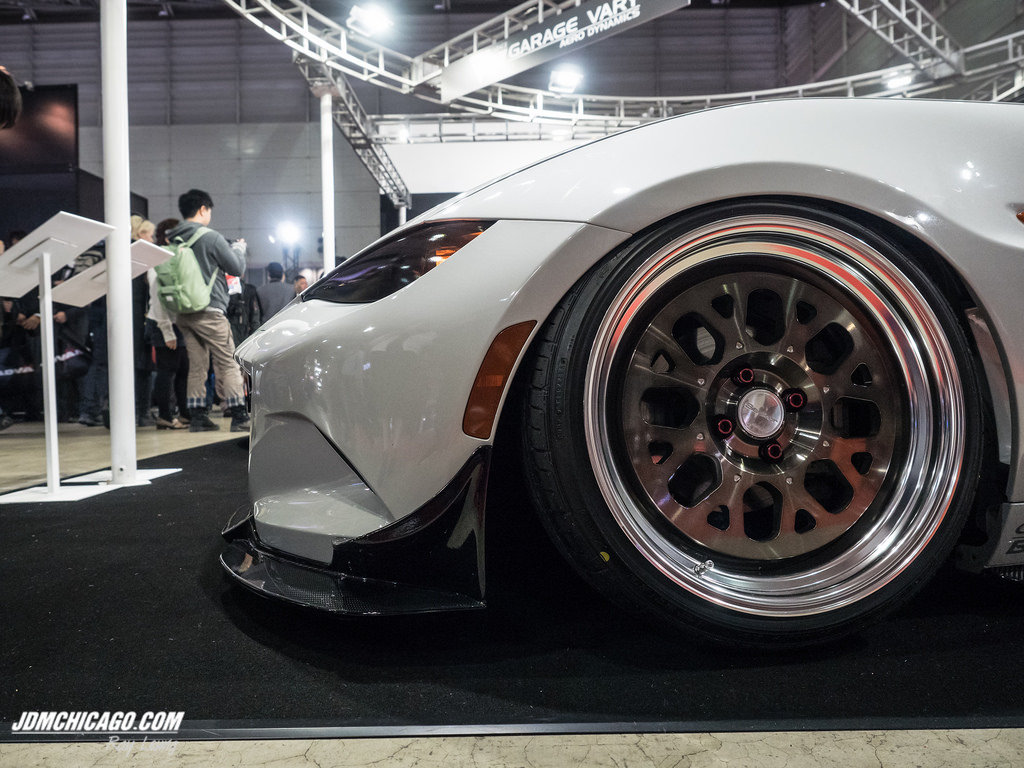 The Miata is sporting some new Seeker GX wheels from Work.  This wheel is part of their new line-up that was established 3 years ago under the Seeker line. The design concept is influenced by retro wheels, however, they are re-imagined to modern specs and sizes.
With this kind of quality and detail on an aero kit for this new ND Miata, we here at JDMC can't wait to see some more of these cool kits showing up on some USA cars or at least on some local builds in Chicago area. Now only if our weather warms up, then we will see more drop top convertibles roaming the streets in style.
-Raymond Leung/ jdmchicago
Comments
comments