Fizz Autosports Nissan Silvia S15
Ming Hang Ng's 1999 Nissan Silvia (JDM Import)
Words: Ginash George
Photos: Brad Sillars
Discuss the car in forums by clicking here!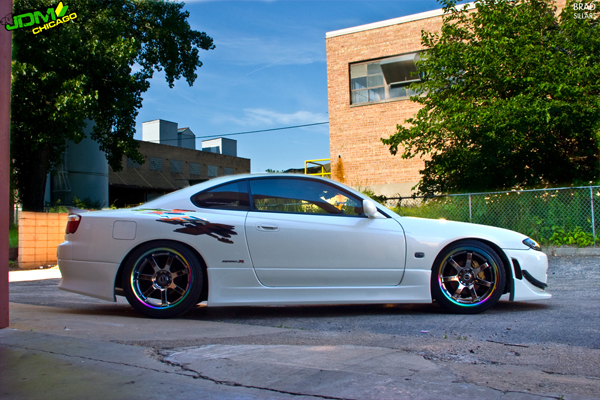 After a run of almost 35 years, Nissan introduced the S15 chassis in 1999. Sadly, the S15 never officially made it to the United States, but a handful of importers were able to bring this beauty overseas.  Most people do not have the will and determination to import a JDM car, as the process is very time consuming and exhausting. However; if you own a shop that specializes in rare Japanese parts, acquiring that perfect JDM import is a rite of passage. With very few authentic s15's documented in the United States, it's almost an obligation to showcase an s15 to the world, especially one as sweet as the Fizz Silvia.
It all started a few years ago when Ming began his search for an s15. As fate would have it, the right car became available at the right time. He picked up his s15 (Spec-R) out of California in mostly stock form.  This was important to Ming and one of his purchase requirements. Ming has been modifying cars for over a decade and clearly understands the value of high quality parts. He wanted an unmolested vehicle where he had full control over the build. As an exclusive JDM importer, Ming specializes in all kinds of authentic Japanese goodies. Fizz is one of the few shops in Chicago that is dedicated in bringing you the best products out of Japan. This is quite obvious as you look at the select parts on Ming's Silvia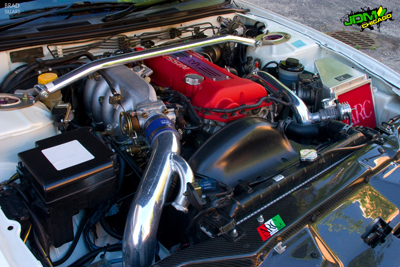 .
Although Ming has only had his 2000 s15 Spec-R Silvia for a few years, the modification list is extensive. The vehicle was already equipped with a strong motor and a 6 speed manual transmission. With the car on stock boost, Ming went with a plethora of gauges to monitor various safety and performance elements. You won't find another smoother and more driver-friendly RHD Silvia this side of the Pacific.  In the future, Ming plans on upgrading the turbo with a street level tune. Considering this car is a daily driver and shop showcase, expect to see future modifications that cater to this purpose.
From the factory, The S15 featured the same 4-piston front brake calipers that were found in the S14 but included a larger brake booster. Is this relevant? Not really, considering Ming upgraded to some baller Endless Brakes; 4-pot caliper set with Endless rotates, pads, and brake lines.
Suspension kit includes a fully adjustable coilover system by HKS. The Hipermax is considered one of the best coilover systems for the Silvia. HKS suspension engineers' spent over a year developing the Hipermax, testing on various race tracks throughout the world, auto cross events, and street testing in both Japan and the United States.  The extensive R&D by HKS appealed to Ming and is a perfect setup for Ming's application.
The s15 was a huge departure from the previous generation Silvia. It was updated inside and out, and had a more modern edge then the previous models. Ming was always a fan of the graceful lines of the stock body, so he decided on subtle body modifications to enhance the look, yet maintain its character.  Ming went with C-West, Nismo, and Vertex. His vision was executing flawlessly. Surprisingly, all three flow well.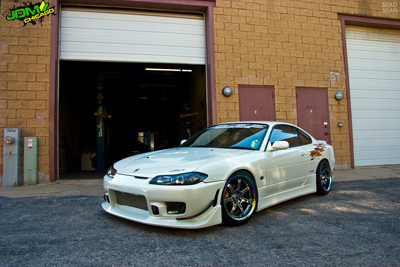 The interior of his car features a custom sound system, including multiple amps, subs, and navi. The bride seats fit snug as a bug. Perfect for daily driving or occasional track use.  As minor as some people may assume, the Yashio Factory shift knob provides some smooth shifting and unparalleled comfort
When I asked Ming what his future plans of the car were, he gave me some very short term answer… "I plan on putting a new wing in that just came in today." In my eyes, the car is nearly perfect and there isn't much more you can do. Ming on the other hand will be sure to surprise us all with the latest and rarest JDM goodies available.   We look forward to seeing where he takes this car to in the future and other Fizz Autosport projects.
JDM Chicago.com
——
Modification List
Engine:
HKS FMIC
ARC BOV
BLITZ Downpipe
HOT pipe
TRUST Catback exhaust
BLITZ SBC I-Color Boost controller
DEFI BF Boost Gauges
DEFI BF oil temp Gauges
DEFI BF Exhaust temp Gauges
DEFI Link control unit
ARC induction box
ARC titanium spark plug cover
Carbon Fiber radiator panel
Brakes:
Endless 4pot caliper set, with rotors, pads, lines, etc…
Exterior:
C-west Front bumper with canards
Vertex side skirts
Vertex rear bumper
Nismo Wing
Nismo smoked side marker
VIS painted carbon fiber hood
Origin LED tail lights
Blitz I-Burner inside the headlight
Interior:
Full Bride Interior including door cards, rear seats
Bride Brix II seat Black color
TAKATA 4point harness
Yashio Factory shift knob and boot
Cusco Pillar bar
Suspension:
HKS Hipermax coilovers
Cusco front strut bar
Toe arm & camber kit
Sound:
Full Rockford fosgate system
Pioneer Double din Navi system
3 AMPs
2 Subs
8 (interior speakers, tweeters)
Gallery (click thumb to expand):
Comments
comments