Long Distance Relationship

Christopher Lam's 1993 Toyota Mr2
Words: Joseph Greene
Photos: Ginash George
Discuss this car on the forums by clicking here!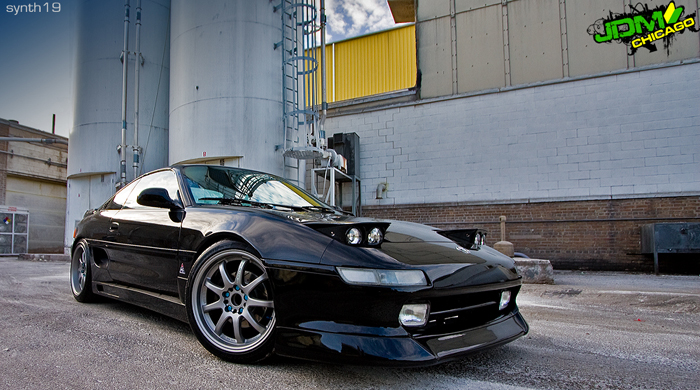 Here we have the story of one Christopher Lam and his 1993 Toyota MR2 Turbo. Chris lived in Cali all his life and has been modding cars since he's had a driver's license. Eventually, it came time for Chris to move to Chicago and embrace its dreaded wintery snow and enormous potholes. Being new to the city, Chris did not know what to expect. In California, cars are a way of life. After living here for a few months, he saw a growing scene and couldn't ignore it. This was when he decided to purchase an MR2.  Chris had previously owned an MR2 when he was 16. He loved the car, but his ignorance for the importance of maintenance lead to a car plagued with all sorts of problems. Chris eventually was employed by XS Engineering and APEX'i, which led to numerous projects since the ill-fated MR2 of his teenaged years. However, he always felt like that he needed to go back to an MR2 and make things right this time. So only after a few months in Chitown, Chris decided to get back into the car scene and embrace destiny.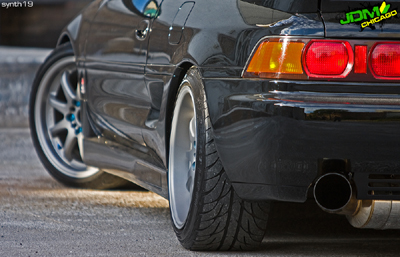 The search for a clean 93+ MR2 in Chicago was a futile attempt. After exhausting the rust-bucket leads in the area, Chris knew he would have to go back west in order to find the perfect project car. So this is what Chris ended up doing. He would eventually find a gem in SoCal. The car stayed there until Chris would eventually bring it to Chicago.
Having a long distance relationship is not easy. Chris spent most of his days searching and ordering parts for the MR2. His mother's living room ended up looking like a UPS storage facility in a matter of months. Since Chris still had ties and resources in California, he decided to leave the car back there and work on it when he could.  He would fly back almost monthly to simply wrench! This is true dedication. But he didn't do all the work himself. D-Sport Magazine editor (self-proclaimed MR2 wiz) Robert Choo and the folks at XS Engineering came to his rescue. Together, the group of friends installed a new motor and a plethora of supporting modifications. The result was an extraordinary MR2 that is nimble and fast.
The engine block was gutted to ensure the MR2 could take some abuse. Benson's machined bore was spec'd for a set of 9.0:1 C/R Arias pistons. With the additional power and heat from this upgraded engine, Chris decided it would be a good idea to use Swain Tech's thermal barrier coatings for engine longevity. Also inside is a Castillo knife-edged crankshaft which can remove four to five pounds off the factory crankshaft. In a car as light as the MR2, the additional power and lighter weight is a definite advantage. ARP main studs keep everything together in one piece.
These upgraded engine internals play the role of support for the ATS Racing spec'd Garrett GT28RS turbo. This smaller-sized turbo provides plenty of power but has the added benefit of spooling quicker than other monstrous turbos available on the market. An ATS Racing downpipe allows for the spent exhaust gases to be quickly wicked away into an APEX'i GT Spec exhaust. Keeping everything cool is a GReddy sidemount intercooler kit. The engine is continuously fed by a Supra fuel pump and Denso 550cc injectors. The infamous HKS SSQV blow-off valve alleviates any fear of compressor surge and has an unmistakable sound. Controlling everything is an APEX'i PowerFC which allows for easy engine management and tuning with minimal re-wiring and programming.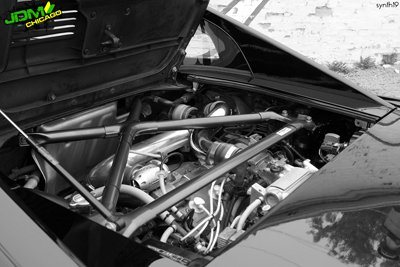 The transmission sees a few upgrades as well. A lightened flywheel from HKS helps deliver more power to the wheels while an ACT street-spec clutch is precise and can withstand the extra power from the upgraded 3S-GTE. A Kaaz 1.5-way limited slip differential completes the transmission overhaul.
This particular generation MR2 is known for issues with snap oversteer when the car is pushed to its limits. Chris chose Tanabe Sustec Pro coilovers to keep the car planted to the road and pointed in the right direction. High and Tight endlinks help keep everything together while a TRD rear strut bar improves chassis and suspension rigidity.
Inside is an Autometer dual gauge pod fitted with APEX'i exhaust gas temperature and oil pressure gauges. A GReddy turbo timer, and Nardi Classic steering wheel finish the interior. The MR2 is also equipped with a sexy Reline shift boot and a TRD Short Shifter.
For the cosmetic end, Chris took his MR2 to Royal Auto Body here in Chicago and had that whole mofo rust coated so that the elements wouldn't have as much of an effect. New OEM parts and aftermarket aero parts were installed and painted if need be. New door panels and carpeting also found their way inside the MR2. Underneath, it's rocking Work Emotion XD9 in matte gray silver with a 17″x9.5″, 17″x7.5″staggered setup.
When the car was all said and done, it was dynoed at 288WHP. Hot stuff. After 2 years of countless flights, bringing parts though airport security, engine building, sleepless installation weeknds, the car was now sexy and was shipped to his homestead in Chicago for the final finishing touches.
What's next for this beauty? A cage. In fact, it should be in at about the time this article is posted. Keep an eye out for Chris and his black MR2 Turbo. Chris and his ninja car might just sneak up on you.
-JDM Chicago
1993 Toyota MR2 Turbo modification list
Engine:
Benson's Machine bore and hone 87mm bore
9.0:1 Compression Arias Pistons
Swain Tech Thermal Barrier Coating
Swain Tech dry film skirt coating
Ground and shot peened rods
Castillo's Knife-edged crankshaft
APEXi 1.5mm head gasket
ARP Main Studs
Two's R us Valve cover bolts
TRD thermostat
TRD Oil Car
TRD 1.5 bar radiator cap
Performance:
APEXi (AP Engineering) Djetro Power FC
APEXi GT Spec exhaust
APEXi Super Ground system
APEXi Racing Spark Plug
APEXi AVC-R Boost controller
APEXi EL II System meter conrtol unit
APEXi EL II EGT gauge
APEXi EL II Oil pressure gauge
APEXi Power FC commander
ATS Racing Garrett GT28RS
ATS Racing downpipe
GReddy sidemount intercooler kit
Denso 550cc Injectors
Supra TT fuel pump
AVO short ram air filter
HKS SSQV Blowoff Valve
Motul 5w30
288whp 278ft/lbs on 91 octane (XS Engineering Dynamic DTS Dyno)
Exterior
Aeroware Front Lip Spoiler
Gracer sideskirts
Rogue Systems Revision 6 quad projector w/ HID
JDM Solid moldings
JDM clear bumper lamps
JDM Kouki taillights with amber corners
APEXi Power Excel emblems
Color matched rear spats/vents
202 Onyx Black paintInterior
Interior
Autometer Dual gauge pod
Greddy Turbo timer
TOMs shift knob
TRD Short Shifter
Redline shift boot
Nardi Classic steering wheel
Momo Hub
Kenwood head unit

Suspension/wheels/footwork
Work Emotion XD9 in MGS 17″x9.5″, 17″x7.5″
Tanabe Sustec Pro Dampers
Kaaz 1.5 way LSD
ACT Street spec clutch
HKS Ultra light flywheel
TRD Rear strut tower Bar
High and Tight front adjustable end links
Cross drilled/slotted Rotors
Hawk HPS brake pads
Earl's steel braided brake lines
Gallery (click thumb to expand):
Comments
comments