Smooth as Glass
Chad Rapper's 2004 Infiniti G35
Words: Mark Waterman
Photos: Brad Sillars
Discuss this car on the forums by clicking here!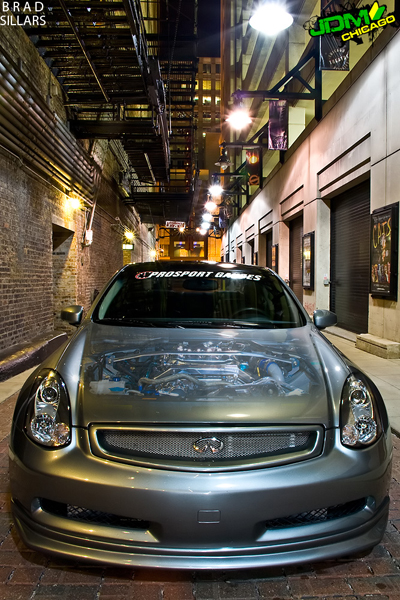 As automotive enthusiasts, we take pride in how our car looks.  But few take it to the degree that Chad Rapper has with his 2004 G35 Coupe.  At HIN Chicago in 2008 a judge commented, "This is the cleanest car I have ever seen," and that statement has been echoed at nearly every car show that he has attended.  But make no mistake, this car is no trailer queen, nor is it lacking under the hood.
When looking for a new daily driver Chad first had his eye on the BMW 3-series.  It combined the power and sophistication he wanted in a car, but he felt it lacked in the styling department.  Enter the Infiniti G35.  Known as the Nissan Skyline 350GT in Japan, the G35 combines a revised VQ motor displacing 3.5L, rear wheel drive, and aggressive styling to create an upscale sports coupe to compete directly against the BMW 3-series, Mercedes C-class, and Audi A4.  After seeing the G on the street, he became intrigued enough to do some research, and then go for a test drive.  The throttle response, the deep exhaust, the supportiveness of the seats, and the aggressive look convinced him that this was his car.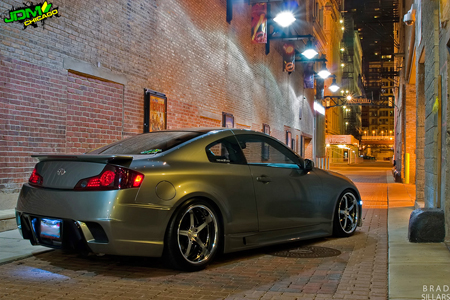 As it does with us, there is usually a trigger that brings on the wallet thinning disease that is automotive modification.  For Mr. Rapper, it began with a simple trip to the dealership for an oil change when he noticed a sticker for a local car club.  Seeing examples of what could be done on the G, he decided enhance its appearance with a set of rims.  After installing a set of 19" Racing Harts RS721 wrapped in Nitto NeoGens, the spiral downward into the modification world began.  Next came increasing the aggressive exhaust tone with an X02 true dual Ti exhaust, followed by lowering the car on a set of Tein 350Z H-Techs, followed by a set of lower billet grills, and finally some minor lighting modifications.  In October of 2007, Chad received the first of many awards by taking 2nd place in the Import Tuner division in a local car show.
Now, it may seem that these are relatively minor modifications to take home a trophy, but if you could see how clean the car is then you could understand why Chad's car takes awards as easily as taking candy from a baby.  You may be thinking to yourself that you have a clean car. But not as clean as Chad's G. If you were to touch the paint you would find it's as smooth as glass.  But do keep in mind that it is common courtesy not to touch someone's car at a show.  The reason for this glass-like finish is Chad's care and attention to detailing. A normal detailing job for Chad takes upwards of 8 hours of washing, polishing, and waxing.  What is usually considered a chore for most is actually a source of relaxation for him.  Looking at the finished product and it seems more of a work of art; with miracles being worked on paint that to most would think needed a full paint job to correct.  The most amazing thing is that the car is always in this condition, which provides a boost in shows that few cars can match.
With his first win under his belt, the time had come to bring the car to the next level.  Chad's overall goal with the car was to keep it classy, but with a touch of aggressiveness. And still be able to be a competent daily driver.  In the two years since his first show win, the goal has largely been achieved.  On the outside, an N1 front lip was added to the bumper, and the headlights were replaced with the projector type lights from the 06+ G35s.  Replica GReddy side skirts replace the stock ones, and a very aggressive Kenstyle rear bumper finishes off the kit, which also happens to be one of Chad's favorite part of the car. Even though the G35 was already lowered, Chad's arch nemesis, wheel gap was still present. To conquer this enemy the springs and shocks were trashed and Tein Basic coilovers were procured.  Also helping the car in the twisties is a polished GT Spec front strut bar, front and rear Hotchkis sway bars and an SPC rear camber kit to bring the rear alignment back into spec.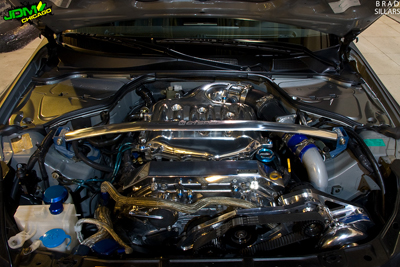 Not to have the car be out shined on the show end of things, the go side also had extensive work done.  The biggest upgrade is the ATI ProCharger kit with a 6 psi pulley.  To keep the engine happy with the new found power are a set of RC 550 injectors with the fuel being supplied by a Walbro 255 fuel pump.  Sponsor Mishimoto lent a hand, keeping vital fluids cool with a set of oil and transmission coolers.  A set of gauges from sponsor Prosport, allow Chad to keep an eye on the vitals from the cockpit.  Along with the X02 exhaust mentioned earlier, a Motordyne 5/16" plenum spacer and a set of Nismo grounding wires round out the power adders.  Afterwards Genesis Racing & Development got their hands on the car to tune the ECU with the Osirus/Uprev program.  The final number with a very conservative tune was 345whp, a good 100+ whp over a stock 2004 G35 and with plenty of room to bump that number up even higher.  Reigning in all that extra power is a set of slotted and cross drilled rotors from R1 Concepts, with Russell stainless steel brake lines and Hawk HPS pads.  Soon to be installed will be a sound system consisting of a JL W7 sub powered by a JL 1000/1 amp.
All of the hard work has paid off at local and regional car shows.  Some of the major highlights are class wins at HIN Chicago in 2008, HIN Nightshift Chicago 2009, HIN Nightshift Columbus,  a F4 Chase Award at the Chicago round of the D1GP, a first place and second place in the import custom category, and a third place in the import exotic category at the Tropical Summer Jam Automotive and Motorcycle shows (these were three separate shows, his car is good, but not THAT good), and first place at the Scion of Naperville's Fast & Furious release party car show.  These are just the awards from 2009 (with the exception of the 2008 HIN award).  Needless to say, Chad hauls a trophy case worth of awards to any show he participates in.  As always, the car is not complete with thoughts of a big brake kit, carbon fiber hood, 9 psi pulley, and maybe a new bumper for some better flow to the intercooler.  Chad recognizes that his car could have not have come as far as it has with out the help of his sponsors of Glen and Ryan from Prosport Gauges, Hannah at Mishimoto, Ken at GT Spec, Tony at Custom Sprayz, and Irfan and Irshad from Genesis Racing & Development.  He'd also like to send his thanks to Larry and Eli from Project X Customs, and a shout out to ChicagoZ.com and Team Project X.  Finally Chad would like to send a huge thanks to his lovely wife, Kim, and their new born son Jaxon.
-JDM Chicago
Gallery (click thumb to expand):

Comments
comments