Sibling Rivalry
The 350z's of Larry Kenney and Neil Capps
Words: DOMO
Photos: Ginash George
Discuss the feature in the forums by clicking here!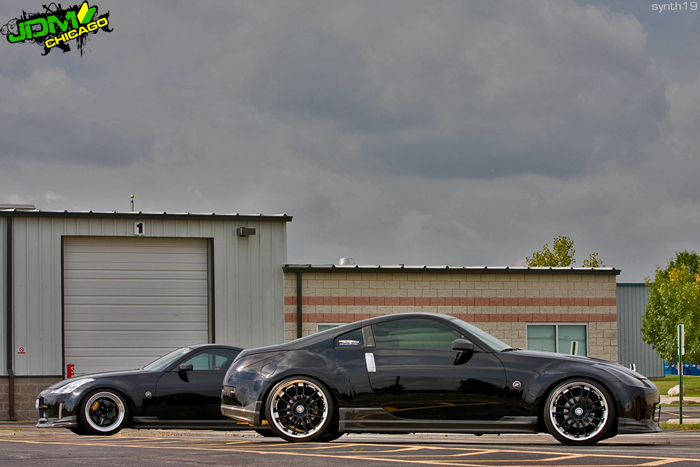 Usually when you hear the term "sibling rivalry," it brings to mind negative connotations of fighting, teasing, and bullying. However, it can also bring about a friendly spirit of competition, will, and passion. Such is the case with these two beautiful Nissan 350Zs.
The story starts in the spring of 2007, shortly after Larry Kenney purchased his black 2003 Track Edition. He was on the lookout for parts to fix up his brand new love.  After searching the Internet, he came across pictures of a great looking black 2005 350Z, the "JETBLK Z".  He immediately knew he had to have the same Cwest Carbon Fiber lip kit. While looking for the kit, he came across a local Z forum and made his purchase. Come spring time, Larry attended his first Z meet.  There he met Neil Capps, owner of the very car he had found on the Web.  From that moment on, a lasting friendship and friendly rivalry was born.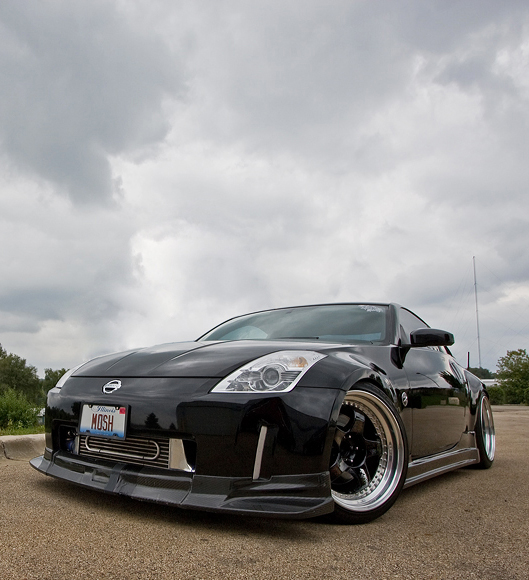 One thing that is obvious is that both enthusiasts are fond of raw carbon fiber, and the "black on black"  look. What is also obvious to other enthusiasts is their commitment to quality, authentic parts. What is not so obvious is their love of the Z car.  They both love its amazing sports car heritage, as well as the diverse group of long time Z owners. Neither person sees their car as a temporary possession, and plan on keeping their cars for posterity, and passing them along to their children.
Neil purchased his Z new in 2005. He was attracted to its bare bones interior and value. He also knew there was a plethora of aftermarket parts that complemented its unique looks.  His ultimate goal is to make a very streetable naturally aspirated car that can turn heads at any show, as well.  We can all agree that he has accomplished that mission thoroughly.
Currently his car sits on 20"  Volk GT30's with Cooper tires. Keeping him hugging the ground is a set of Tein Basic Coilovers, Hotchkis sways, and SPC Camber goodies.  Giving his car its mean look is a Cwest Carbon Fiber lip kit, Asuka Design Hood, and custom Project X headlights. His list of go fast goodies includes a Zex Nitrous Oxide 100 Shot, APS Tall Boy Plenum, Injen Cold Air Intake, and a 4.083 Final drive gear upgrade. Autometer stepped up to the plate and furnished him with all the gauges he needs to keep his engine safe with his Nitrous set up.
Another distinctive feature of Neil's Z is its distinctive exhaust note. This amazing growl is possible due to Borla headers, Random Technology High Flow Catalytic Convertors, and a JIC single exhaust.
To drown out the exhaust drone inside, there is a full JL audio system utilizing Project X door pods and a JL Stealth Box set up.  His interior is spruced up with innumerable upgrades, including a Tommy Kiara shift knob and RSW Carbon Fiber center console.
Neil's plans for the future include an NA motor build, comfortable race inspired interior, and upgraded brakes.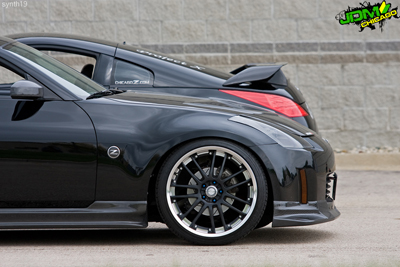 Larry purchased his 2003 Track Edition on Valentine's Day, 2007. He saw the car for sale and knew it was the car he had been looking for.  It was powerful, rear wheel drive, and had a strong community and aftermarket support. Larry is inspired by what he calls "functional +". All the upgrades on his vehicle are fully functional. But along with that function, he believes in making those parts look great and flow with the original design of the car. This philosophy is apparent in all aspects of his Z.
One of the first things people notice about Larry's car is how perfectly the 3 Piece 19" Work S1 Meisters flow with the car. These are wrapped in Toyo T1R rubber. His stance is accomplished with Tein Flex Coilovers and SPC Camber parts all the way around. Keeping it stiff are Hotchkis sways, Cusco Strut Bar, and a GT Spec rear tie brace. His aero includes a Cwest carbon fiber lip kit, Carbon Creations N1 wing, and a custom rear under diffuser. Power is laid out with a GReddy Twin Turbo kit, Cosworth Plenum, Uprev Engine Management, and flows out through Helix test pipes and an HKS Hi Power True Dual exhaust. Autometer lent a helping hand with the gauges to keep an eye on everything, along with a Magden computer. Cooling is achieved with the help of the people over at Mishimoto, with all of their 350Z upgraded cooling parts on hand.  Cooling is topped off with a Nitrous Express Intercooler sprayer.  The interior is set off with a Momo CF steering wheel, and a full set up from Corbeau.
Another distinctive feature of this Z is its audio system. With the help of Grizz Archer at Soundstream, a lightweight sound quality competition build was installed. Using their new lightweight Stealth series amps and subs, his new hatch set up weighs less than his spare tire did.  Utilizing prototype 8″, 2.5″, and 1″ components from Soundstream, custom door panels were fabricated. Larry's future plans include upgrading from the factory Brembos, and perhaps adding some drifting goodies to the car. A full engine build is also on the horizon.
Sibling Rivalry. For most, these words are a negative force. For these two Nissan owners, however, they are a reason to build memorable rides and lasting friendships.
-JDM Chicago
Gallery (click thumb to expand):
Comments
comments