Kickin' It Old School

Muhammad Akbar's 1981 Toyota Starlet
Words: Raymond Wu
Photos: Ginash George
Discuss this car on the forums by clicking here!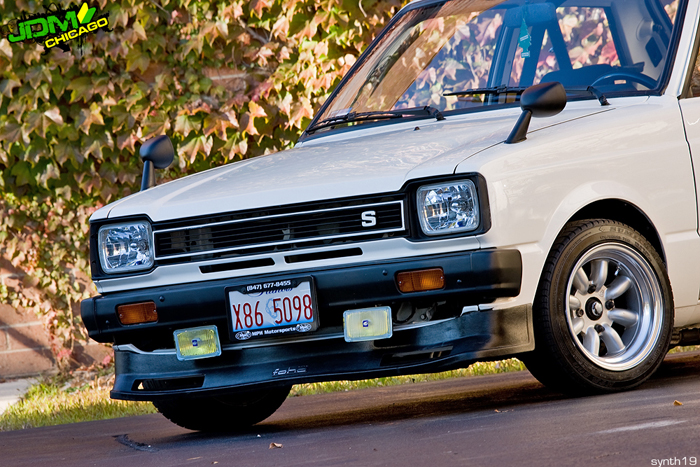 If you were asked to name a modern hot hatch, it shouldn't be difficult. Cars such as the Mazdaspeed 3 and the Volkswagen GTI define what modern hot hatches are. But say it was the 1980s and you were asked the same question. How might you answer differently?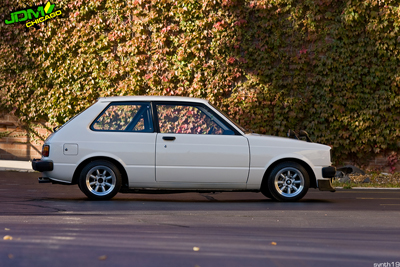 Muhammad Akbar's most likely response would be his beloved Toyota Starlet. For those that aren't well acquainted with the Starlet, it was a small hatch Toyota manufactured from 1973 to 1999. The car was only imported stateside from 1980 to 1984. It was designed to be a highly efficient and reliable commuter. The Starlet came with a gas-sipping 1.3L engine but was surprisingly nimble thanks to its 1700lb curb weight and short wheelbase. For the penny-pinchers, the EPA estimate of 38 miles to the gallon within the city was impressive. The less stingy consumers will notice the fact that the Starlet came with standard features such as an AM/FM radio and reclining bucket seats – normally found in cars costing much more than the Starlet. All these make the Starlet sound like an amazingly efficient little hatch indeed. But is it a hot hatch?
Here's a hint: the answer is no. The Starlet is a small reliable and efficient commuter car. It'll take a bit of work to transform it into a hot hatch. Luckily, owner Muhammad is an old-school JDM man who knows a thing or two about transforming these old commuters into something a bit quicker.
Muhammad was always a fan of old-school JDM. But after seeing the N2 widebody Starlets racing in Japan, he knew he had to have one. Muhammad rescued this particular Starlet about 3 years ago from San Diego. Unlike cars in the Midwest, the California climate doesn't turn cars into rust buckets. Still all those years had an effect on the Starlet in the form of a blown head gasket. Yet miraculously, the car was able to limp to LA before Muhammad's friend shipped it to Chicago. Once the car was in Muhammad's possession work began. The interior has been stripped bare before the whole chassis was repainted in Honda's distinctive Championship White. Afterwards, an Autopower roll bar was installed to improve structural rigidity and protect Muhammad from mishaps in gymkhana sessions. The end result was a transformation from a worn and faded little hatch to a stiff and clean little hatch.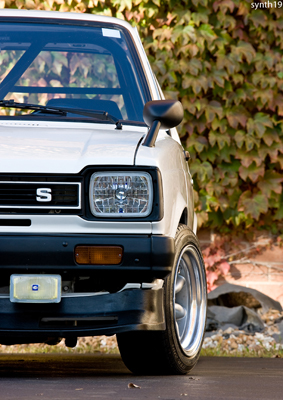 But a hot hatch isn't hot without a spicy engine. Now that the car's chassis was back in shape, the normal question to ask is: What about power? From the get-go, Muhammad knew that he wanted the venerable 4A-GE to be the heart powering his Starlet. He chose to go with the 16-valve 4A-GE paired with custom made 20-valve individual throttle bodies from an AE111 4A-GE. HKS cam gears allow Muhammad to fine tune how the engine felt with stock cams. The entire engine was then secured into the Starlet by a unique set of Ace Engineering engine mounts.
Surprisingly, the suspension hasn't been modified to an extreme considering that the car is almost 30 years old. TRD adjustable shocks are paired with TRD springs to accentuate the nimble and responsiveness the car naturally displays in stock form. A custom made rear anti-roll roll bar allows the car to easily get sideways that is absolutely necessary for gymkhana. Front roll center adjusters keep the suspension geometry in check.
Moving to the outside of the car, Muhammad's goal was to keep the car clean. JDM front and rear bumpers along with JDM mounted mirrors were hunted down and installed with minimal modifications. The only non-OEM part that appears on the exterior of the car is a rare Foha front lip. The interior had already been stripped clean, but every car must have essentials. Yet again, rare JDM goodies were sourced and installed. A Tom's Racing steering wheel and TRD bucket seats with harness found their way into the Starlet.
Muhammad's meticulous attention to detail has produced an extremely clean and rare gem. Under his supervision, an old commuter Starlet was transformed into an old-school hot hatch. With its short wheelbase and a 4A-GE powering the rear wheels, the Starlet is perfectly adept at tackling gymkhana and autocross courses. And unlike other purpose-built track cars, the Starlet is a little bit more low-key. The simple exterior won't cause many lookers until the Starlet starts doing its magic around a preset course. Then, all the WRX and Silvia drivers will look in awe and wonder what that diminutive little white monster is slithering around the track. Most probably won't know. But for Muhammad, that's part of the allure of the Starlet. No modern hot hatch has the killer combination of simple and fast. It is those defining features that separate this particular Starlet from other hot hatches.
Mod List:
Motor: 16valve 4A-GE; HKS cam gears; 20V AE111 individual throttle-bodies; custom velocity stacks; Ace Engineering motor mounts; custom equal length header Drivetrain T50 transmission; short-throw shifter; custom tranny mount; custom driveshaft; custom harness with OEM Toyota ECU
Suspension: TRD adjustable struts, shocks and springs; custom sway bar
Brakes: OEM with Hawk pads
Wheels/Tires: 13×7″ RS Watanabe R-Type rims; Sumitomo tires 175/50R13
Exterior: JDM side mirrors, JDM S grille and '78-79 JDM short bumpers; Foha front lip; shaved front and rear sidemarkers; fog lights
Interior: Bride Tom's steering wheel; old school TRD race seats and harnesses; Autopower rollbar
Gallery (click thumb to expand):
Comments
comments