Your Average Scooter



Nick Weir's 2003 Honda Ruckus
Words: Mark Waterman
Photos: Matt Magnino
Discuss this vehicle on the forums by clicking here!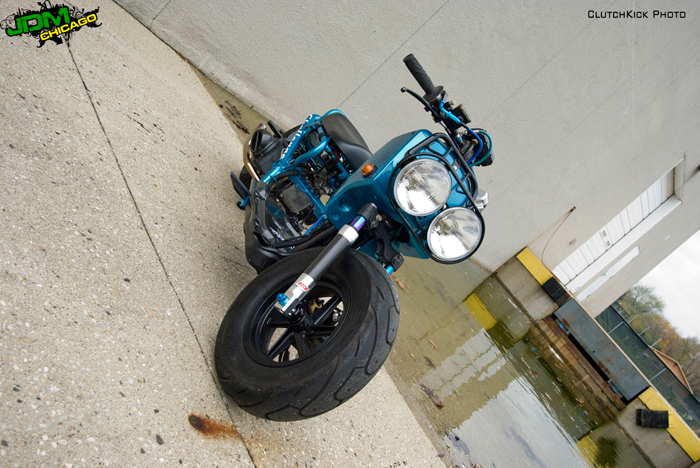 What has two wheels, a seat, a small motor and is something that you won't be embarrassed to be caught riding? Everyone will have their own unique response, but in this case it would be Nick Weir's 2003 Honda Ruckus. The first question that may pop up: What exactly is a Ruckus? No – it's not a lawnmower motor with a seat. Nor is it Honda's answer for the Smart ForTwo. The Honda Ruckus is actually a motor scooter powered by a single cylinder 4-stroke engine displacing 49cc. Like most forms of transportation Honda builds, there are as many ways to modify this scooter as there are a Civic. Thus, a cornerstone of the Ruckus lifestyle is crafting a unique and personalized look for your scooter.
It is this distinctive lifestyle that attracted Nick to the Ruckus. After wanting a Ruckus for a couple of years, Nick finally got the opportunity to own one in July of this year. To acquire the Ruckus, he traded his 2000 Integra GSR for the scooter. While this may seem like an odd trade, the car was bought as theft recovery car that he intended to fix up. When the opportunity presented itself, the car had been sitting idly for two months. The decision was easy, and soon the scooter replaced the Integra in Nick's garage.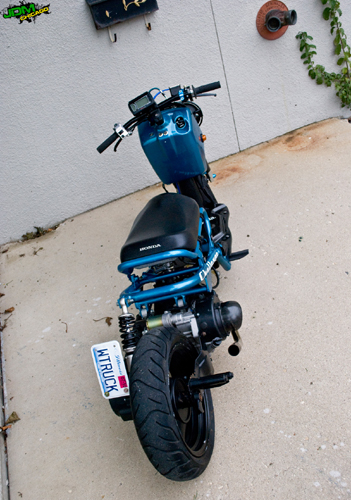 When he took possession of the scooter, it had already had a few modifications. But Nick felt that they didn't quite fit his style. The motor had previously been replaced with a GY6 motor that displaces 150cc. The frame had been painted the same Tahitian green from EF Civics. The Ruckus also had a handful of parts from NCY including a rear coilover, lowered seat frame, clutch spring, header, roller weights, and a titanium BMC cover. Controlling the power is a NCY throttle linked to the motor with a blue throttle cable for the GY6. From that base, Nick decided it was time for his own modifications to turn the scooter from a customized Ruckus to Nick's customized Ruckus. On the lighting side of things, Kijima amber front turn signals, and a rear taillight from a Yamaha R1 were added to the Ruckus. Nick then swapped out the front brake setup with a carbon fiber and titanium kit from NCY. As with most Hondas, the lower the better. So, the front spring was cut to lower the front end. To better the performance, a new velocity stack from Stage 6 was installed. Bits from PWJDM were also installed including a carbon fiber air scoop, carbon fiber gas tank cover, foot pegs, and stem kit. Keeping tabs on the bike is a Koso digital gauge. Contact with the road is accomplished with a Michelin Bopper tire in the front and a Cheng tire in the rear.
Initially, the Ruckus was intended as transportation to and from work for Nick. It also had the distinction of being pit transportation for the Redline time attack team. But after going on a series of cruises with local Ruckus enthusiasts, Nick realized that his Ruckus was far from done. Some of the other Ruckus owners had much quicker scooters. Not wanting to be left behind, Nick decided that a new 180cc big bore motor would be on the slate for the winter. Also to be done this winter is repair frame repair and reinforcement after it cracked on one of the Ruckus cruises. Nick is also planning on lowering the scooter even further. Even though he has only had the scooter for a few months, Nick has already given his own twist on it with the help of Totalruckus.com, the Seen It! Crew, and GT Motoring. If you happen to come across Nick, or any other Ruckus rider, stop them and ask them about their ride. While there may never be two Ruckuses that look the same, they do all share one commonality: Every rider loves their little Honda scooters.
-JDM Chicago
Gallery (click thumb to expand):
Comments
comments