Twins in Red and Black
Words: Ray Wu
Photos: Jeremy Cliff and Brian Jarocki
Discuss this car on the forums by clicking here!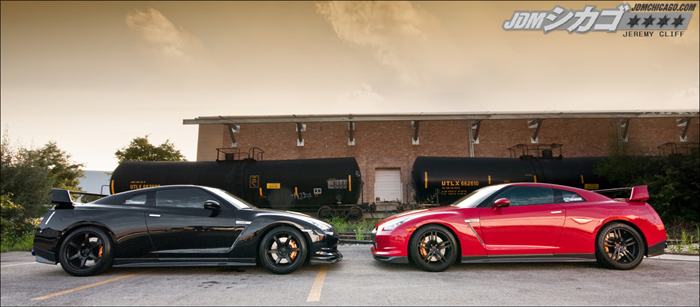 As most women can attest to, men are pretty easy to please. Usually defined to be the more carnal of the two sexes, men are usually thoroughly pleased with a good meal, good beer, excessive sleeping and the company of a female companion. Even better than one female companion are a pair of companions – twins to be exact. So the mere introduction of not one, but two cars that boys and men dream of will cause numerous accidents left and right. Meet Top Speed Autosports' R35 GT-Rs – appropriately adorned in black and red. Dressed in black, the first GT-R screams sexy, elegance and power. The red one on the other hand yells sinfulness, danger, and passion. Although these two cars would appear to have different personalities, in the end when both are together, they represent the Nissan GT-R in its entirety. While both are racy and potent as is, even these speed nymphos need to go under the knife to earn a spot in Top Speed's garage.
The first thing to go under the knife is beneath the hood. These GT-Rs receive a proper workout that boosts power to well over 650HP. The foundations are Cobb Accessports. These piggyback ECUs allow the owner to download engine maps already optimized for the parts installed on the GT-R. With the engine already thoroughly developed, the only thing left is improving engine efficiency.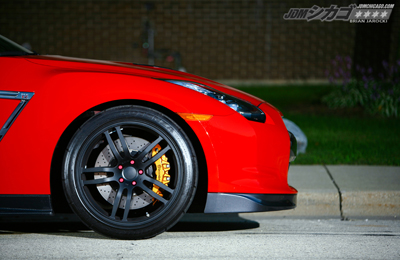 Both twins received GReddy Spec-R dual intercooler sets that form the basis of the workout program. The other parts include a Top Secret titanium intake hard pipe kit which replaces the stock intake manifold and intercooler piping. A Mine's suction pipe kit replaces compressor intake pipes, improving throttle response and increasing power. Top Secret provided their Super Induction intake piping complete with a carbon surround for the HKS cone filter. Both of these pipe kits are significantly wider than their OEM counterparts and are eye candy by themselves. Zele carbon radiator shrouds and Garage Defend GT carbon cooling panels dress up the engine bay while aiding in directing air flow. A Carbing aluminum coolant tank finishes off the package. The end results are twins with powerful legs capable of outsprinting most road cars from Europe and the USA.
Sprinting is just one of the many talents that both these hotties possess. Thanks to Amuse R1 Titan catback exhausts forged from titanium, these twins can produce some amazing sounds. The harder you push it, the more evocative they sound. The one in black likes to sing her tune mildly louder.
While both twins offer a luscious experience inside, the black one takes it a step further. Bride Low Max GIAS seats made from Kevlar/carbon firmly wrap around your entire body. Takata four-point harnesses keep you strapped down. The rest of the surfaces are wrapped in the supple OEM leather and trimmed with various carbon fiber bits from RSW.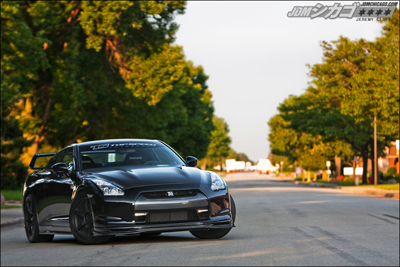 The techy interior gives a big clue that these aren't your average Italian beauties. These cars have sharper, albeit larger bodies.  Zele carbon fiber side skirts combined with stock mirrors direct air flow to the Amuse dry carbon GT wing, thrusting the cars' large rear ends into the ground. Their faces are perfectly sculpted: always looking menacing and sharp. The black one received more extensive surgery to the face and chin, wearing a Top Secret carbon fiber front diffuser with JDM foglights and cleared corner lights.  The combination of Seibon dry carbon front fenders and hood help reduce frontend weight while preserving the deceptively innocent look. Both cars get their bodies garnished with Shadow Sports carbon fiber vertical diffuser fins and Zele dry carbon rear diffusers. While these decorative pieces make the rear ends even more enticing, they also serve the purpose of aiding the Amuse wing in keeping the cars planted.
And these cars are planted on some unmistakably unique footgear. Unlike other cars with flimsy and gaudy heels, these cars are shod with black leather military boots. The twin in red does her stomping in GramLights R57 GTs while her more sinister sister chose Volk Racing VR G2s. While neither car has been doing squats, the stock suspension is plenty firm as is.
At the end of it all, the results are twins that men will snap their heads to get a peek at when cruising Chicago's streets. They're loud and exclusive. But obviously being GT-Rs, these cars are right at home on the track. And they like to get dirty, begging to be pounded over and over again. What Top Speed Autosports have created is a pair of twins that represent the mentality of Japanese tuning – improving efficiency whilst creating a car that is perfectly capable on the streets and on the track. The Nissan GT-R is a car with few peers but with the right methodology when tuning, these twins have become two objects of absolute desire that will frequently find themselves being toyed in men's minds.
-JDM Chicago
Gallery (click thumb to expand):
Jeremy's Pics:

Brian's Pics:

Comments
comments