Words:  Ginash George
Photos:  Ginash George (Synth19 Photo), Patrick Sayaphoum, and Nickolas Dela Rosa
Click here to discuss the pics/feature on the forums!
Last weekend we met up with Ming from Fizz Autosports to shoot his Infiniti M35x. If you guys remember, Ming's Nissan S15 was one of our first shoots back in 2009 when we first started this site/blog. It's only fitting that one of our last shoots of 2011 is this spectacular Fuga conversion. Ming has had this car for several years now and it's probably one of the nicest VIP builds in Chicago. Stripped of its original Infiniti tags,  this Y50 Fuga turned dozens of heads as we drove around the city for this shoot.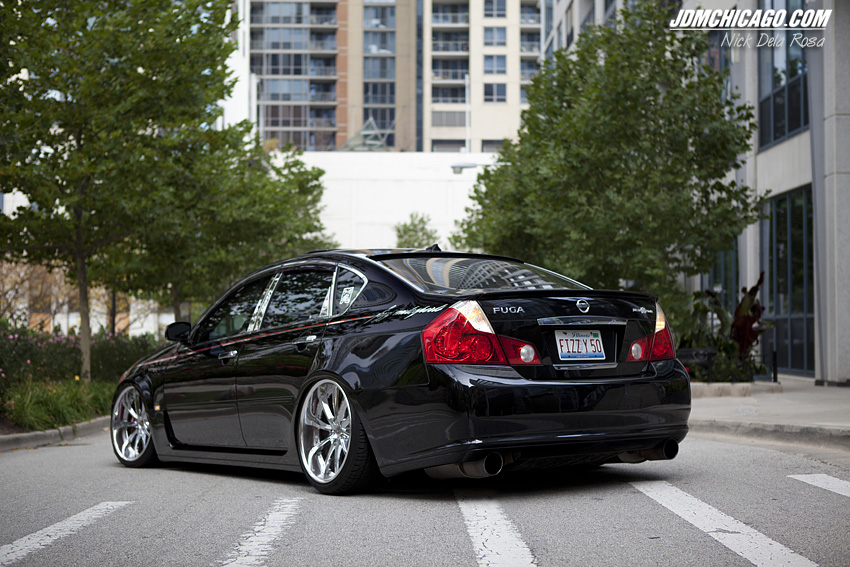 This rear shot by Nick shows off some recent pin striping work, a nice VIP detail. You'll also notice some 5-Zigen cans which give the subtle Junction Produce kit an aggressive finish. Fuga and Junction Produce badges add a touch of personalization.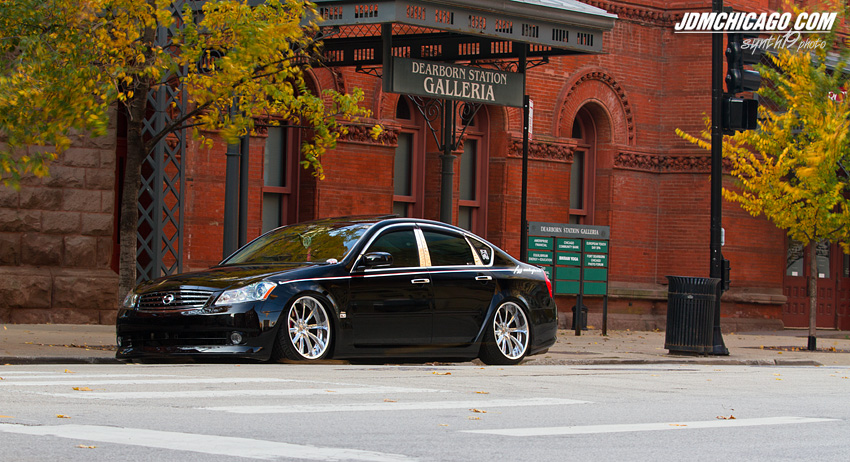 Can Ming really drive this low? Yep! We drove around the city at this ride height,  only needing to raise the car when confronted by pot holes, speed bumps, and other obstructions. This adjustability is possible compliments of Air Runner, arguably the finest plug and play air ride systems on the market. Weds Vishunu 20×10 +12 all around are tucked under perfectly pulled front/rear fenders.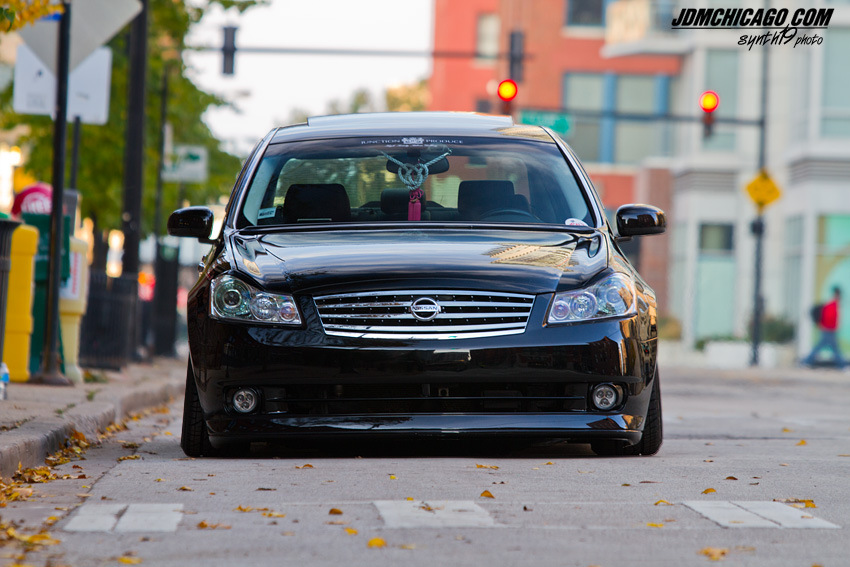 I really like the shot above because you can really see the aggressiveness of the front camber. The Nissan front grill is a necessary add-on to complete the Fuga conversion. The front fog lamps are supplied by Junction Produce.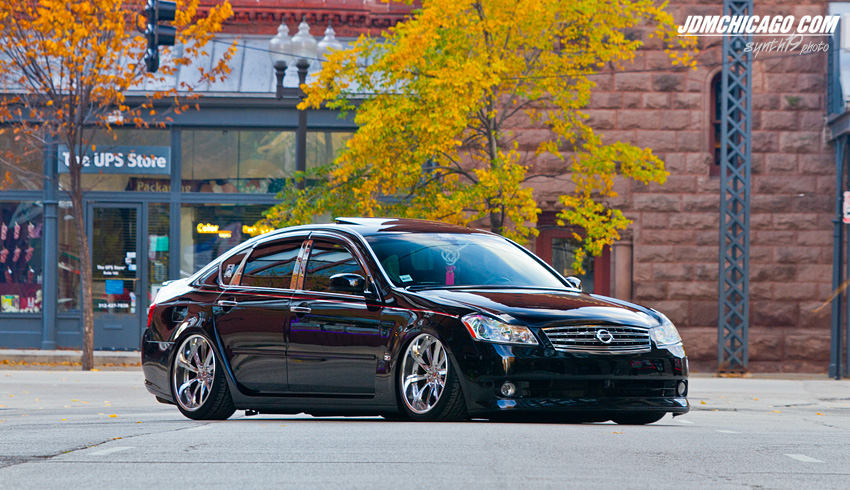 The finish on the wheels flow nicely with the Junction Produce stainless pillars. If you're noticing a theme here, you're right! I think every possible product from Junction Produce was purchased for this car. See below for the mod list if you don't believe me.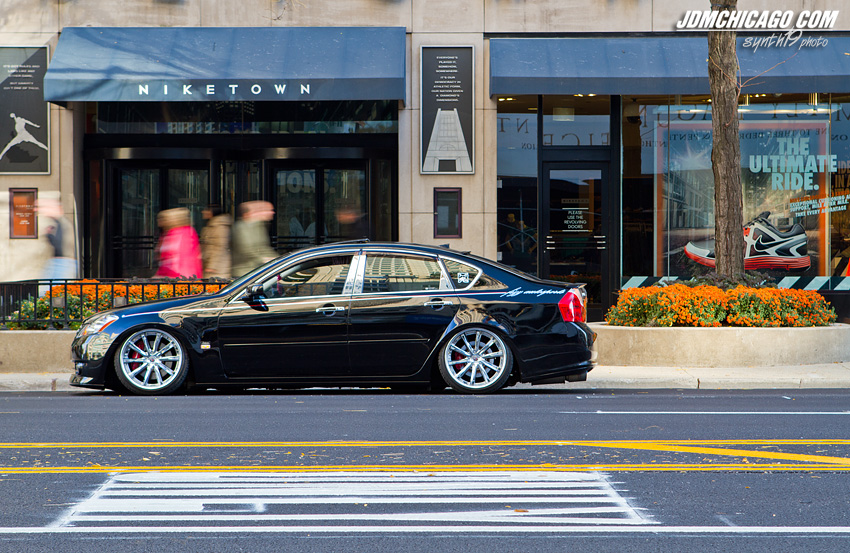 One item neglected by many of the VIP builds are the brakes. Ming did some fancy work by exchanging the factory brakes with the Brembo kit from an Evo X. Overall, this build is simple and clean. Nothing really over the top, but planned carefully from the get-go. Ming doesn't have too many future plans but you may see some new wheels as well as custom interior and audio work for 2012. Thanks for checking out this post and be sure to scroll down for more pics!
Mod List:
Junction Produce 3 piece aero kit
Junction Produce 3 piece rear spoiler
Junction Produce roof spoiler
Junction Produce bonnet spoiler
Junction Produce Eye line
Junction Produce Grill eye line garnish
Junction Produce Exclusive Fog lamp
Junction Produce Stainless VIP Pillar
Custom wide body front and rear 2.5in out
Junction Produce VIP Curtains
Junction Produce Neck pads
Junction Produce hip pads
Junction Produce leather pillows
Junction Produce Tsuna
Junction Produce Fusa
JDM Nissan Rain visor
JDM Nissan front grill w/ rear emblem
Bellezza rear head rest screens
Bellezza Sun visor screens
Air Runner Suspension
HKS intake
Weds Vishunu 20×10 +12 all around
5-Zigen Muffler
Custom Evo X Brembo front & rear
Gallery:
Comments
comments