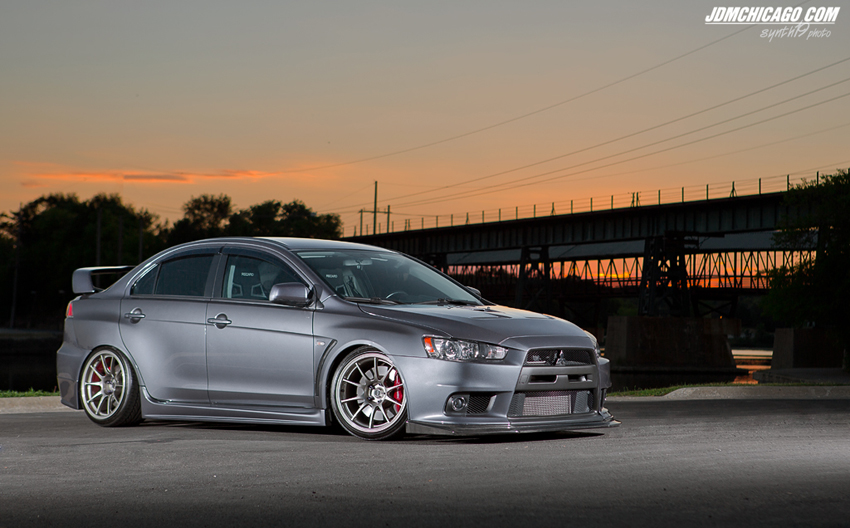 Ricky and I met up recently to take a few shots of his Evo X.  Coincidentally,  A friend and I had a IM chat the other day on the popularity of EVO's in Chicago.  Many of them are modded quite well,  and this car is no exception- It's a good balance of looks and performance.
It all started when Ricky was barely legal.  His dream was to own an Evo VII or VIII,  but settled for a TC when he first received his license.  Fast forward to today,  he opted to bypass the earlier model Evo's for arguably one of the best models churned out of Mitsubishi's factories- The Evo X.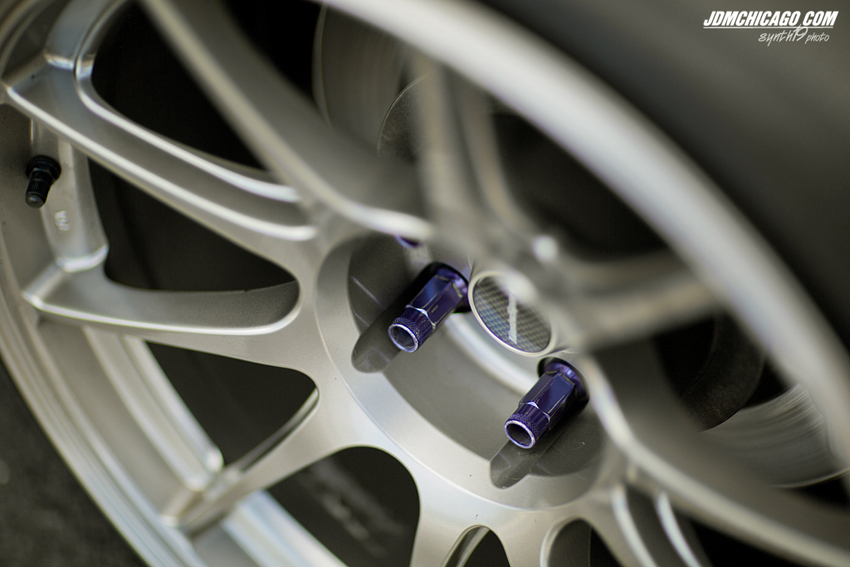 Initially Ricky had a set of the ever popular Enkei RPF1's.  After abusing them for several autocross events,  Ricky looked at upgrading to a different set of wheels and changing the direction of the car.  Pictured here are his newly acquired set of 18×10.5 +12 WedsSport TC105N with 255/35/18 Hankook Ventus V12s.   Purple Muteki SR-48 Lug Nuts compliment the Graphite Grey color nicely.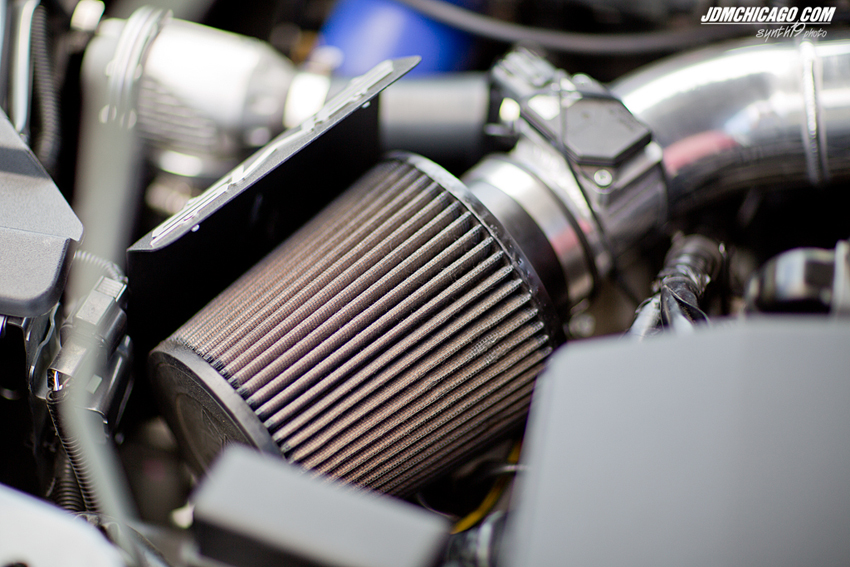 I know I have alot of close-up ARTSY shots of this Evo,  but shooting under different light conditions I decided to post up my favorite overall shot of Ricky's car and some detail shots of his mods.  This way,  you aren't distracted by a random set of photos.  Stay tuned (or as Ricky says "Stay Posted"),  We'll release more shots of his car in the near future!  Pictured above is a short ram intake by Chicago's own AMS.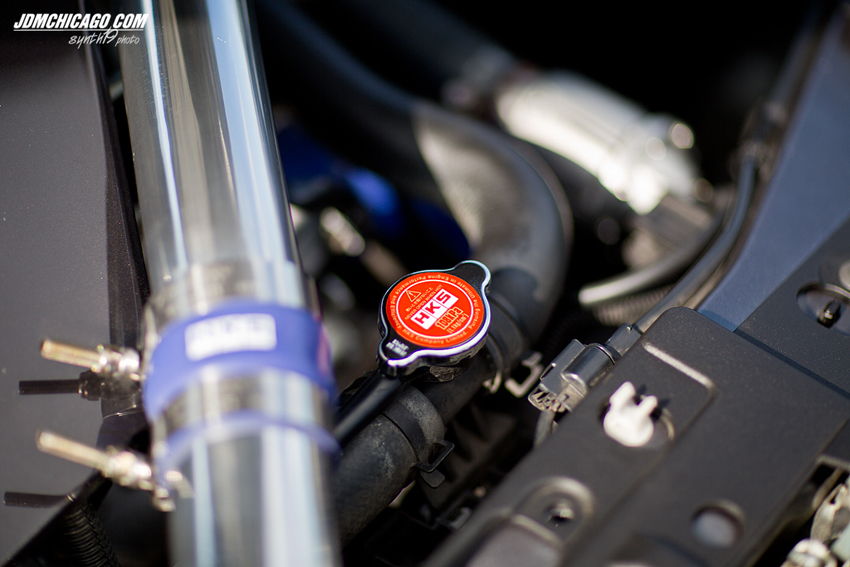 Along with this ultra rare HKS D1 limited edition radiator cap,  he also went with HKS' super sequential blow-off valve (Ver. II),  and HKS upper and lower intercooler pipes.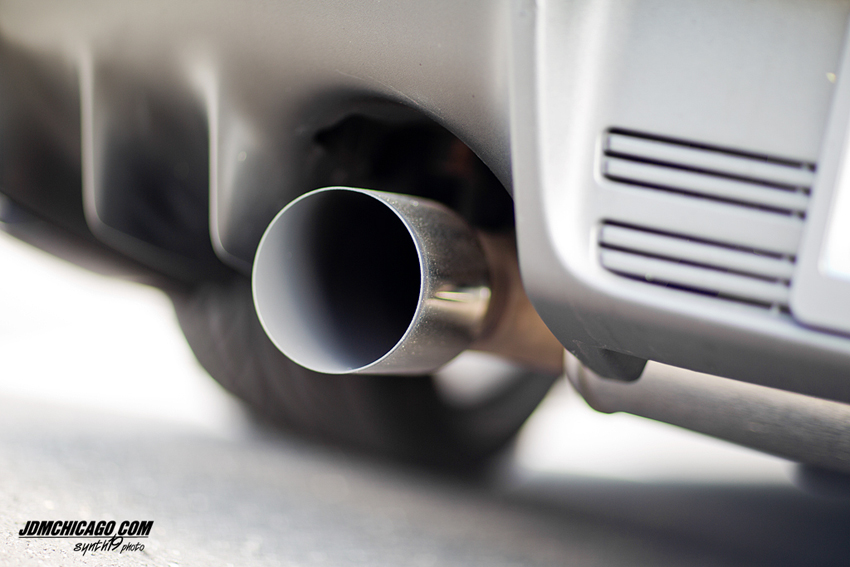 Ultimate racing catback exhaust along with their racing test pipes gives the car a nice aggressive sound without sounding overly obnoxious.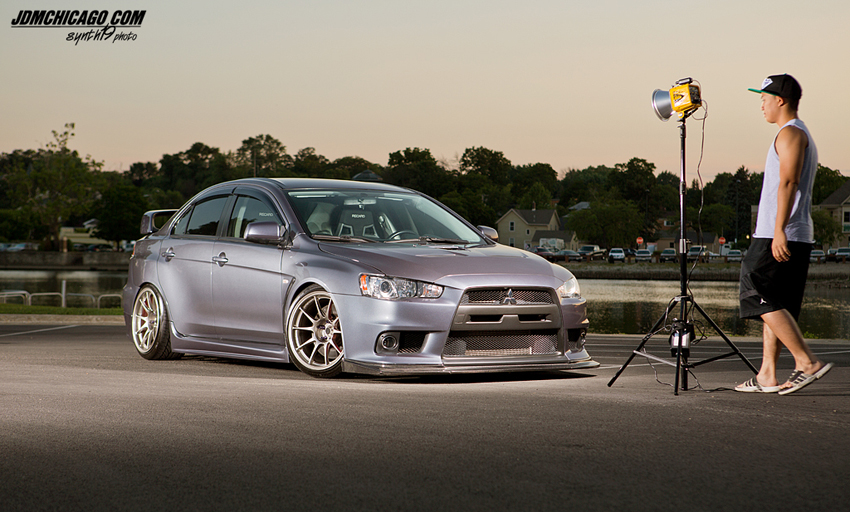 More impressive then Ricky's car are those HUGE arms.  During the shoot,  he passed the time by bench pressing all three flashes at once.  Don't forget that you can download a high res image by clicking on any photo above.
-jdmchicago
2008 Mitsubishi Lancer Evolution X
Engine Bay/Drivetrain:
– ACT Street Lite Flywheel
– AMS Short Ram Intake
– AMS Underhood Shifter Bushings
– Coltspeed Engine Cover (Custom Painted Phantom Black Chrome)
– Exedy Stage 1 Clutch
– HKS D1 Limited Edition Radiator Cap
– HKS Super Sequential Blow Off Valve (Ver. II)
– HKS Upper & Lower Intercooler Pipes
– Magnus Adapter w/ OEM Evo IX Clutch Master Cylinder
– TWM Short Shifter
– Ultimate Racing Catback Exhaust
– Ultimate Racing Test Pipe
Exterior/Styling:
– APR Carbon Fiber Front Lip
– OEM AERO Rear Air Dams
– OEM AERO Side Skirts
– OEM Window Visors
– Perrin Shorty Antenna
– RalliArt Taillights
Interior/Electronics:
– AEM Tru Boost Gauge
– AEM UEGO Wideband Gauge
– ARC Titanium Shift Knob
– ARK Design STB Turbo Timer
Suspension:
– Stance GR+ Coilovers
Wheels/Tires:
– 18×10.5 +12 WedsSport TC105N
– 255/35/18 Hankook Ventus V12
– Muteki SR-48 Lug Nuts (Purple)
Comments
comments