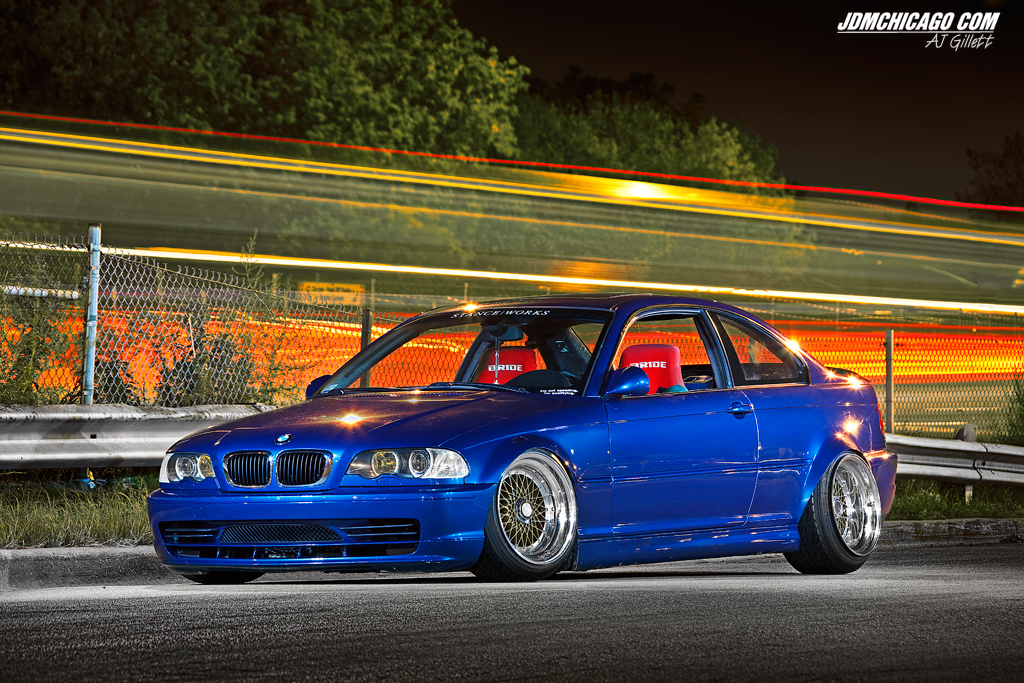 First,  a disclaimer as usual.  I think most people by this time know we post all kinds of cars on JDMC.  If we do step outside of the Japanese platform,  we usually will feature a well done European car (with a touch of Japanese flair).  Kamil's (almost unrecognizable 325ci) e46 is no exception to this rule.  Although this may not be everyone's style,  it's been executed quite well.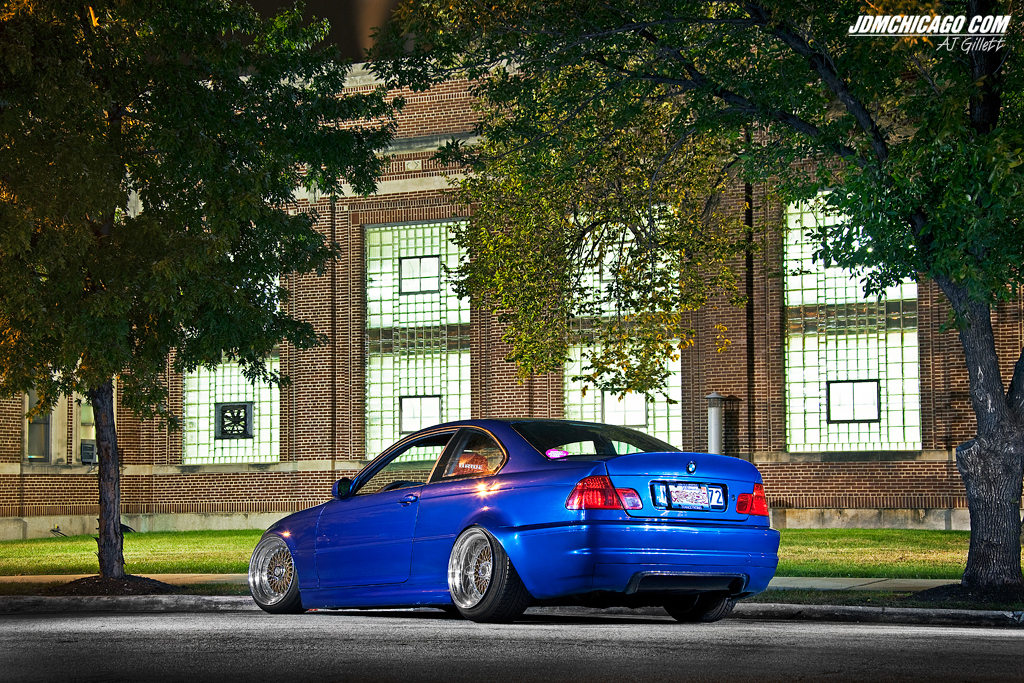 AJ Gillett of  Ill Photography submitted these pics a few weeks ago,  but it took a minute to get these posted since I wanted to get some background info from Kamil.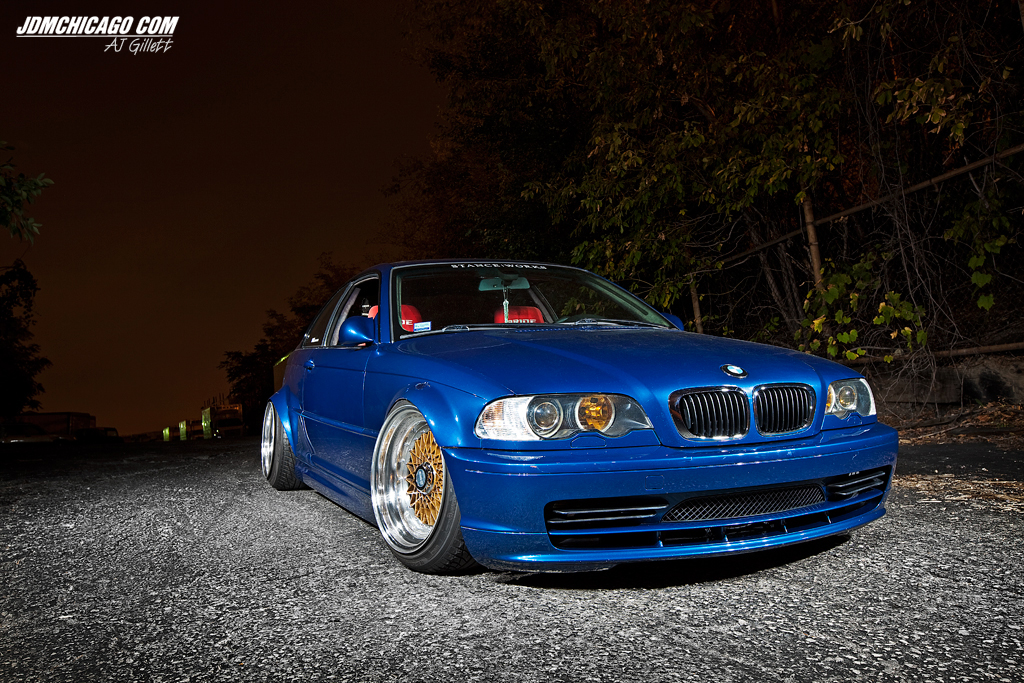 Kamil,  originally from Poland grew up loving all types of cars.  When he first arrived to the States,  he was lucky to acquire a relatively stock e46.  After 5 years of ownership,  he's managed to keep the car looking fresh and interesting.  The first thing you notice about the car is the front and rear flares.  The front fender was pulled and turn signals deleted.  For the rear,  Kamil fitted a set of full metal wide body rear fender flares that were molded to the body flawlessly.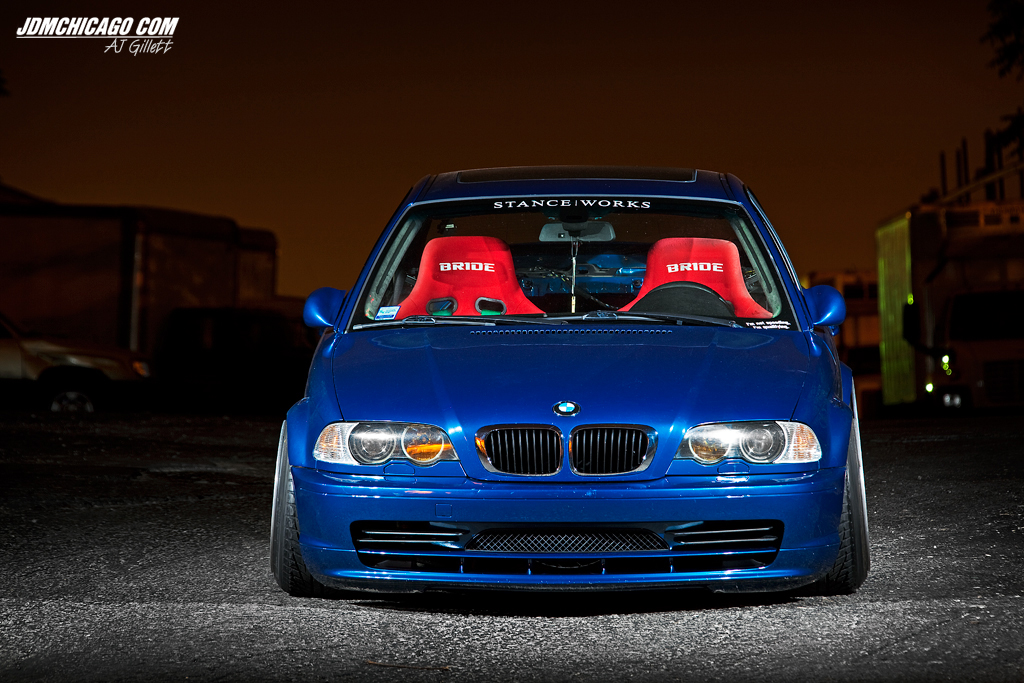 The interior has been fully gutted and OEM seats replaced with a pair of Bride Zeta III sport seats and 4 pt camlock Takata Harnesses.  You're also looking at a 235/40 series tire stretched on a 11″ width HRE wheel.  Yep,  slightly aggressive!  Nice subtle touch with the front fog lights removed on the OEM bumper.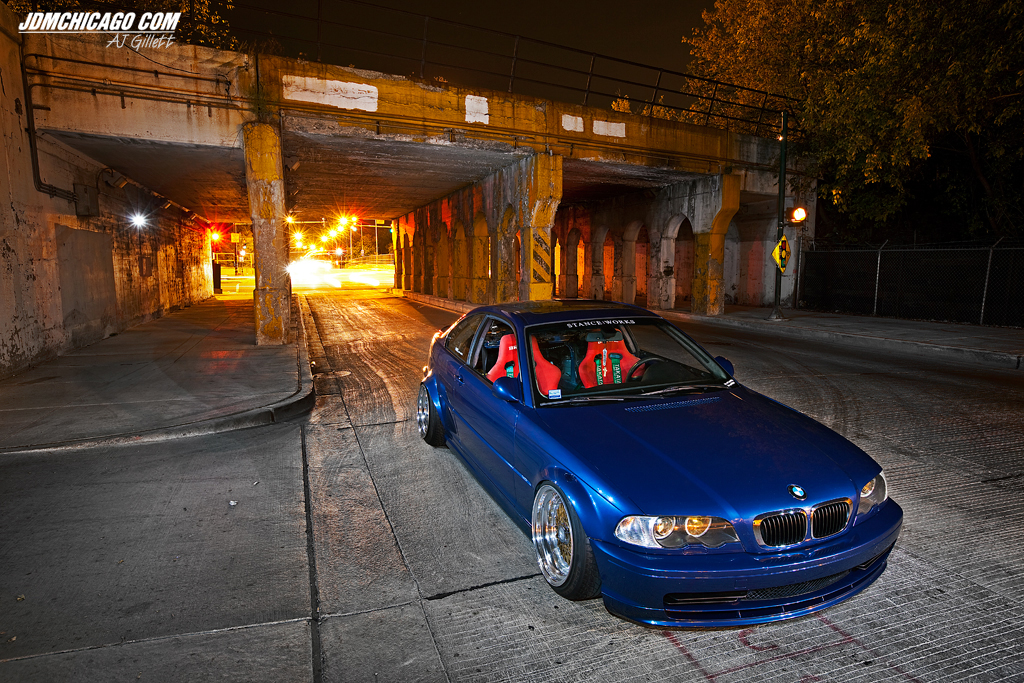 To achieve the stance of the e46,  Kamil procured a set of custom valved Broadway static Suspension w/fully adjustable Camber Plates with K-sport adjustable Camber arms.  Heavy duty control arms w/solid bushings manage to support his Vintage HRE 501's  (17×11 et:25 and rear 17×12.5 et:22).  It's amazing this car is driven daily at this ride height.
A few other distinct modifications such as the OEM m3 skirts and really pulls the car together.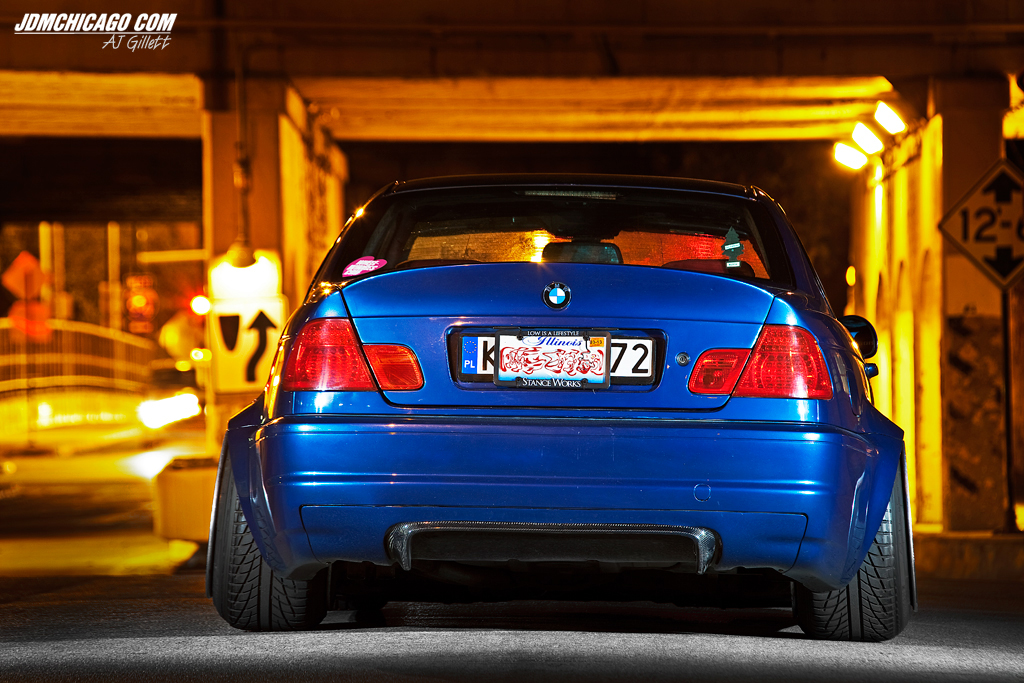 255/40 tires are stretched on 12.5″ width rear HRE's. The rear was modified with a widened OEM M3 rear Bumper,  CSL diffuser,  and Vorsteiner CSL Trunk.  As mentioned earlier,  this car isn't for everyone but that's perfectly fine with Kamil. He has definitely has pushed the envelope,  but pretty happy with doing things his own way.
-jdmchicago
Mod list-
Exterior:  front Oem coupe front bumper with deleted foglights, Front fenders pulled with shaved turn signals, Oem M3 Side Skirts, E30 DTM rear view mirrors, Full Metal Wide body rear fender flares, Widened OEM M3 rear Bumper with CSL diffuser which has shaved Quad Exhaust, Vorsteiner CSL Trunk
Interior:  Fully gutted interior, Custom CF interior trim, CSL CF center console, Quick Release Steering wheel, Bride Zeta III sport seats, 4 pt camlock Takata Harnesses, Full Polish VAC Motorsport Seat mounting brackets
Wheels & Suspension:  Vintage HRE 501, front: 17×11 et:25 w/235/40r17 rear: 17×12.5 et:22 w/255/40r17. Custom valved Broadway static Suspension w/fully adjustable Camber Plates, K-sport adjustable Camber arms, heavy duty control arms w/solid bushings, solid engine/tranny mounts with reinforced subframe, mounts raise the engine/tranny by 15mm.
Performance:  Catless Perfomance Headers, upgraded 3.46 rear Diff, Gruppe-M Intake, Cutsom exhaust with turn-down, tune
Gallery-
Comments
comments