By Ethan Caldwell.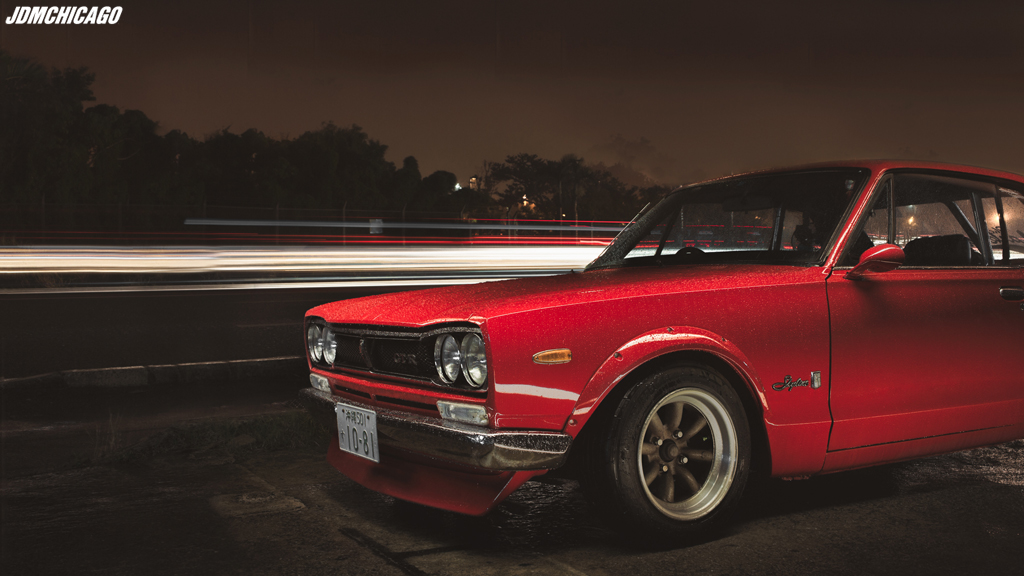 While in Japan last year, I was looking for some interesting cars to shoot. This particular hakosuka somewhat fell into my lap. After several contacts back and forth between myself and a third party to get the shoot going and not knowing what the car looked like, I decided to check out the Asian Red Tattoo Studio just outside of Kadena Air Force Base's Gate 1. For several days, I drove back and forth, hoping to get a glance at the old school Skyline to no avail. It wasn't until a chance occasion after an excursion hours away on the island that I saw it's beaming red paint against the last glows from an expiring sunset.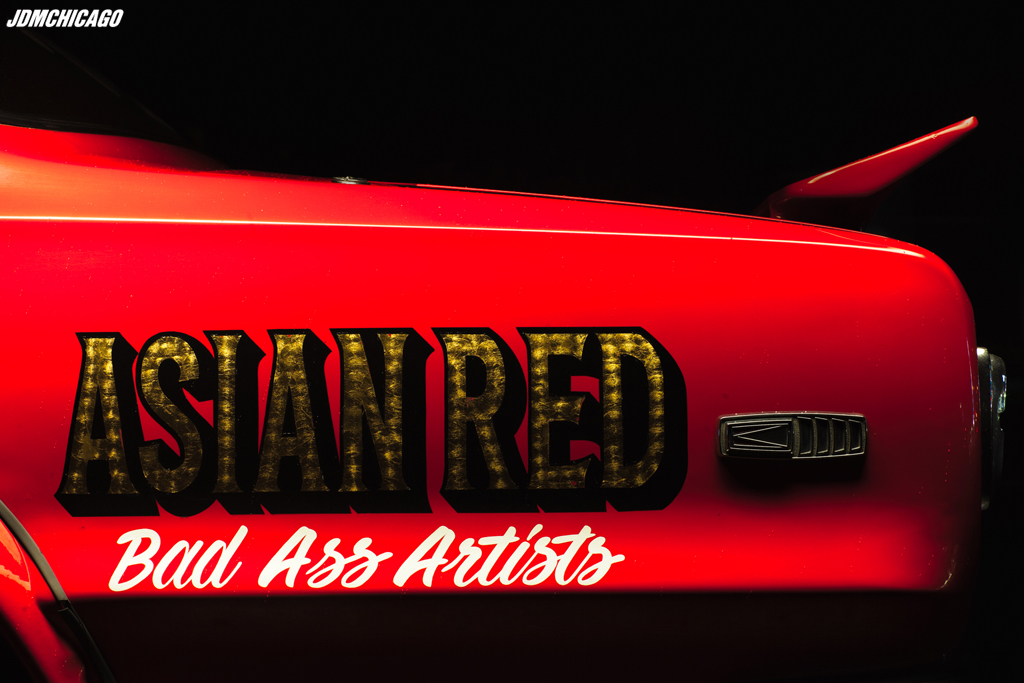 I was delighted to finally see the Asian Red Skyline parked in front of the tattoo shop. The old school feel, something out of a different era, has a mystical feel compared to most modern cars that I've been around. It's like coming in contact with technology from the yester years, a simpler time that appears outdated until you gain a different respect for it in person. A car like the KGC10 Skyline from 1968-72 reminds you of simpler times where automobiles lacked a great deal of the plastics, composites, and computer technology that enhanced (or, for some, attenuated) the overall look and feel of the ride. It brings you back to a time where subtle lines and metallic craft lend to the simplicity of an aesthetically pleasing raw machine.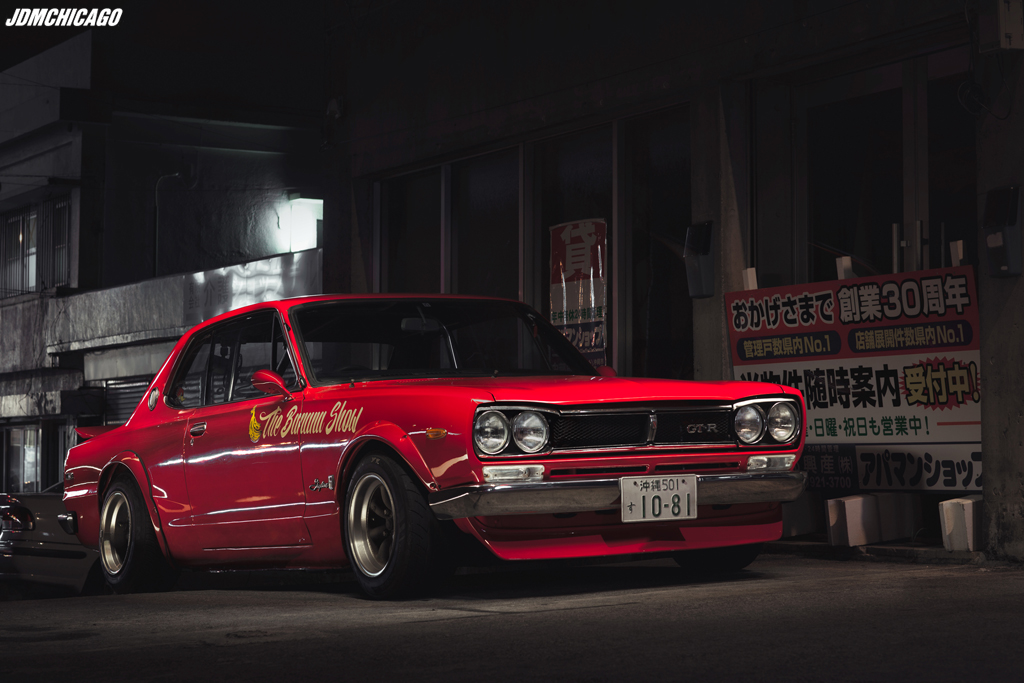 The Asian Red Skyline GT, owned by Ryo, a tattoo artist with Asian Red Tattoo in Chatan-cho, Okinawa, Japan, is no exception. Ryo's 1970 KGC10 Skyline GT performs its role as a daily dutifully with each motor rev and gear shift. As it pulled up to the parking area outside of his tattoo shop, the motor roared with a cacophonic loopiness at idle turned intense on throttle, a sure sign his carbureted L24 had been given something more than bolt-on goodness. The subtle body additions -the over fender flares, trunk spoiler, sharply jetting front air dam lip, and GT-R badge in the front grille- pays homage to the performance oriented model Skyline in the family and looks at home on Ryo's GT.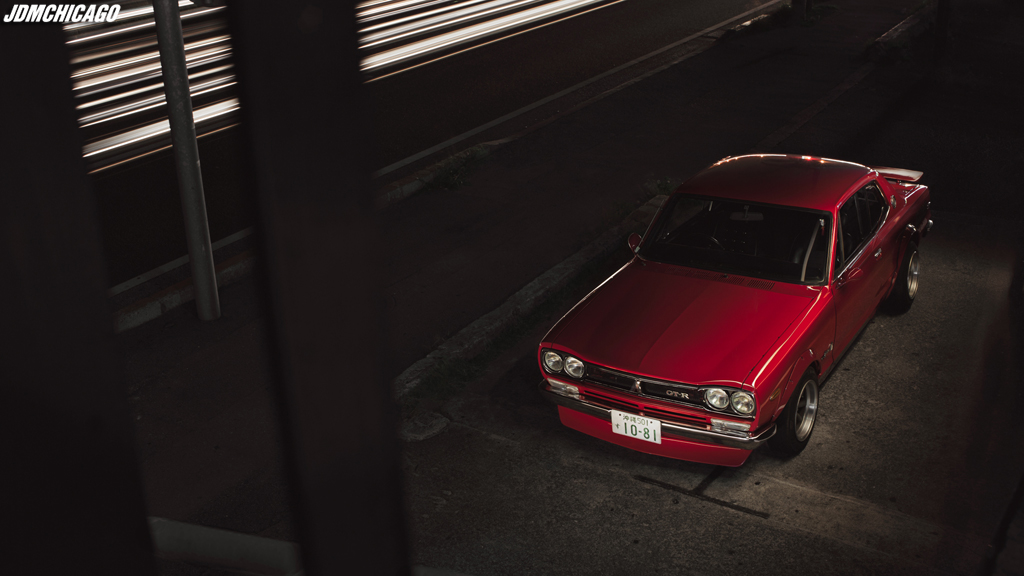 Instead of fender mirrors like many Skylines of the late 60s-early 70s period, his incorporates the mirrors with a modern door panel mount. Sitting on a set of wide, weathered Watanabe R-Types with meaty tires, it rolled with a stiffened grace as it made its way up the driveway. The red paint completes the clean exterior look on this retro ride.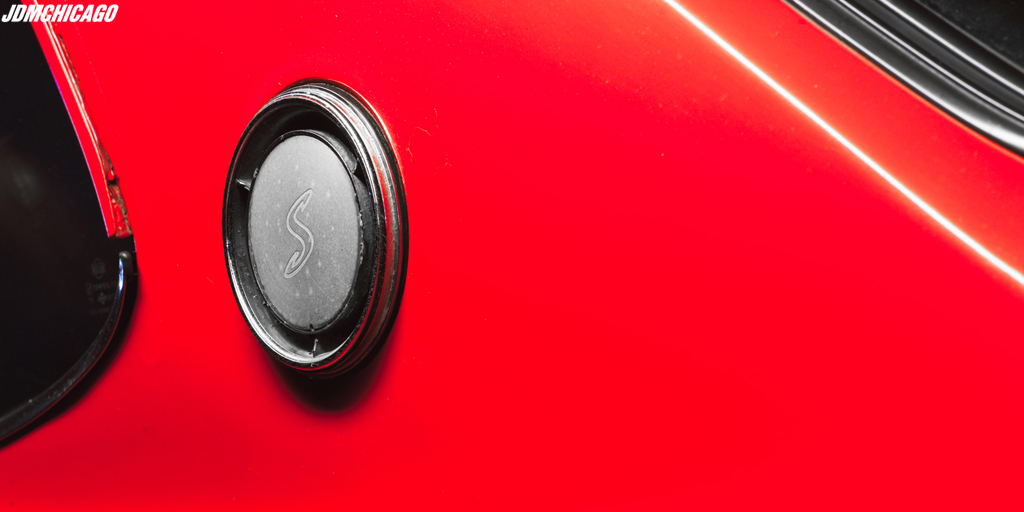 Between using the little Japanese that I knew and translating apps on my phone, it was challenging to get more information about the car. There was more I wanted to know – what was the history between Ryo and his car? What inspired his modifications and what else was under the hood? Language aside, the looks Ryo gave his ride stood out more. As he stared alongside while I shot, you could tell he had other thoughts in his head about it. A grin formed on his face while viewing his car from angles he doesn't see while driving. His look of satisfaction grew with each rev, a sure sign that Ryo had a deeper connection with this car. It was a car he dreamed of owning years ago and, after seven years of ownership, he was elated.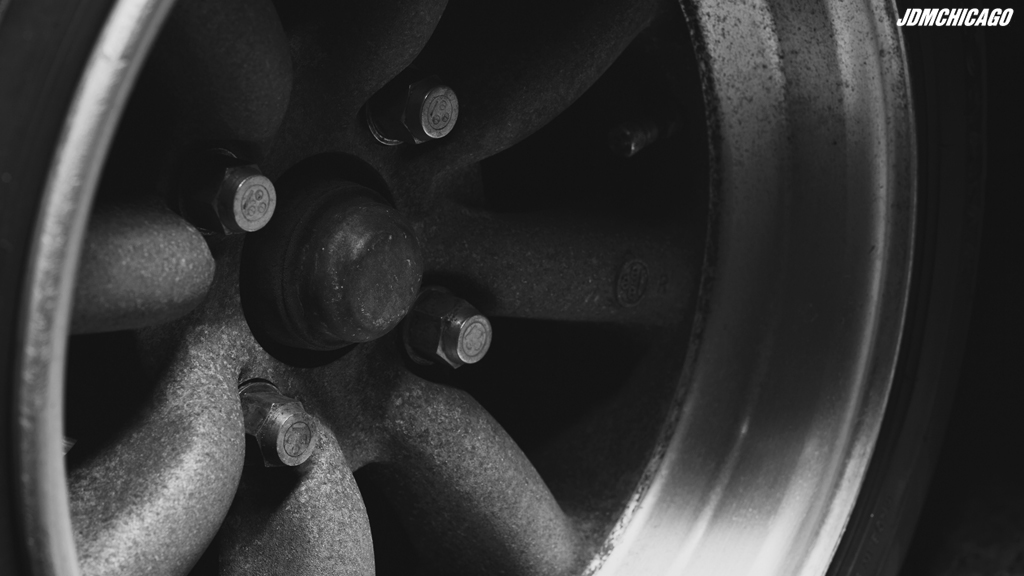 What would be next for it? Perhaps refinishing these vintage Watanabe wheels.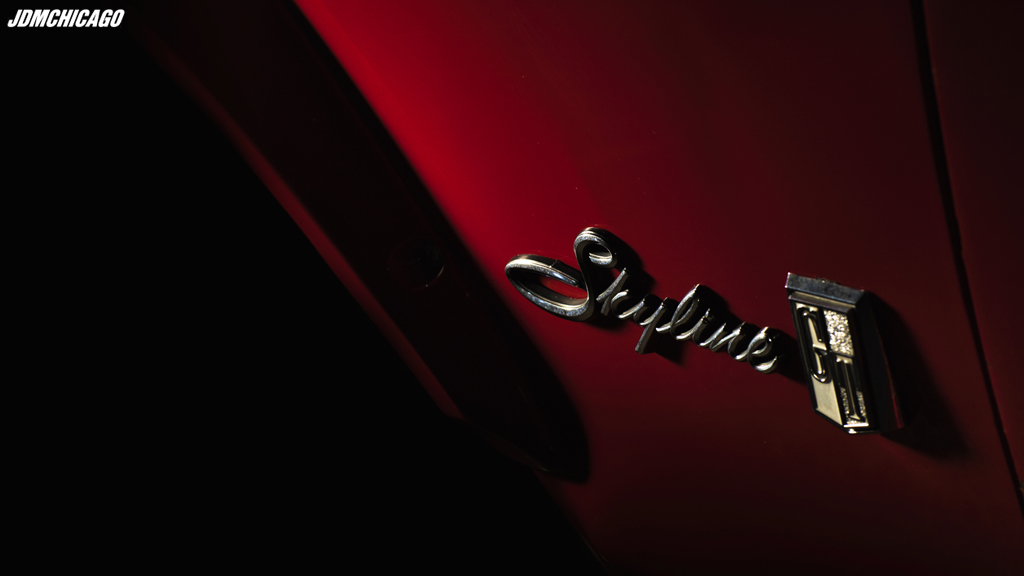 Amongst other ideas, Ryo's contemplating swapping in a L31 or V8. While many of us would be satisfied with the car as it sits, I hope Ryo continues to blend this classis aesthetic with his subtle modern touches in a complete manner.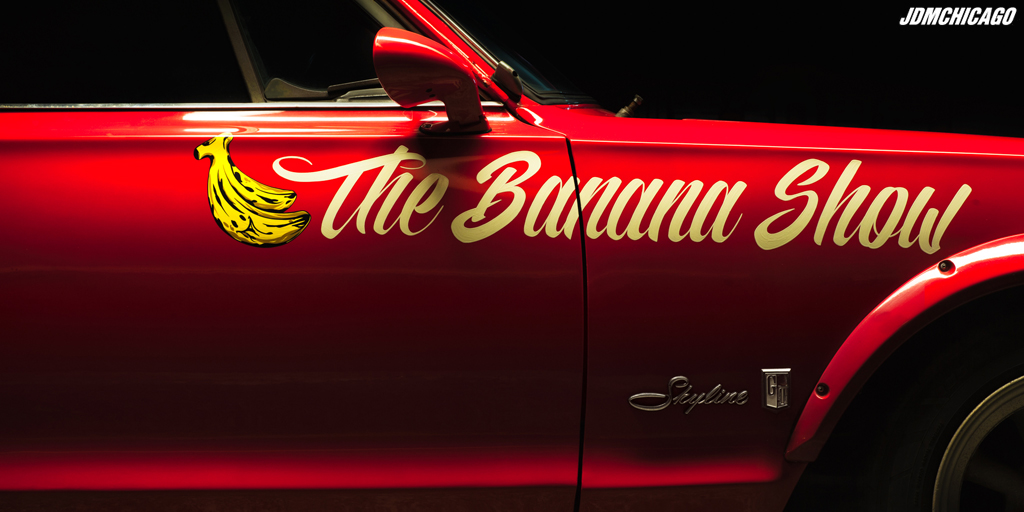 As for the Banana Show? He says it's his "band name," but we'll leave the rest for those who know.
-jdmchicago
Comments
comments