Squeaky Clean
James Tingley's 2002 Honda Integra/Acura RSX Type-S
Words: Raymond Wu
Photos: Ginash George
Discuss the feature in the forums by clicking here!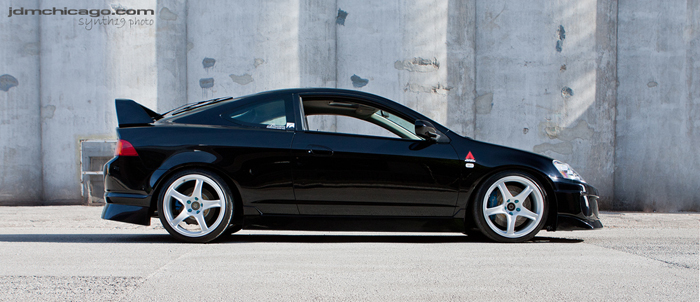 There are cars that have embedded themselves into history because of many different traits. Some cars are penned into the pages of history due to their speed. Some cars receive the distinction from its looks. But some cars receive the honor because they become the visage of an entire culture and lifestyle. The Honda Integra is one of those cars. In the last 20 years, the Honda Integra is one of the cars that defined the import tuning culture as a whole. The Integra is a car that has represented anyone from track junkies to SoCal trendsetters. James Tingley's Honda Integra (Acura RSX) is a perfect example of how the car reflects a particular culture. In this case, his car is a perfect example of the tastes and styles of the JDM community.
Owner James is probably better known for his fondness of yellow cars having modified an Eclipse followed by a CRX for the show circuit. Being burnt out from years of building these two show cars, James looked into building a balanced daily driver. Searching around, he found a Nighthawk Black Pearl Honda Integra DC5 in Atlanta with nearly the full Comptech catalog dealer-installed. After driving it back to Chicago, the work began on turning the iconic Integra into the perfect daily driver.
James list of planned mods were quickly fulfilled in four months starting with the wheels. White Advan RCIIs shod in Nitto tires were the first to be installed on the car quickly followed by Powerslot rotors and Spoon Sports monoblock calipers. What followed were Tein Flex coilovers to give the DC5 a proper stance while other supplementary parts such as camber arms, tie rod ends and a front strut bar aids in tuning the suspension to James' preferences.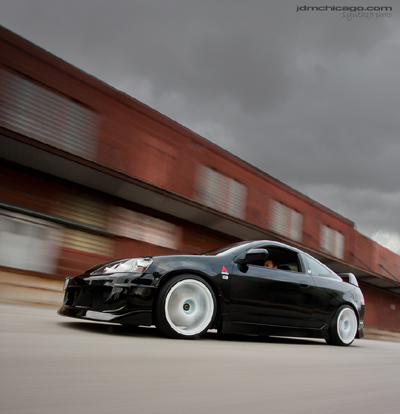 In the engine bay the DC5's already formidable K20 was supplemented by a Jackson Racing supercharger. Air is supplied by a custom carbon pipe feeding an ARC intake box. The aforementioned factory installed Comptech components in the engine bay consists of headers and exhaust. Visually, the engine was then dressed up with carbon fiber valve and plug covers along with various Spoon accessories. Getting the 270HP from the engine to the wheels is an upgraded 6-speed row-your-own transmission with an Exedy lightweight flywheel and ceramic clutch. The LSD from a Type-R DC5 and a modified J's Racing torque damper were added to aid in traction.
Moving to the car's exterior, James decided to keep his Integra clean and simple. Aftermarket components include a Chargespeed front bumper cover, side skirts and rear lip. A Seibon carbon fiber hood replaced the stock one. James then swapped in the '05 Integra headlights for a smoother heads-on look. An authentic DC5 Type-R rear spoiler was added to complete the car's exterior. The result is surprisingly aggressive without being exuberant. The Integra's clean lines were kept intact while all the JDM goodies differentiate this Integra from a vanilla one.
But James doesn't stop there with the JDM goodies. Inside, authentic DC5 Type-R front seats produced by Recaro were sourced and installed. These seats offer better support while weighing less than the normal Integra seats – perfect for the track while still being comfortable for daily use. Another Type-R item found inside is the Momo steering wheel whose smaller size and tactile feedback provide an improved feel. Type-R door sills also found their way inside along with other dress up items including a Skunk2 shift knob and Integra door sills. An Autometer boost gauge allows James to keep tabs on the amount of power his supercharger is putting out.
James has long finished his Integra despite the fact that it has never been repainted yellow. The car hasn't been touched in the last two years and James is looking into NSXs and Elises for a new project car. Nevertheless, his Integra DC5 represents a particular style of modding and tuning. James attention to detail and his selection of JDM goods create an Integra that offers excellent street performance and an improved clean look while retaining comfort. So while DC5s are relatively commonplace on the streets of the Chi, James took the iconic Integra and turned it into something entirely his and his alone.
-JDM Chicago
Modifications List
Wheels/Tires:
Advan TCII rims, 18 x 8.5 + 31
Nitto Neo Gen tires, 215 40 R18
Volk lug nuts "long"
Brakes:
Spoon monoblock calipers
Powerslot rotors with custom dimpling (14"F/12"R)
Suspension:
Tein Flex coilovers
T1R inverted tie rod ends
Mugen front strut bar
SPC rear camber arms
Engine and Transmission:
Jackson Racing supercharger (4″ pulley)
ARC intake box
Custom made carbon intake tube
Vision carbon manifold cover (modfied to fit w/supercharger)
Password JDM plug cover
Tein hood dampers
Hondata intake manifold gasket
Type R valve cover
Spoon oil / radiator caps and socks
Comptech "shorty" header
Comptech cat back exhaust
"Brando" bracket (belt tensioner)
J's Racing torque damper (modified to fit w/supercharger)
Exedy light weight flywheel
Exedy 3 puck ceramic clutch
Type-R LSD
Exterior:
'05 headlight conversion – OEM Honda w/8000k HID
ChargeSpeed front bumper cover
ChargeSpeed sides and rear lip
Seibon carbon hood
Type-R spoiler
S2000 marker lights
Interior:
Type-R Recaro seats
Vision lowered seat rails (driver side)
Type R door inserts
Autometer boost gauge
Integra door sills
Type R steering wheel
Skunk 2 shift knob
Iphone dock directly linked into the head unit
Gallery (click thumb to expand):
Comments
comments