Pics &  Words:  Ginash George (Synth19 photo)
About a month ago or so I was contacted by Zack from Wisconsin who wanted me to shoot his car before he stored it for the winter. It seems like everyone is a photographer these days,  so I don't take it for granted when people ask me to shoot their cars.  One cool thing about automotive photography is learning about the owner,  and also about why the particular platform and mods were chosen.  After all,  we are auto enthusiasts first.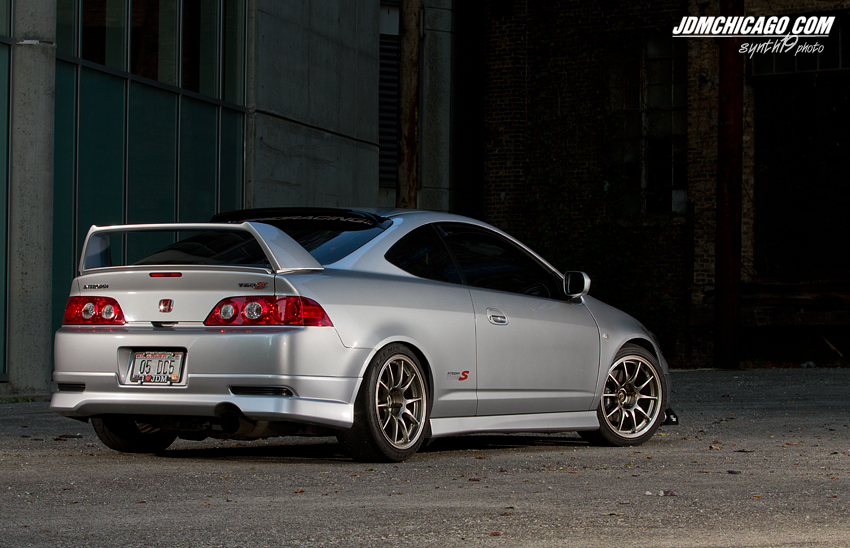 Here's a rear shot that really demonstrates how clean Zack's car is.  I tried to really get some nice light on the wheels here-  TC105N 17×9" +25 wheel from WedSport.  An OEM A-Spec kit flows perfectly with this Type- S,  stanced with Buddy Club N+ Coilovers.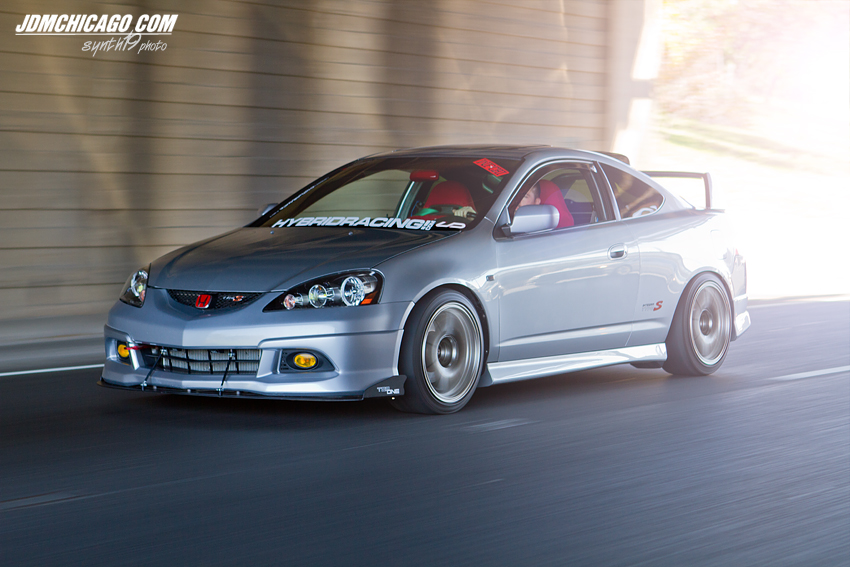 I called this pic "Run from the Sun"  on my FLICKR.  Thought the lighting came out cool as Zack entered a viaduct on 290.  It's the small details that makes a good build,  a GREAT one-  JDM Type R badges,  a PasswordJDM front tow hook,  pulled fenders,  as well as a Top One splitter with connecting rods.  You may also notice a Noribilt Aftercooler Core sheepishly hidden between the JDM Type-R Yellow Fog Lights.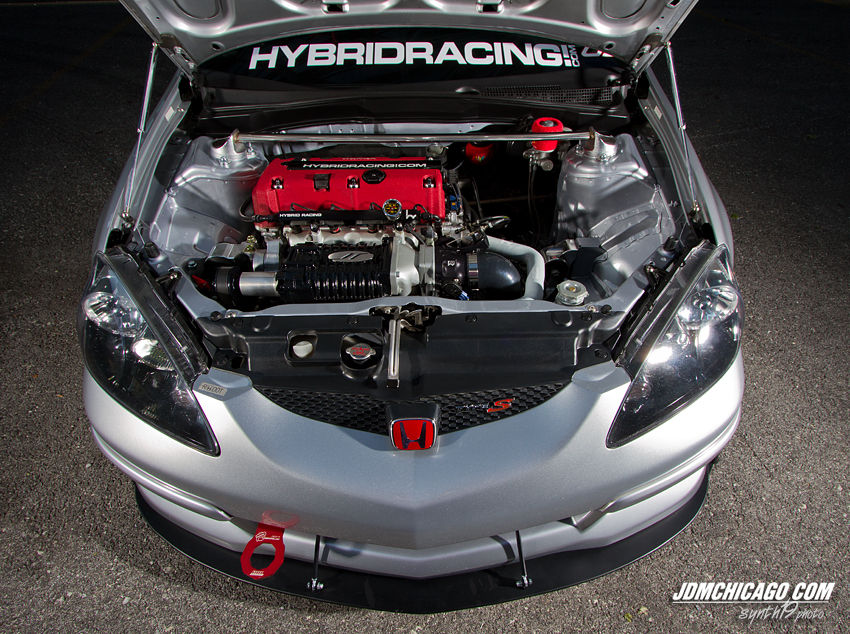 Zack has had his 2005 DC5 for only three years.  In the short time he's had the car,  he's modded it like no tomorrow.  An unfortunate incident resulted in the death of  the original K20Z1.  With his back against a corner,  Zack looked at the positive side of things and knew that this would be a good opportunity to upgrade.  A 2005 K24A2 was chosen to replace the original motor,  and later a Jackson Racing Supercharger was installed.  Unfortunately an improper tune resulting in yet another motor replacement. This time Zack went with a 2007 K24A2 as pictured above.  The torque on this beast is something amazing- She makes 243 ft-lbs at 2700 rpms.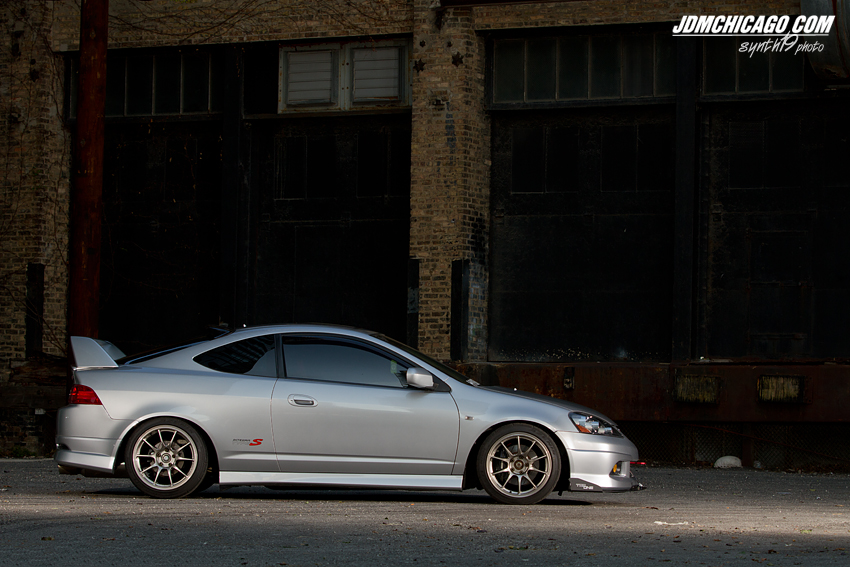 A side profile shot, simply clean!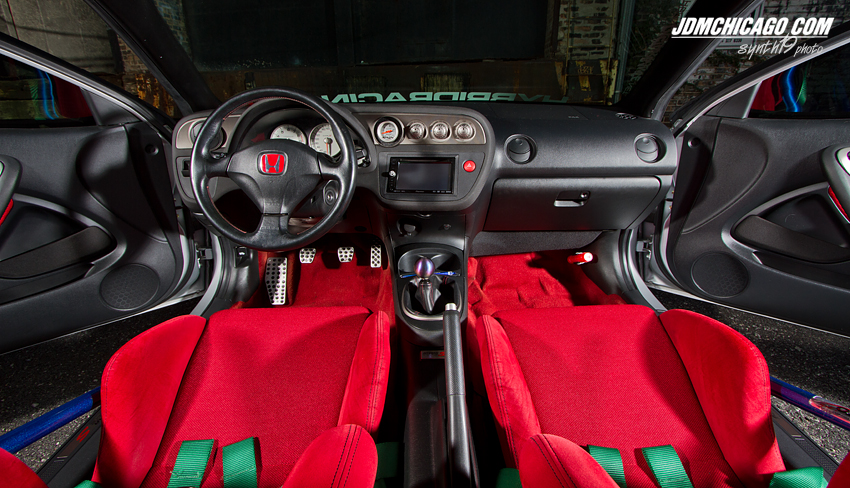 Zack decided to go with a full ITR interior with the red Recaros,  doors,  carpet,  center console,  and pedals.  He also has a rare AUDM Type-S cluster only found in Australia.  After two years of searching and waiting,  he finally got his hands on one.  The interior is also fitted with a harness bar,  Cusco B pillars,  C-pillar,  mid bar,  and a rear strut bar.  I literally had to crawl through the trunk and fit myself between the rear harness bar to take this shot. Good thing I'm flexible.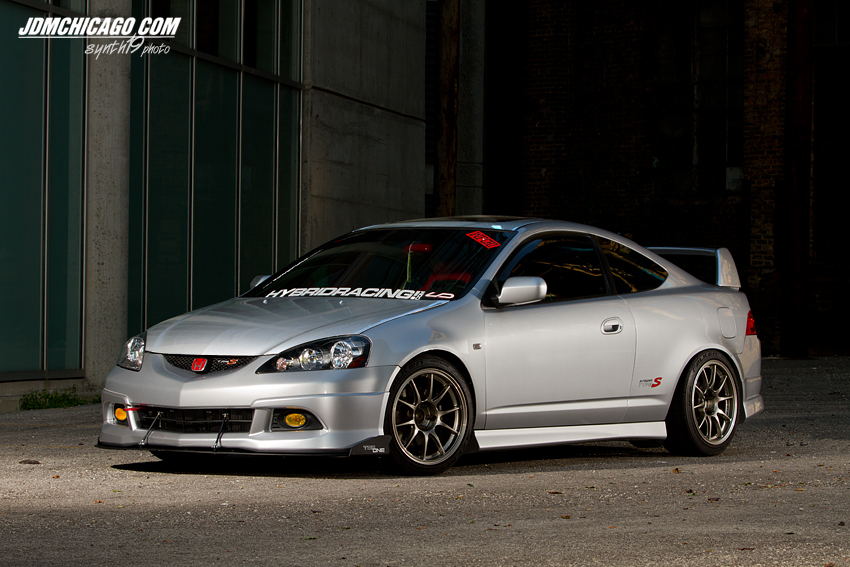 One last shot for you to preview, more in the gallery below.  Thanks again for checking out this feature and thanks again to Zack for the opportunity!
Gallery  (click for high res images):

Comments
comments