Discuss the car on forums by clicking here.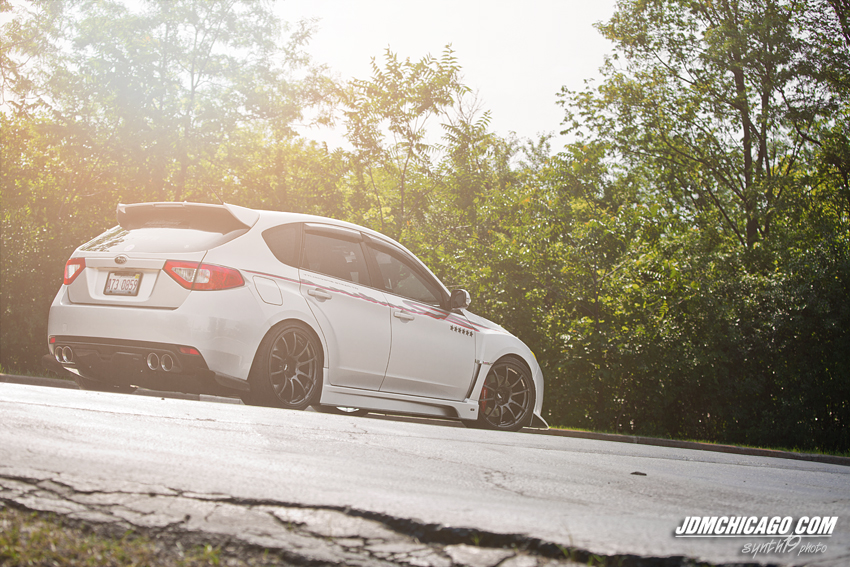 Last summer,  Nick was driving around in a 2000 Acura 3.5 RL.  Unfortunately, the  lack of power and excitement had him yearning for another car.  As winter approached,  Nick debated between dozens of new car options.  In the end,  his sensible side merged with his bad boy inner persona,  and he became the proud owner of a Subaru Impreza WRX STI.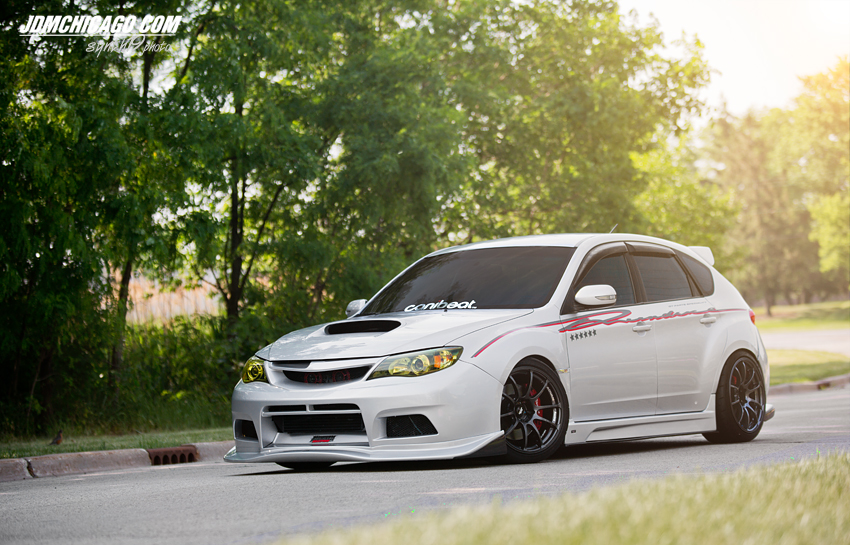 Nick looked at several different kits for his hatch (Ings+1,  Chargespeed,  and Varis),  but ended up with the Varis x Original Runduce kit. This particular variant of the Varis '09 Kit had not yet made its way across the Pacific in Subaru form,  so Nick was lucky enough to be the first.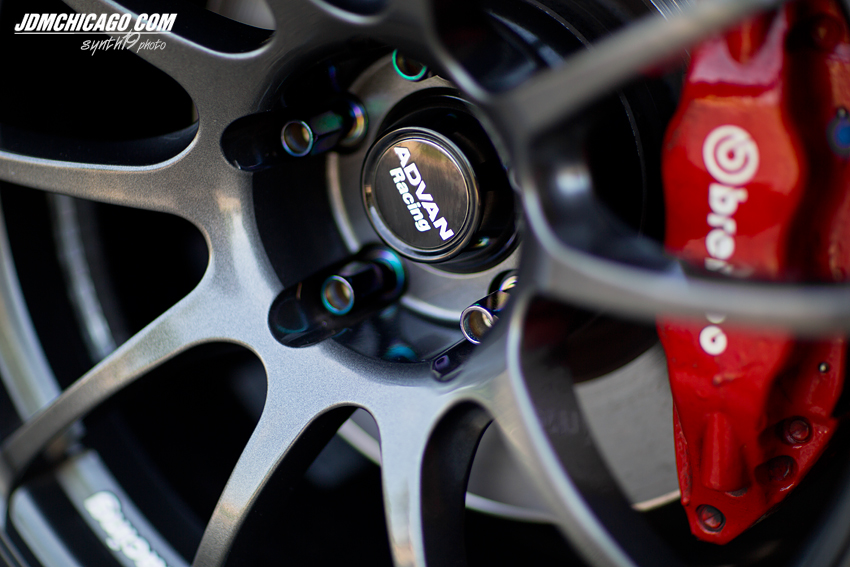 After dumping a set of Enkei's,  Nick picked up some Advan RZ's in the dark gunmetallic finish.  In 18×10 +25,  these wheels were not only super lightweight (only ~18lbs each),  but also aggressive,  deeply concave,  and just overall aesthetically pleasing.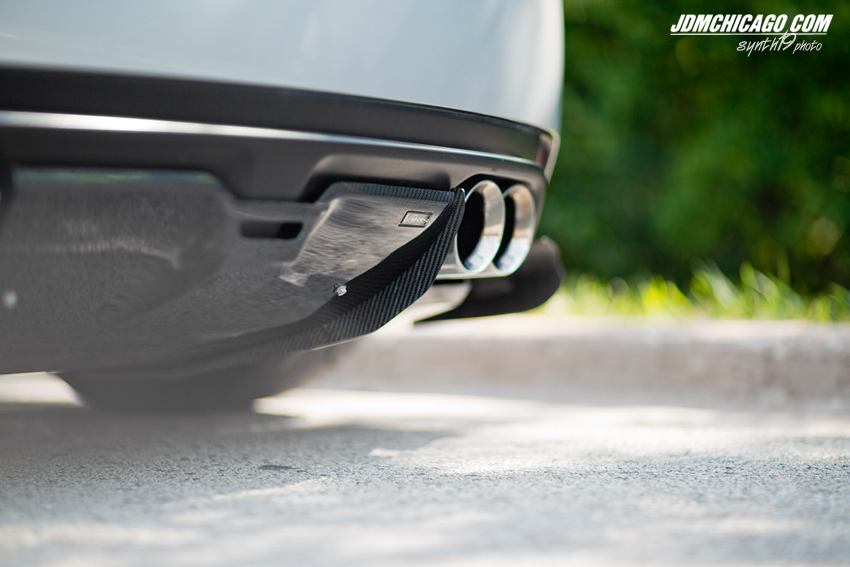 A detailed look at the Varis Half-Carbon Rear Diffuser and Greddy SP Elite Catback Exhaust.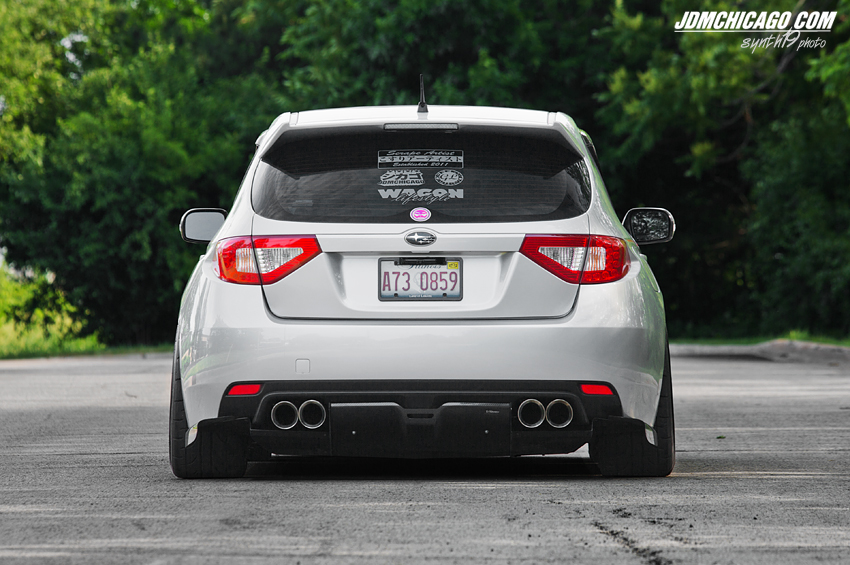 A nice touch of the rear bumper/diffuser are the carbon fiber side splitter fins.  Also some love to the local blogs.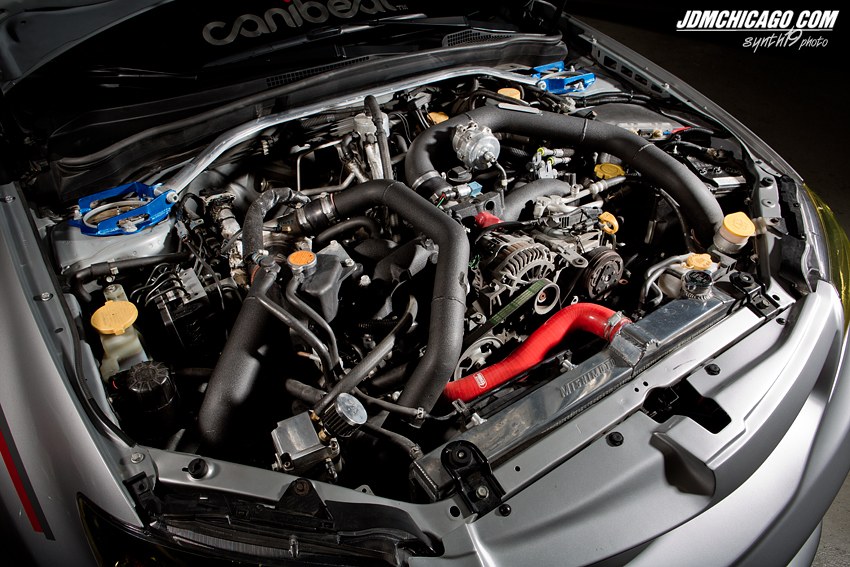 Take away the aero and fancy aesthetics,  and you have a beast laying dormant inside.  The car has already made about ~400awhp on a dynojet thanks to a built bottom end,  built heads,  and a rotated GT3076R.  Since then,  Nick has upgraded his turbo to  new Garrett GTX3076R compressor,  which means more power is on its way!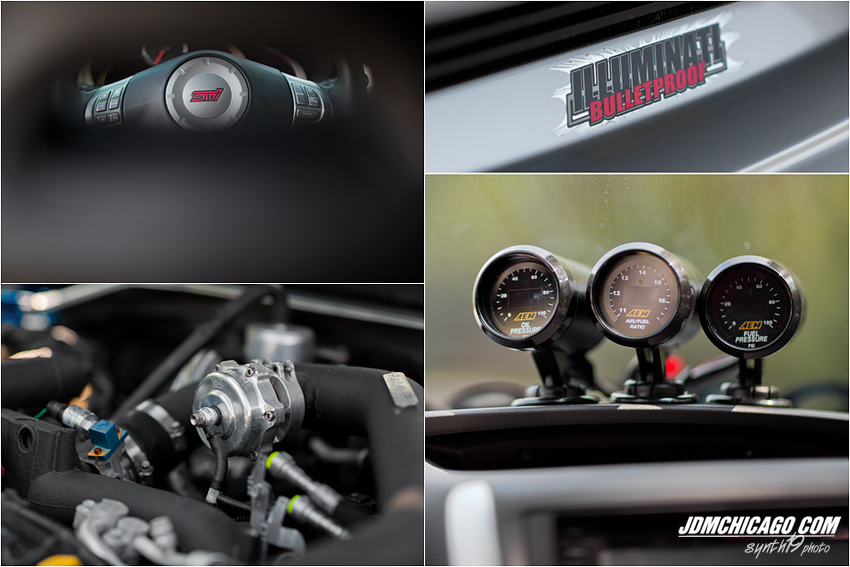 It's all about the bokeh!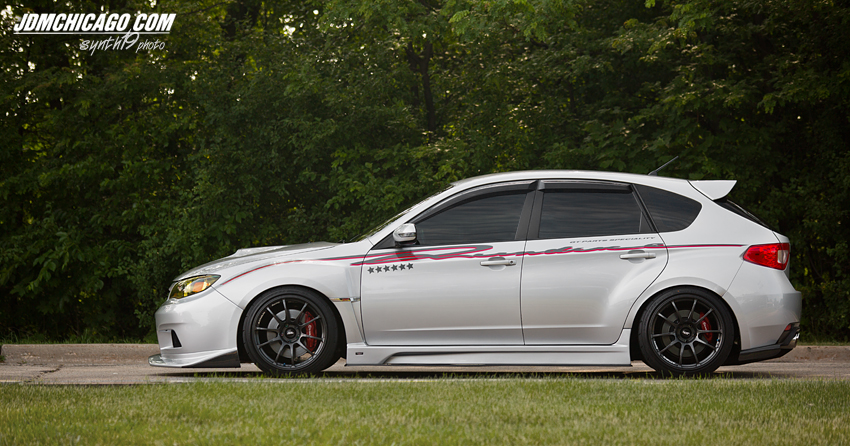 A tad bit of character and flair comes from the authentic Original Runduce pinstripe produced with authorization and under license by Original Runduce of Japan.  Side Boards tie in nicely to the front and rear- truly a balanced look.  As a daily driven car,  the car is very well balanced as it sits,  but Nick hopes to do some interior updates in the near future.  Congrats Nick on this feature and be sure to see the gallery below for more pics!
-jdmchicago
Modifications:
Body/Exterior
Varis x Original Runduce Collaboration Aero Kit
o Varis '09Ver. Front Bumper
o Original Runduce Front Lip
o Varis 2-piece Side Skirts with FRP Side Boards
o Varis Half-Carbon Rear Diffuser with Carbon Side Splitter Fins
JDM Subaru OEM Window Visors
Lamin-X Yellow Headlight Tint Film
Premier Auto Styling Red Tail Light Film
Genuine Original Runduce Pinstripe
Engine/Drivetrain
P&L Stage 1 Short Block
o CP Forged/Coated Pistons
o Pauter Forged Connecting Rods
o Cosworth Race Bearings
o Balanced/Modified EJ257 Crankshaft
Perrin Products Lightweight Crank Pulley
P&L/Raw Race Cams 272/272
Ported Cylinder Heads
Supertech Valve Train Set
o +1mm valves
o Valve Springs
o Valve Retainers
o Shims
o Bronze Valve Guides
o Seals
ARP Headstuds
P&L Rotated Turbo Kit
o Garrett GTX3076R .82 A/R
o Swain Tech Coating on Up Pipe and Turbo Housing
DEI Titanium Turbo Blanket
TGV Deletes
P&L HIGHFLO Series Cold Air Intake
P&L Front Mount Stealth Intercooler
TIAL 50mm BOV
TIAL 38mm External Wastegate
Agency Power Equal Length Header with DEI Titanium Wrap
TurboXS Shorty Downpipe
Walbro 255lph Fuel Pump
Deatschwerks 1000cc Fuel Injectors (Top Feed)
P&L Air/Oil Separator
Moroso Aluminum Oil Pan
P&L Air Pump Block Off Plate
64mm Ported Throttle Body
Exedy Hyper Twin Disk Clutch
Exedy lightened flywheel
Kartboy Short Shifter Lever
Kartboy Front/Rear Shifter Bushings
Turn-in Concepts "Holy Shift" bushings kit
Group-N Engine & Trasmission Mounts
AEM MAP Bar Sensor (3.5)
Cobb MAP Sensor Adapter
P&L Race Application 11mm Oil Pump
Mishimoto Aluminum Radiator
Samco Radiator Hoses
Greddy SP Elite Catback Exhaust
Suspension/Wheels
Yokohama Original Wheel Design Advan Racing RZ 18×10 +25
Stance GR+ Coilovers 9k/7k
Dunlop Z1 Star Specs 255/35R18
Cusco Front Strut Bar
Kartboy Front Endlinks
Whiteline Adjustable Rear Endlinks
Whiteline 22mm Adjustable Front Sway Bar
Whiteline 22mm Adjustable Rear Sway Bar
Whiteline Anti-Lift Kit
Whiteline Camber-Adjustable Rear Control Arm Bushings
Whiteline Rear Subframe Bushings
Whiteline Spherical Front Control Arm Bushings
Eibach Front Camber Bolts
F-3°/-2°R Camber
Electronics/Entertainment
AEM UEGO wideband
AEM Digital Fuel Pressure Gauge
AEM Digital Oil Pressure Gauge
Defi White Racer Boost Gauge
Pioneer AVIC-D3 Double-DIN DVD/Navigation Unit
Escort Passport 9500ci Installed Radar Detector/Jamming System
Hella Supertones
Cobb Accessport
Interior
MXP Titanium Shift Knob
JPM Coachworks Leather Shift Boot
JPM Coachworks Leather Emergency Brake Boot
Prova SI-Drive Dial
Gallery:

Comments
comments