Although Norcal transplant Ethan Caldwell moved to Chicago several years ago,  he does however make it a point to return home as often as possible. On one particular trip,  Ethan had the privilege of shooting  Patrick Ng's super clean TE27 for UK based mag Bonzai Mag.  We urge you to check out the mag for the full feature,  but here are some bonus photos we thought you would enjoy.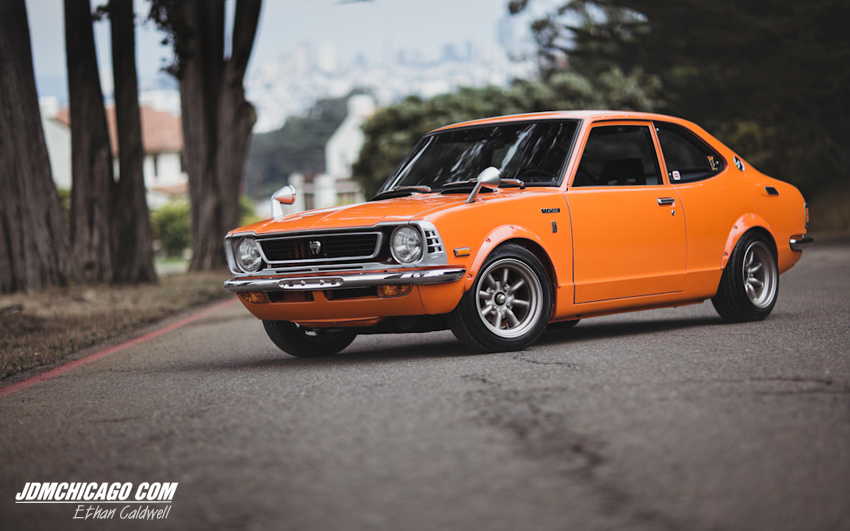 Patrick Ng took roughly three years to complete this build.  First thing you will notice is the brilliant paint job. After the shell was stripped and minor bodywork completed,  Lamborghini Competition Orange was selected to revitalize the original Toyota orange.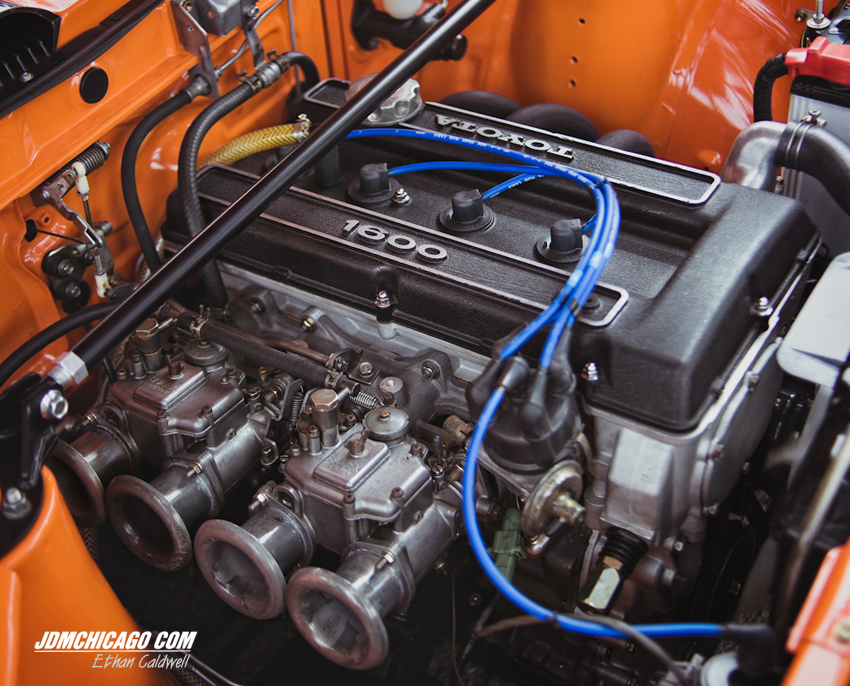 Mechanically,  the Corolla has been freed of its underpowered US-spec 2T-C and been equipped with a larger capacity engine built up form a combination of Toyota T-series engines.  Starting with the long-stroke bottom end from a 1770cc 3T-C,  the block was overbored to accept 89mm TRD pistons,  effectively creating a 1941cc engine.  A pre-emission 2T-GR twin-cam cylinder head was mildly ported and polished before being assembled with TRD valves,  springs and 288/288 duration camshafts.  A pair of Solex 44mm side-draught carburettors tasked with the responsibility of delivering fuel and air in the correct proportions before it's all ignited by TRD speak plugs.  A rally-spec 4-2-1 exhaust manifold from the Toyota works tuner feeds into a stainless Fujitsubo exhaust.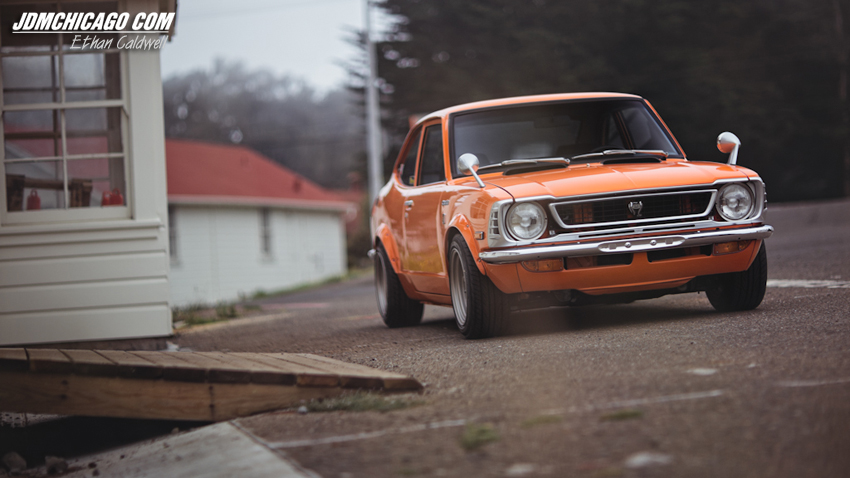 It's hard to believe the transformation of this Corolla SR-5.  Patrick took no short-cuts and found original Levin parts in every possible nook and cranny. Japanese-spec Levin parts shows here include grille trim pieces,  lights,  side markers,  wing mirrors,  bonnet vents,  chrome bumpers,  badges,  and even the washer nozzles.  Patrick also managed to unearth a set of Tosco/TRD rally-spec lights for the front end,  just like those used on the race cars from his childhood.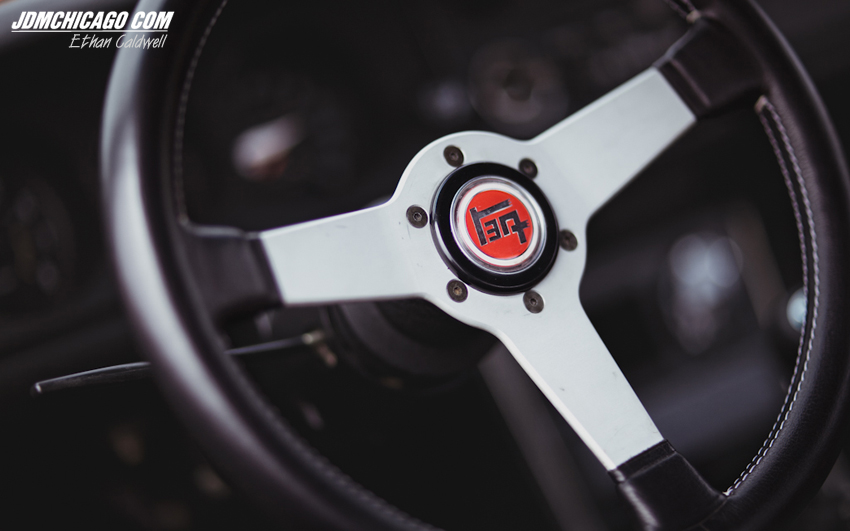 You have to love the MOMO steering with period-correct original TEQ horn button.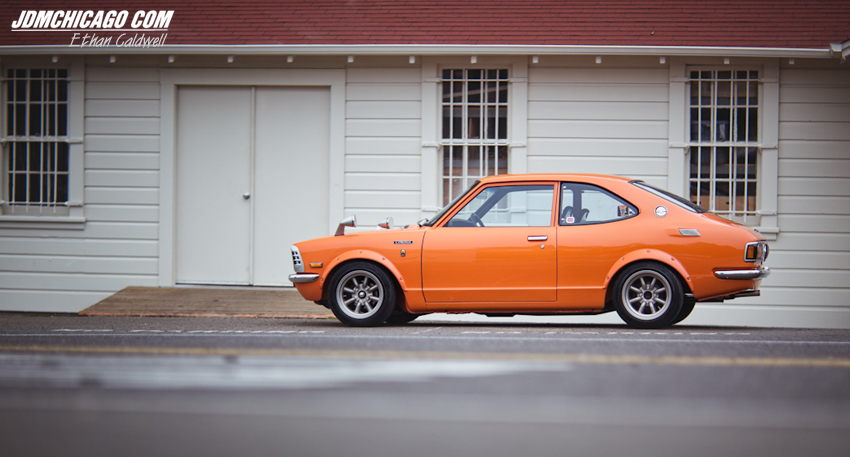 What a great road presence-  The RS Watanabe wheels look perfect  with the combined TRD Suspension.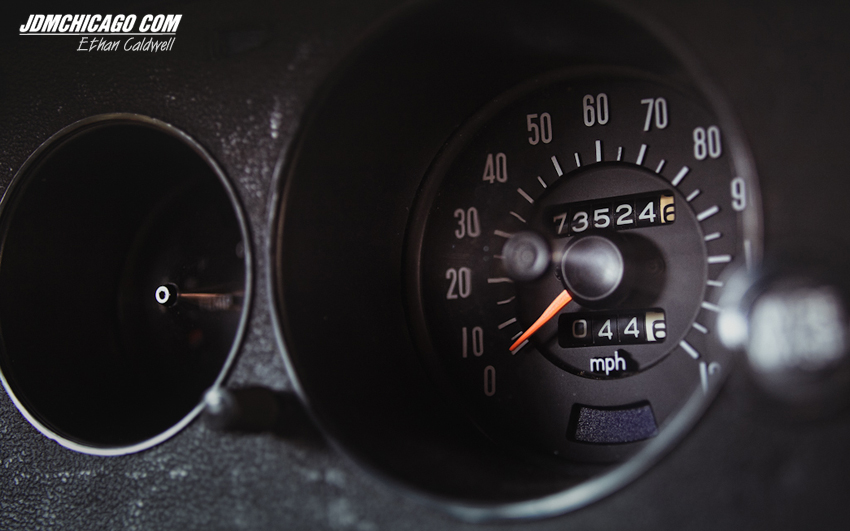 All in all,  Patrick's TE27 is probably the finest example we have ever seen.  As Ethan described,  "It's really hard to appreciate the level of detail of this car unless you see it in person."   The car funtions mostly as a weekend cruiser,  but you may be lucky enough to see it displayed at the next Japanese Nostalgic Car Show.  Congrats Patrick on such a fine restoration and we hope our readers appreciate this car as much as we do!
-jdmchicago
MOD LIST:
ENGINE: 1941cc twin-cam long-stroke T-series engine (3T-C bottom end, ported and polished 2T-GR twin-cam cylinder head),  TRD 89mm pistons,  TRD valves,  TRD valves springs,  TRD 288/288 camshafts,  twin 44mm Solex side-draught carburettors on modified OE linkage adapted to Tom's racing intake manifold,  TRD rally-spec 4-2-1 exhaust manifold,  custom made exhaust,  RSST aluminium oil catch tank (NOS),  reconditioned coolant radiator,  modified distributor,  uprated Denso ignition coil,  TRD spark plugs and HT leads
TRANSMISSION: Reconditioned TE27 Levin/SR-5 five-speed manual transmission,  lightened flywheel,  OS Giken clutch,  TE27 Levin/ rear differential with TRD limited slip unit (NOS)
CHASSIS: 14×7.5 ET-3(front) and 8×14" ET-6 (rear) RS Watanabe (NOS),  Yokohama Sdrive,  reconditioned Levin/SR-5 front discs with TRD Ferodo fast road pads,  reconditioned rear drums with TRD Ferodo fast road shoes,  reconditioned suspension arms,  TRD coil springs(NOS),  TRD adjustable front dampers (NOS),  Tosco/TRD de-arched race-spec leaf springs (NOS),* TRD adjustable rear dampers (NOS),  reconditioned te27 quick-ratio steering rack,  Cusco front upper strut brace
EXTERIOR: Restored and resprayed body shell in Lamborghini Competition Orange,  fabricated rear valance,  1972 JDM front valance (NOS),  Levin NOS trim parts (chrome bumpers, front grille, headlight surrounds,  front and rear badges,  wing mirrors,  rear lights,  side markers,  rear centre trim panel,  fuel cap,  rear quarter light trims),  Tosco/TRD Koito H4 rally lights (NOS),  miscellaneous parts sourced new or NOS
INTERIOR: Partially stripped interior with satin black floor,  retrimmed leather door cards,  retrimmed headlining,  reconditioned dashboard and centre console,  reconditioned Levin auxiliary three-gauge panel,  Levin radio block off panel,  Levin NOS trim parts (window winders,  rear view mirror,  gearknob,  rear door card drink bins),  Momo steering wheel (NOS) with original TEQ horn button (NOS),  Tosco steering wheel boss (NOS),  TRD fibreglass/black velour racing bucket seats (NOS),  Sabelt harnesses (NOS)
*NOS= New,  Old Stock
Gallery:
Comments
comments