Here is the last part of Ray's SEMA coverage. I've included shots from  the interior of the convention center, along with many of the cars displayed outside.  Although I wasn't able to attend SEMA this year, it looks as if this convention is slowly picking up again. As you go through the pics, you'll notice a ton of FR-S shots. Trust me, there were a ton more there. The FR-S definitely is the flavor of the month. I'm sure Toyota is breaking all kinds of sales records with this car. Warning you now that this is a massive post!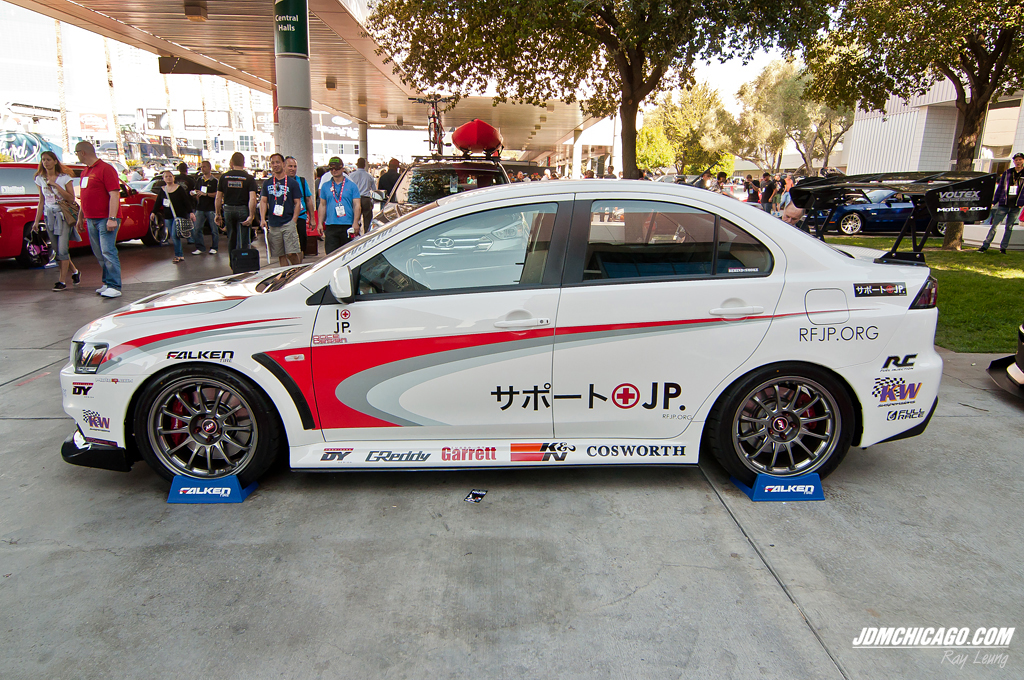 Chris Marion's Evo X on Yoshihara Wheel designs. In addition to being a showcase of parts from various sponsors, the car hopes to bring awareness to the Relief for Japan charity(rfjp.org). Livery by Jay from JDM EGO.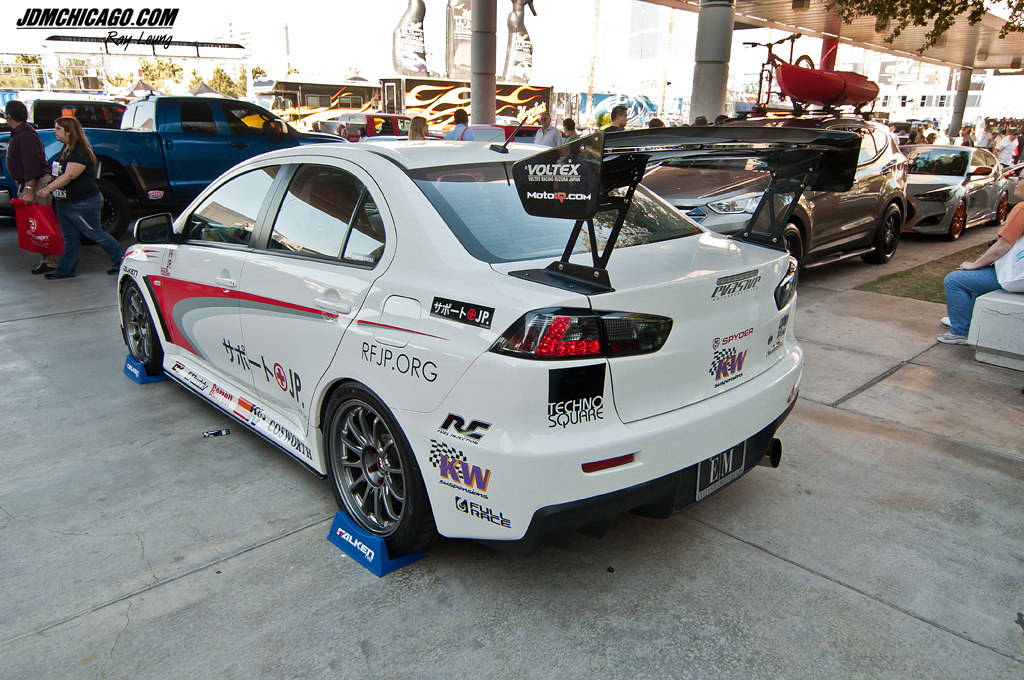 Rear shot of the EVO.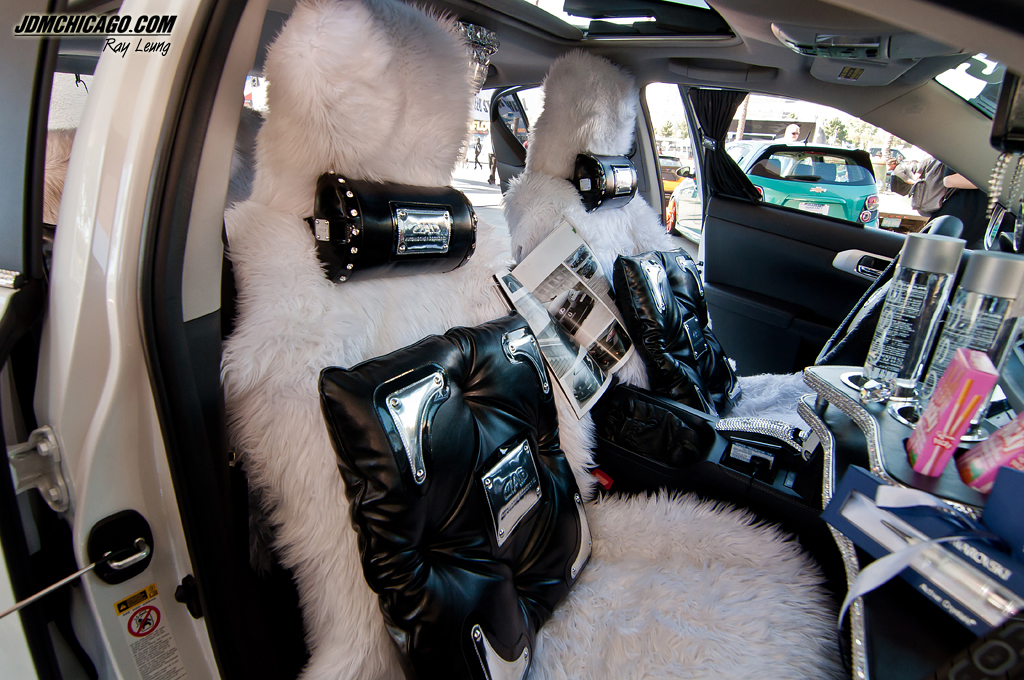 Here is an interesting VIP Lexus CT200H with Garson interior.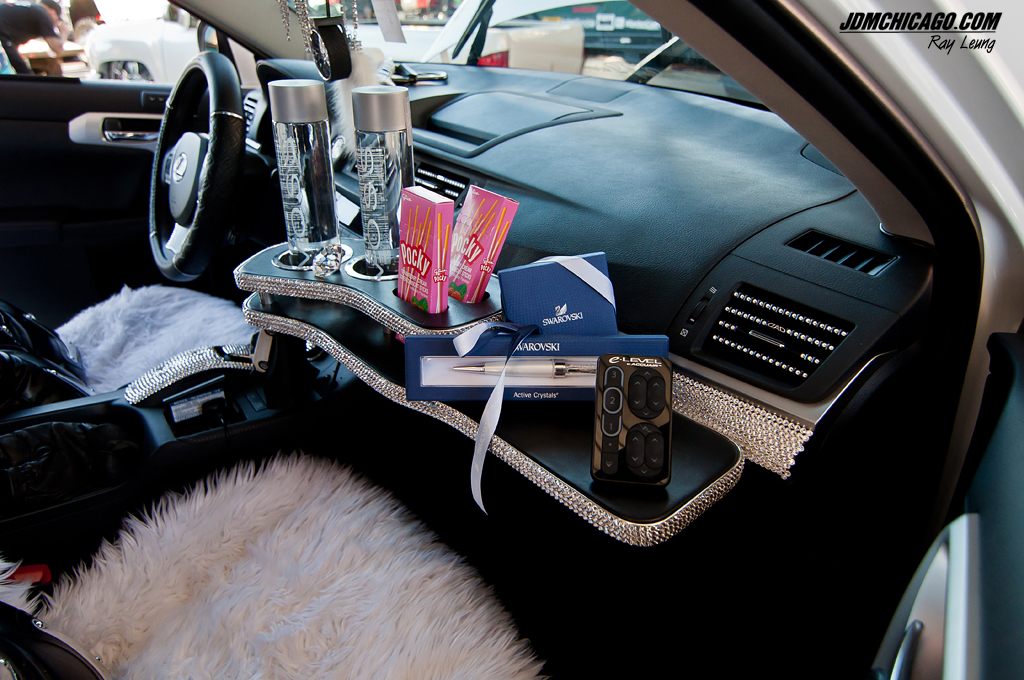 Another shot of the blinged out interior, with full Swarovski treatment.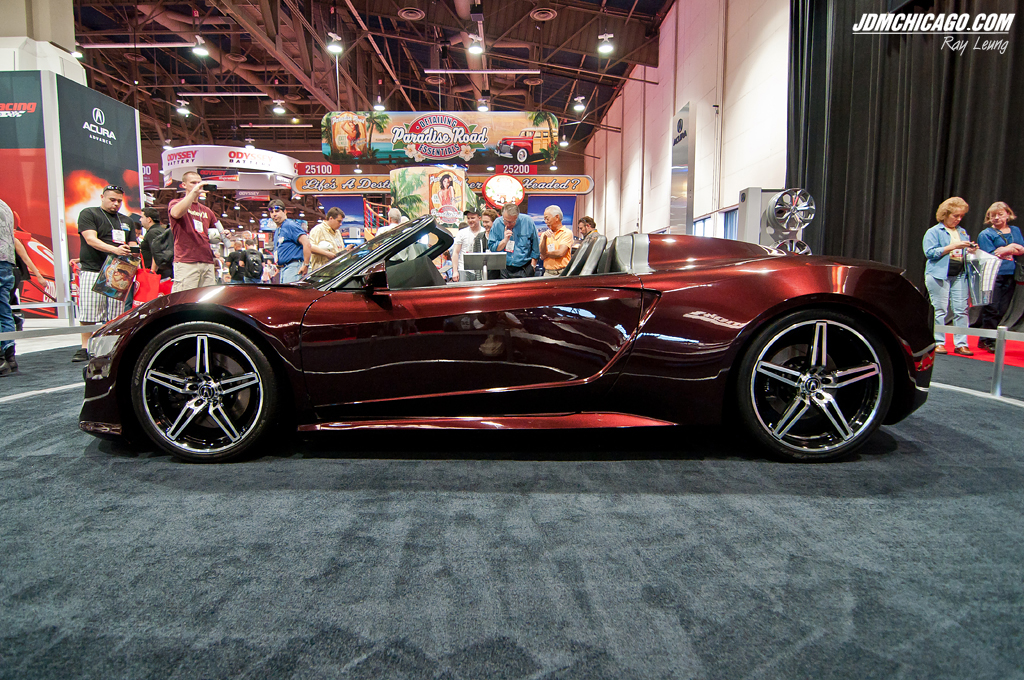 Here is the Avengers Hero car built by Trans FX from Torrance, California.  Trans FX found a '91 NSX with 250,000 miles for the project, and essentially hand-fabricated the concept over the chassis.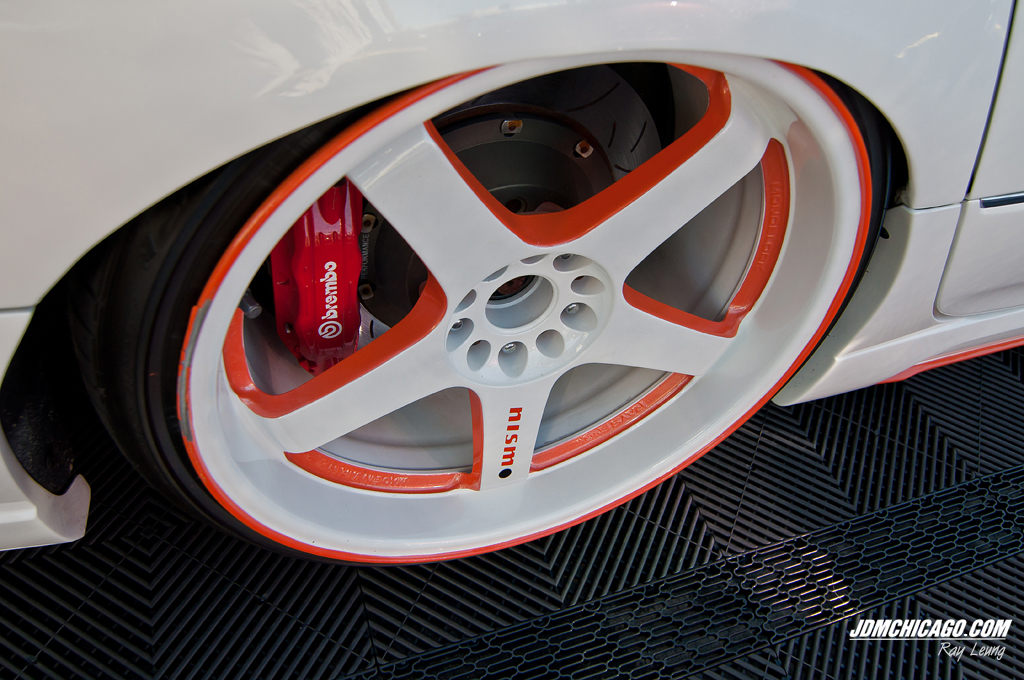 Nismo LMGT4 wheels with an an orange and white theme. Never been a huge fan of red with orange, and I probably would have matched the brembo's up.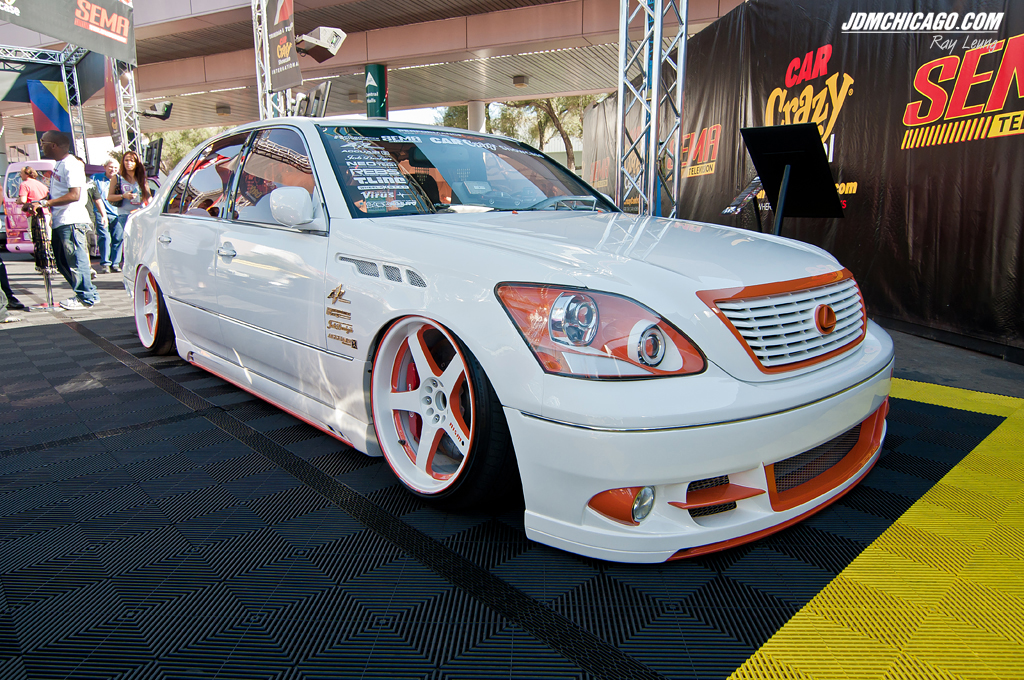 Surprise, surprise… the Nismo wheels are on a VIP themed LS430.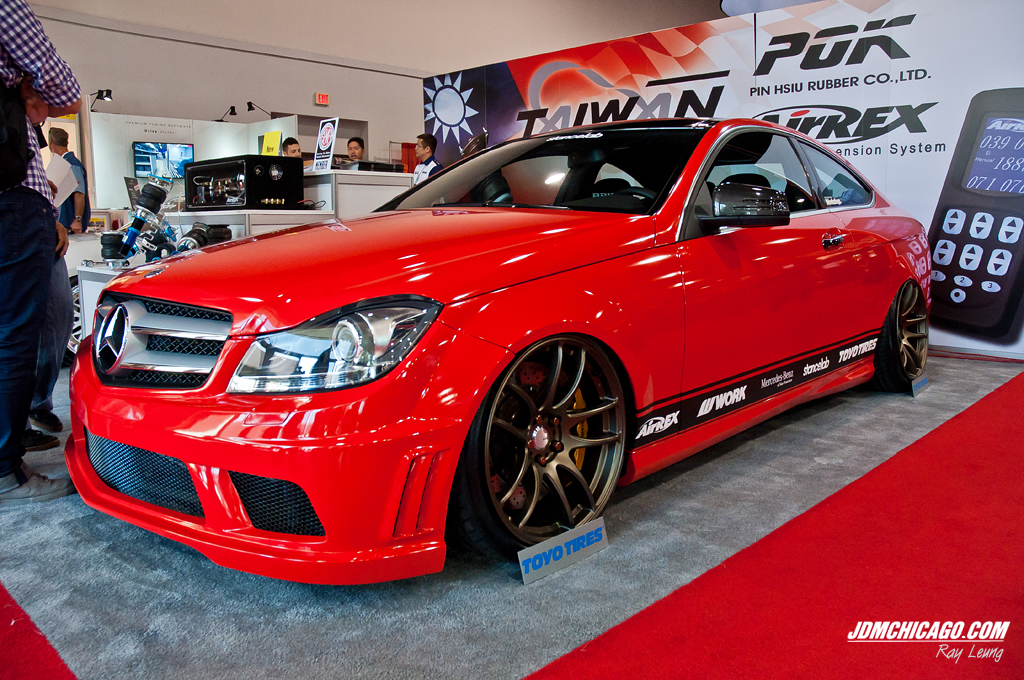 One of the highlights of the show was this Mercedes Benz C63 with Airrex equipped suspension, and WORK Emotion CR Ultimate Wheels.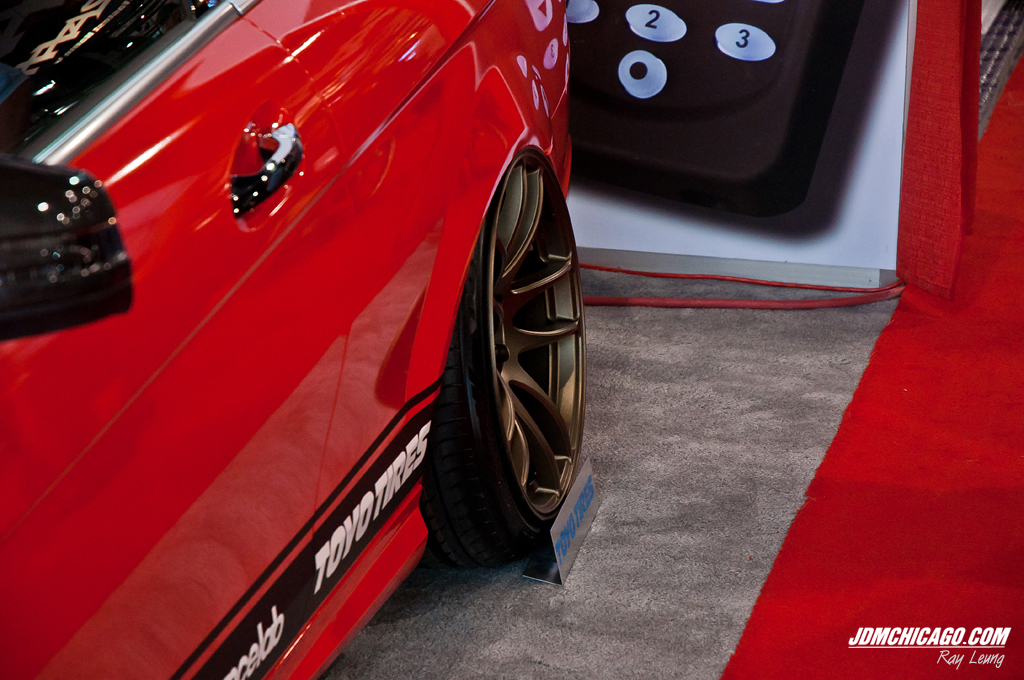 Love the concave faces of the CR Ultimates. Note that you have the option to run center caps on these wheels as opposed to the original CR KAI.. The finish here is matte bronze.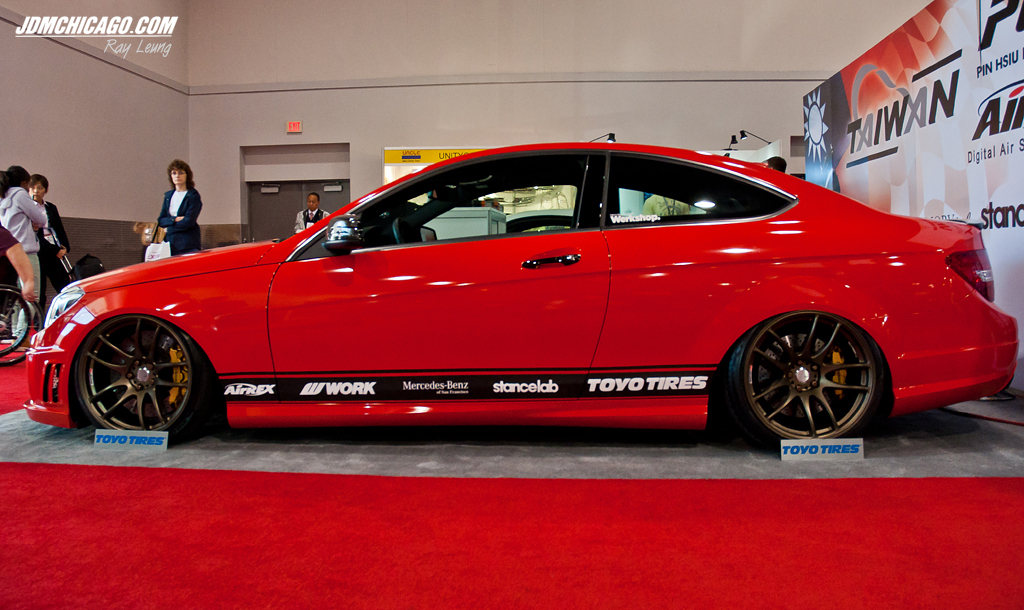 Although the car is bagged, I would have probably raised it up a tad.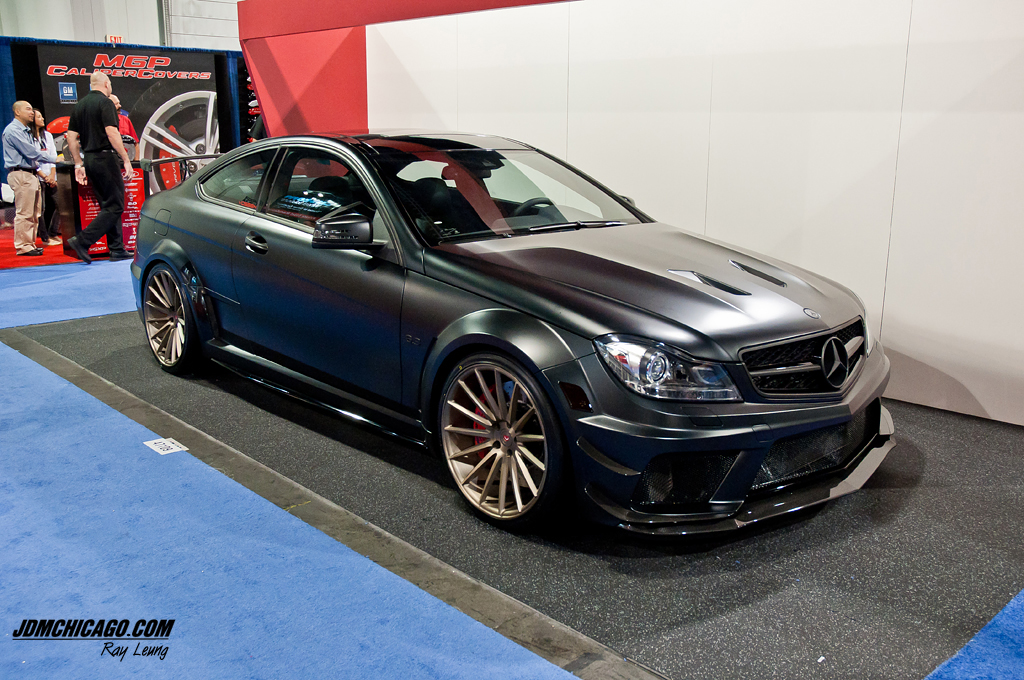 Speaking of MB, here is a more sinister looking C63 AMG Black Edition.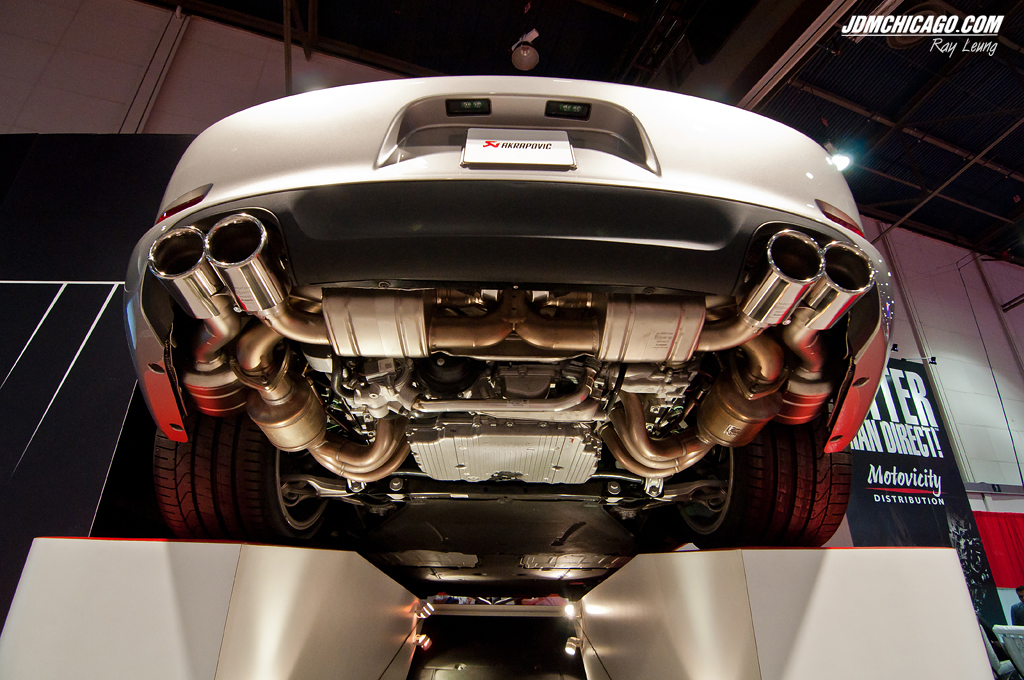 M3 with an Arkapovic exhaust system.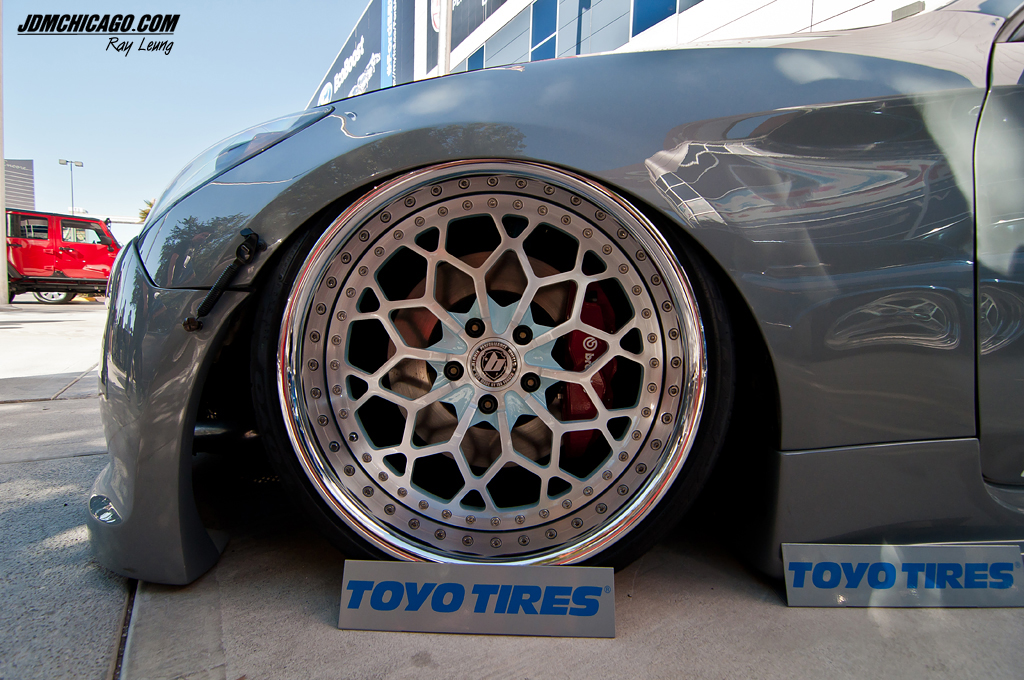 ISS Forged wheels on a Hyundai Genesis. If you stare at the wheel long enough, you'll see a snow flake. Looks like the bumper fitment is a work in progress.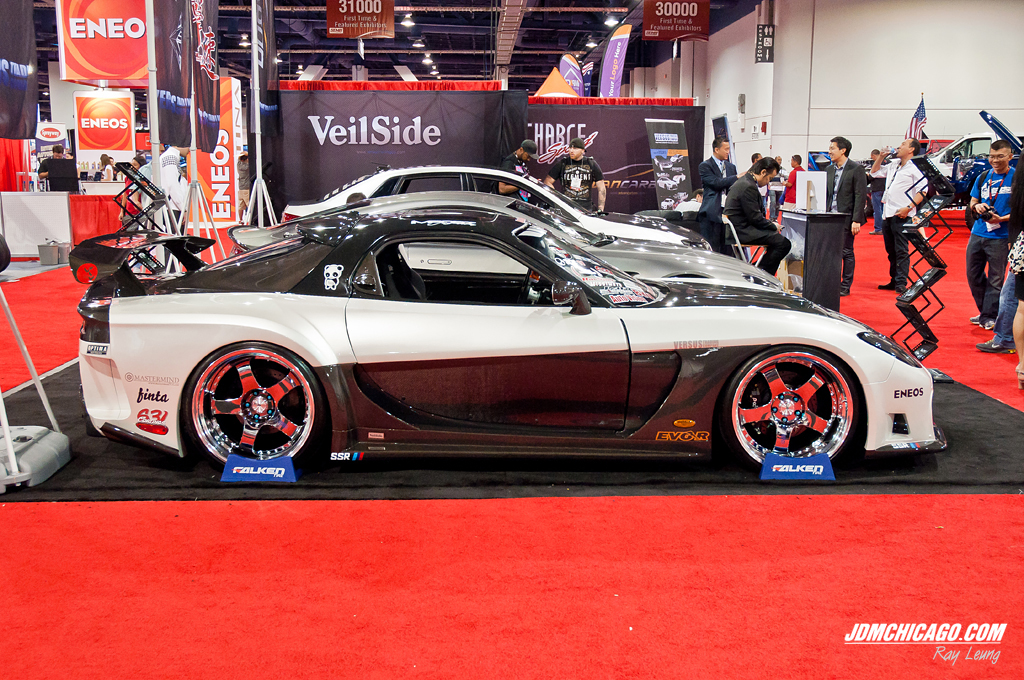 Here is High End Performance's RX-7 on SSR SP1 Professors from the East Coast. Haven't seen the Veilside Fortune Widebody kit in awhile since Tokyo Drift… spoiler alert- Poor Han. 🙁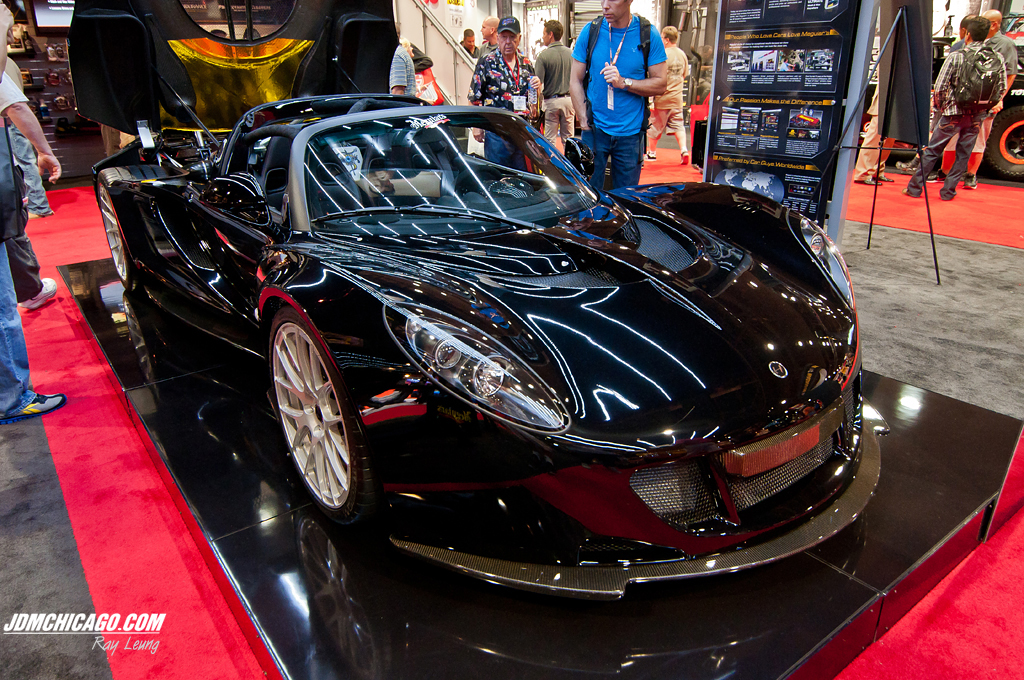 A rare Hennessey Venom GT. This is a 1,200 hp beast.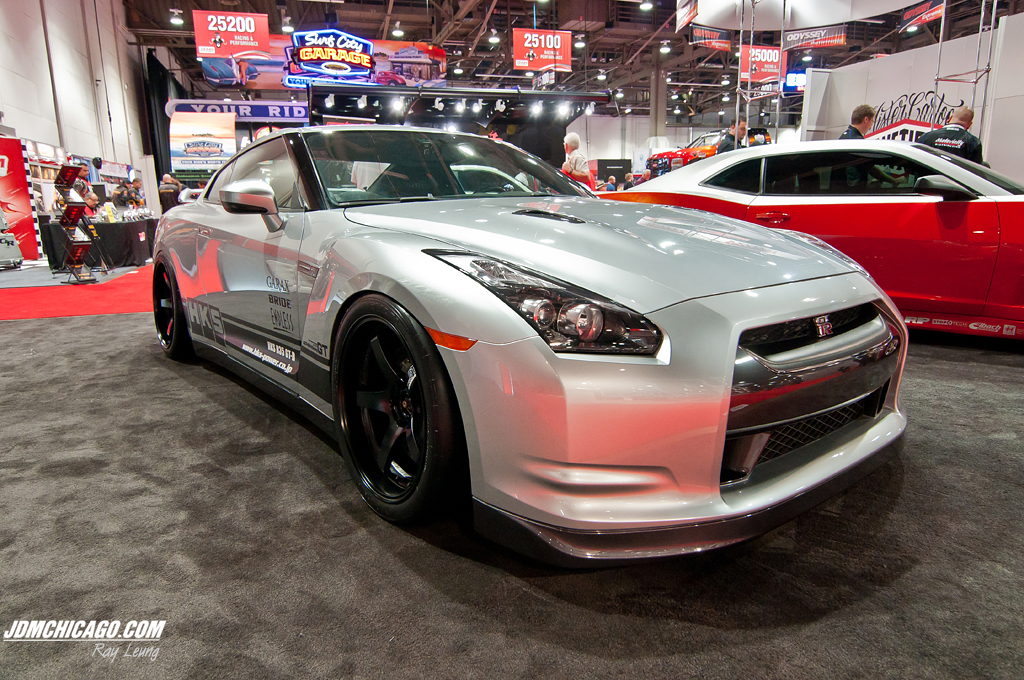 GTR  on Advan GT wheels. These wheels are really starting to grow on me and look especially great on a GTR.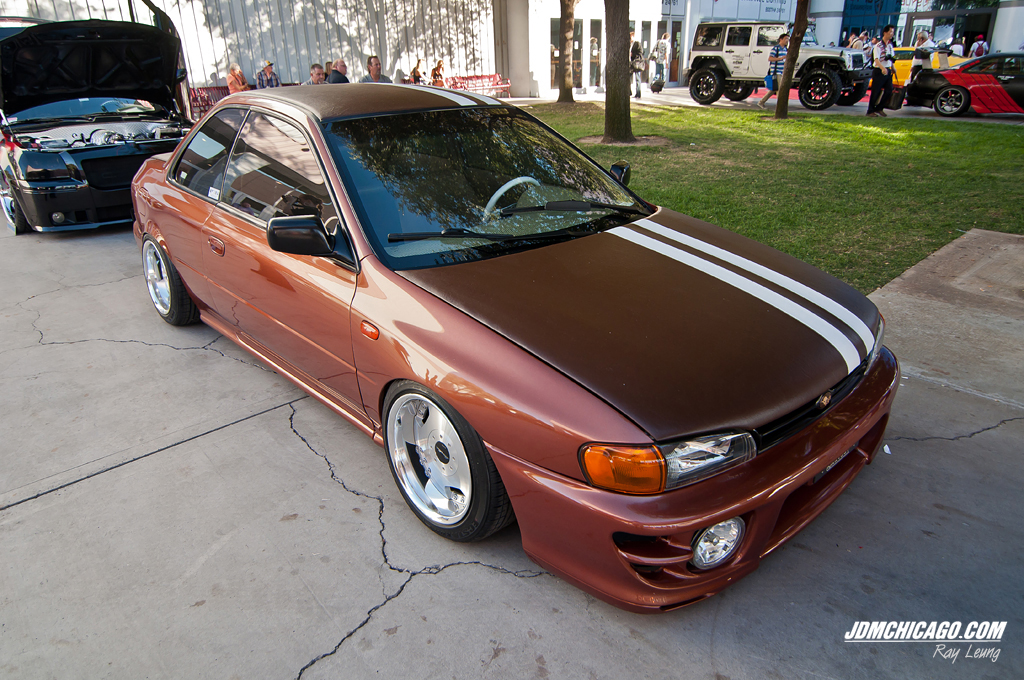 You don't see these too often, but here is a bagged GC Impreza. The hood/roof are wrapped in leather.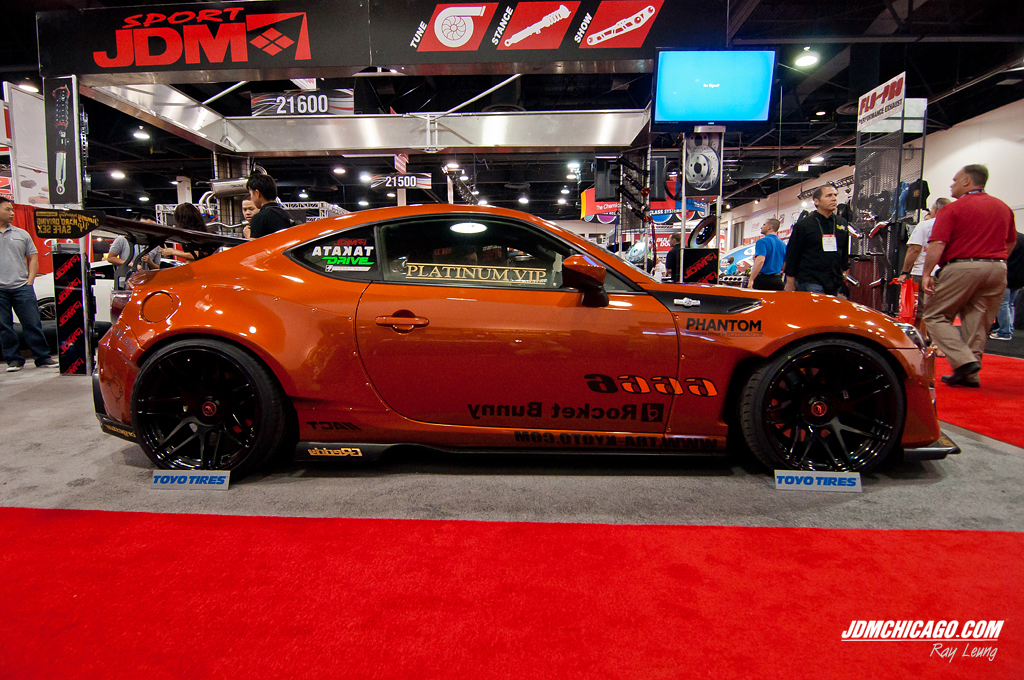 FR-S on the ever-popular Tra-Kyoto Rocket Bunny kit. We predict this to to be one of the best selling aftermarket kits for the FR-S due to its affordable pricing and aggressive, yet stylish looks.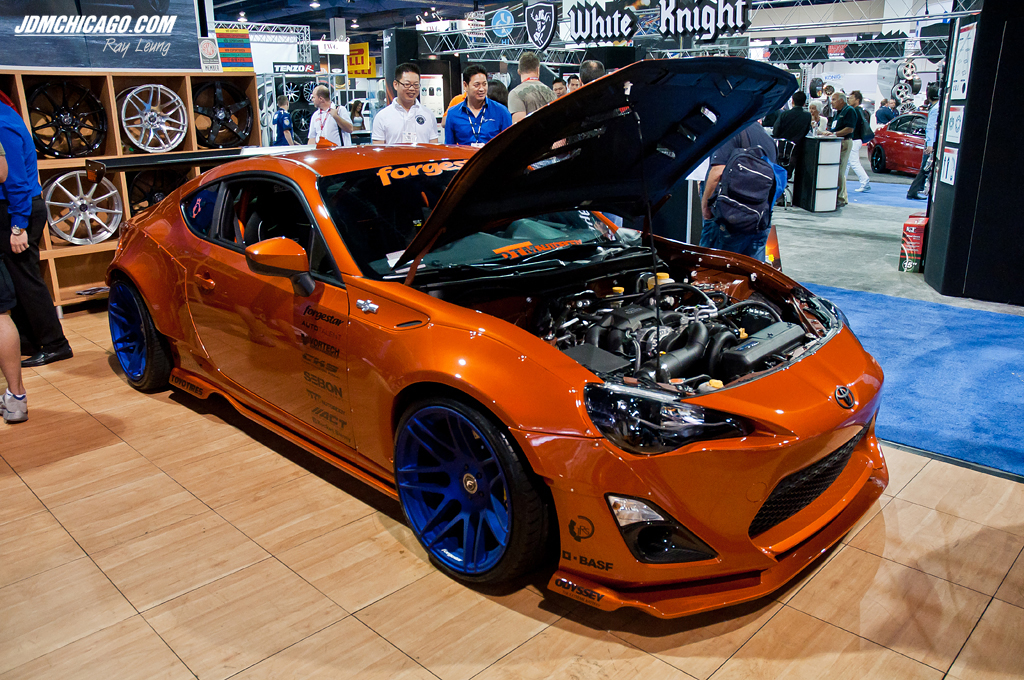 Yet another Tra-Kyoto Rocket Bunny kit on Forgestar wheels. These wheels seemed to be very popular at SEMA this year.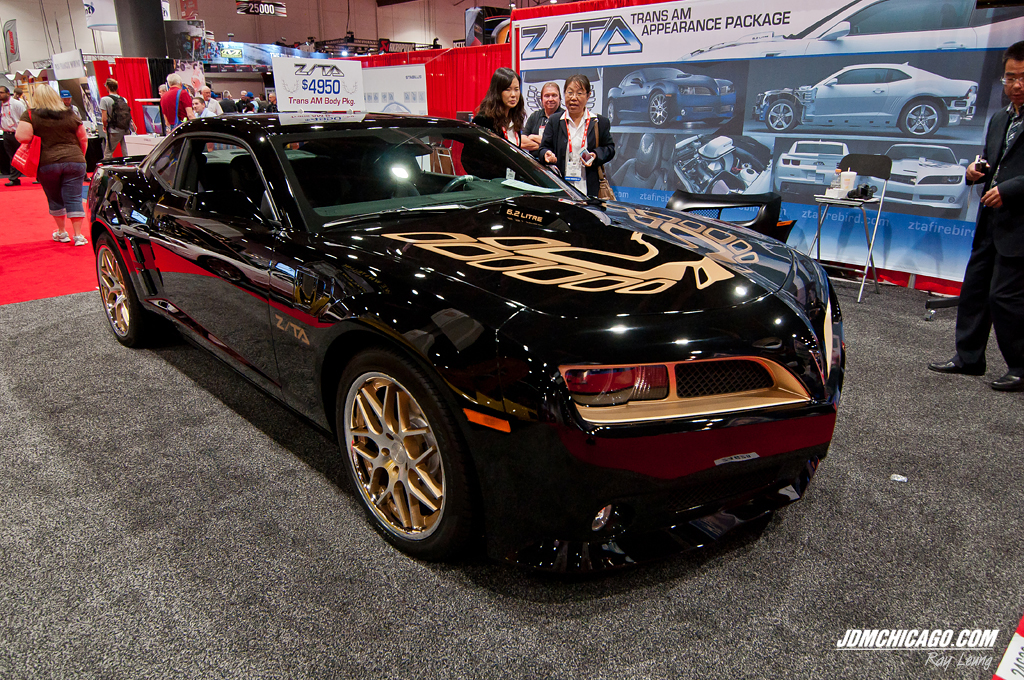 Who isn't a fan Smokey and the Bandit? Purists may hate this, but diggin' the Firebird livery on a Chevy Camero.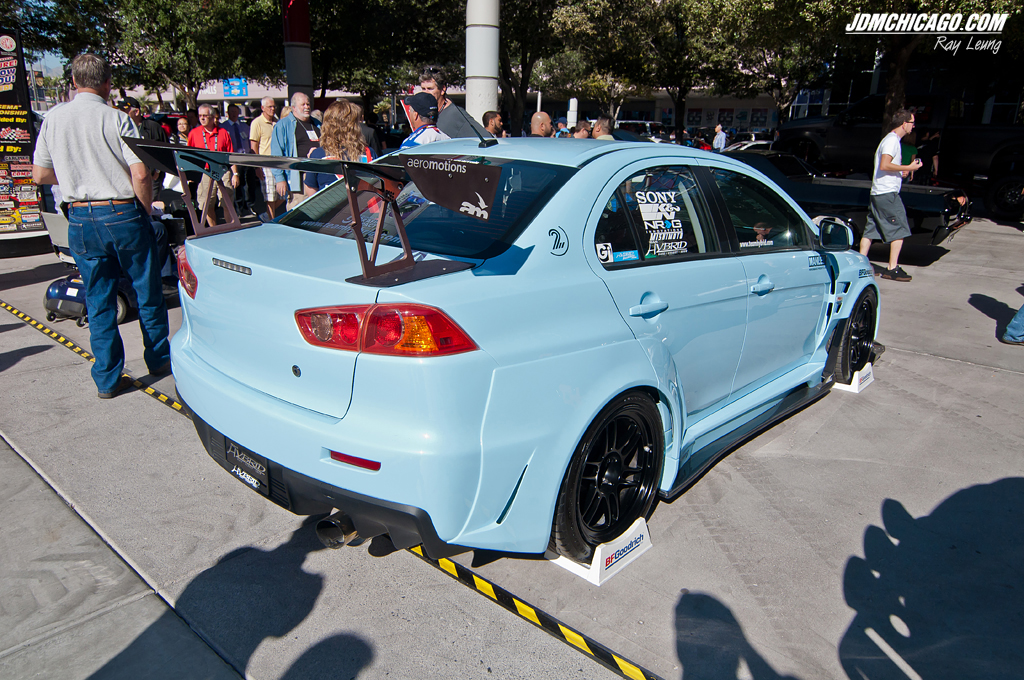 Widebody Varis Evo X on RPF1's.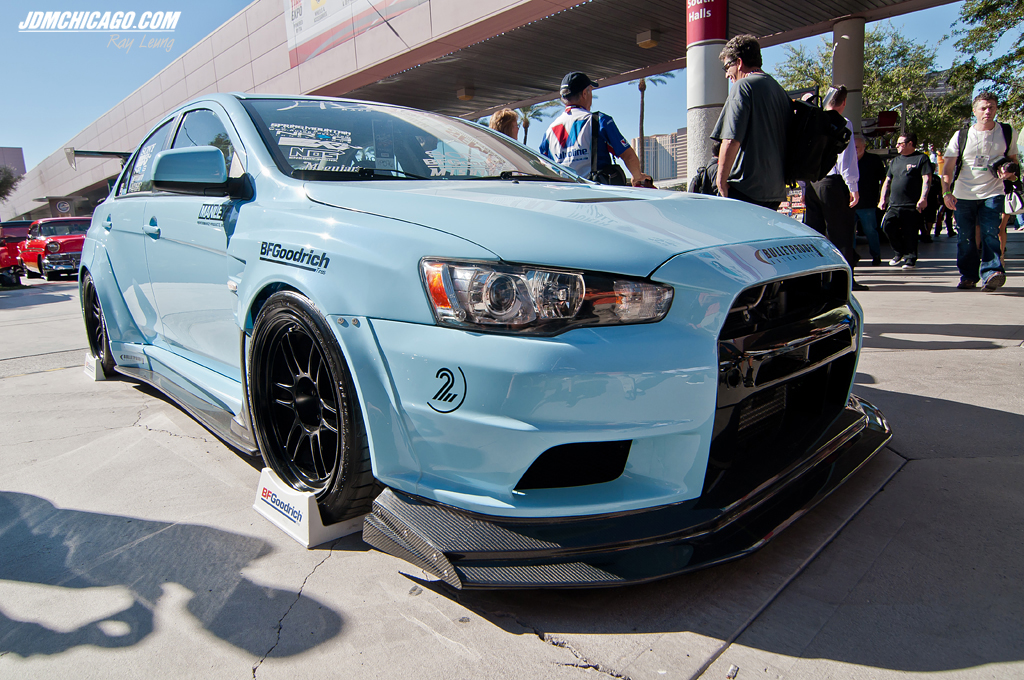 Another shot of the baby blue EVO.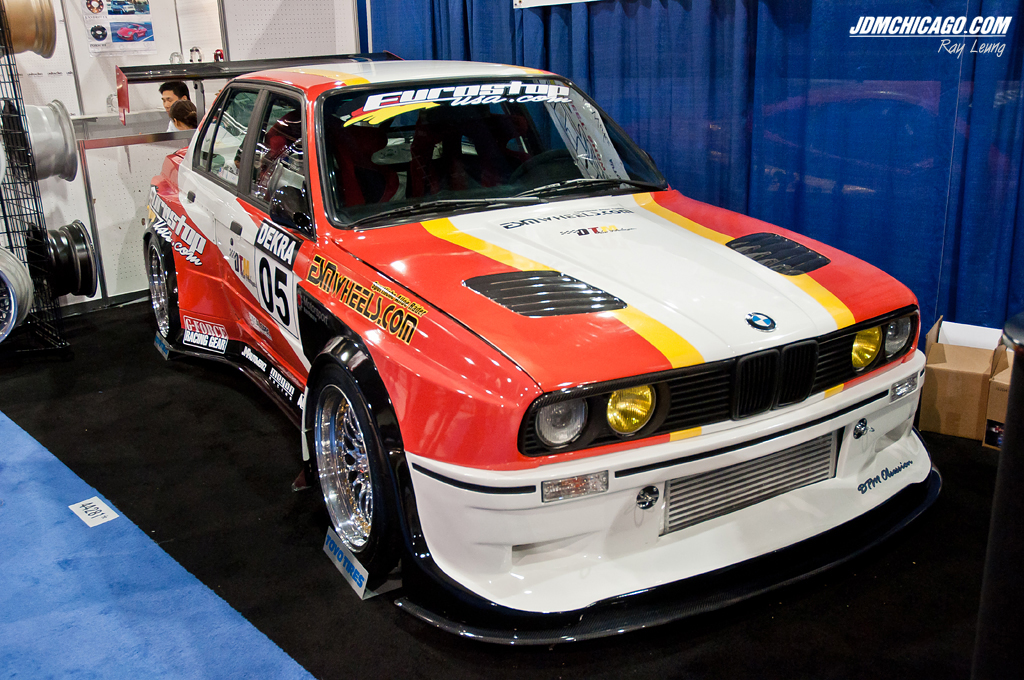 Aggressive widbody e30 m3 race car.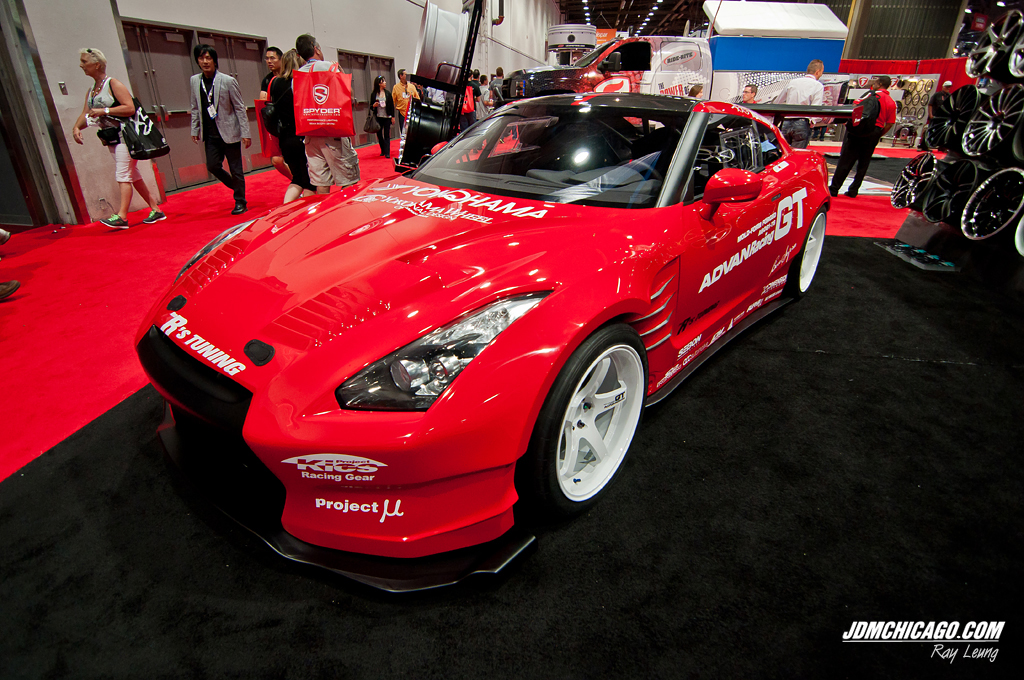 Absolutely love this BenSopra kit on Advan GT's in white. Personally, this GTR has a slight edge over the Fatlace GTR. Just a ridiculously good-looking combo.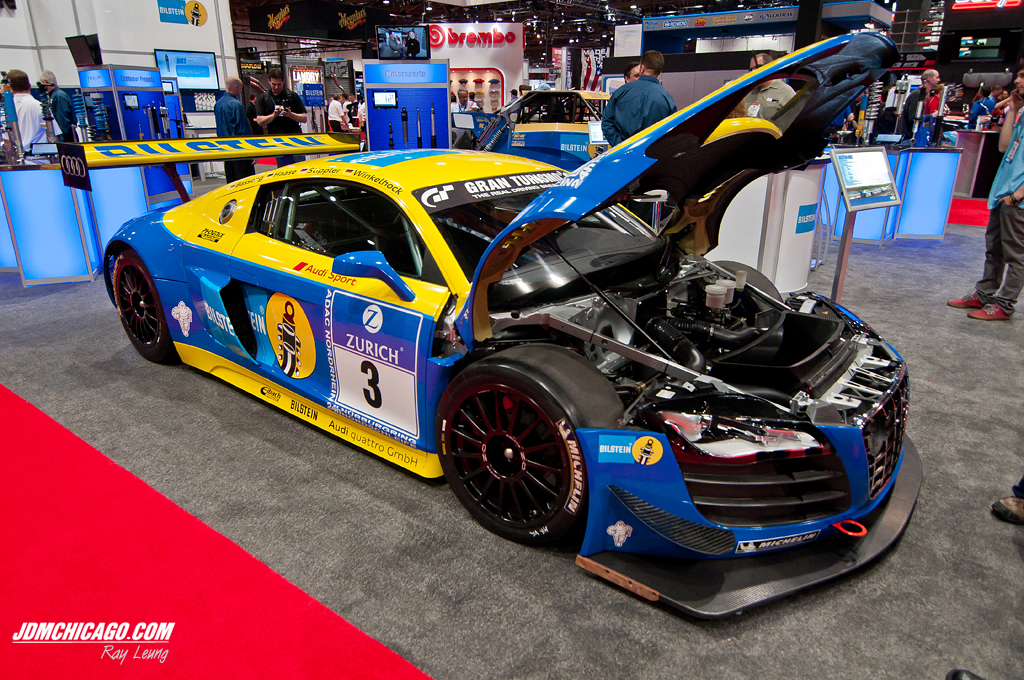 Audi R8 LMS. This is a a full-fledged race car based heavily on the R8, with a modified version of the 5.2-liter V-10. At roughly 2844 pounds, it's some 670 pounds lighter than the R8 GT, and ditches the four-wheel drive for a lighter rear-wheel drive setup.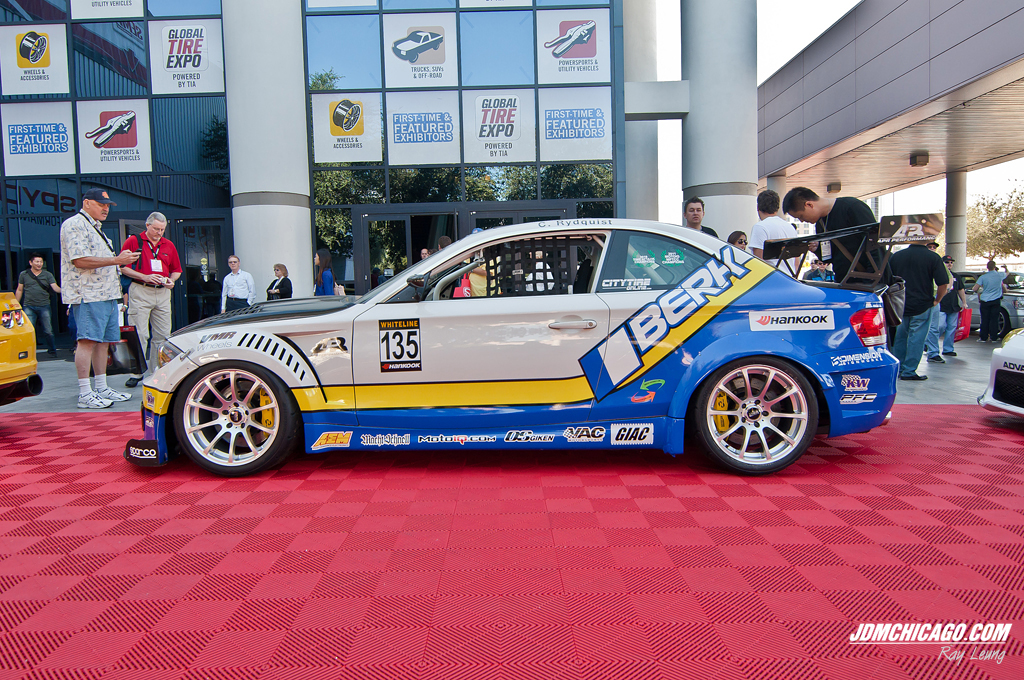 Track-prepped BMW 1 Series.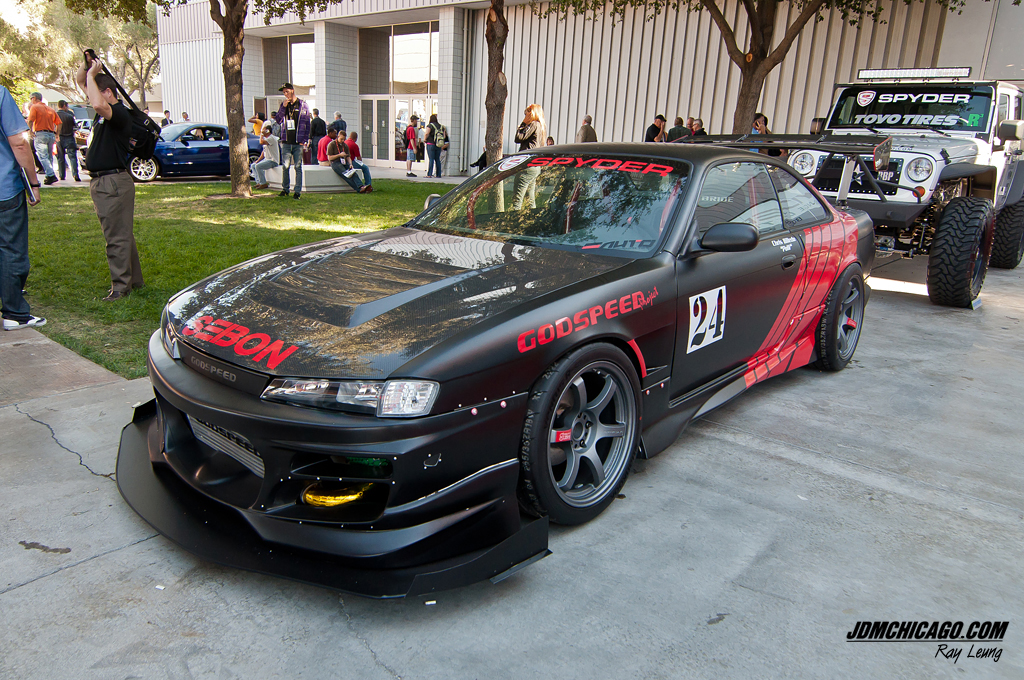 Godspeed project 240 on Gram Lights.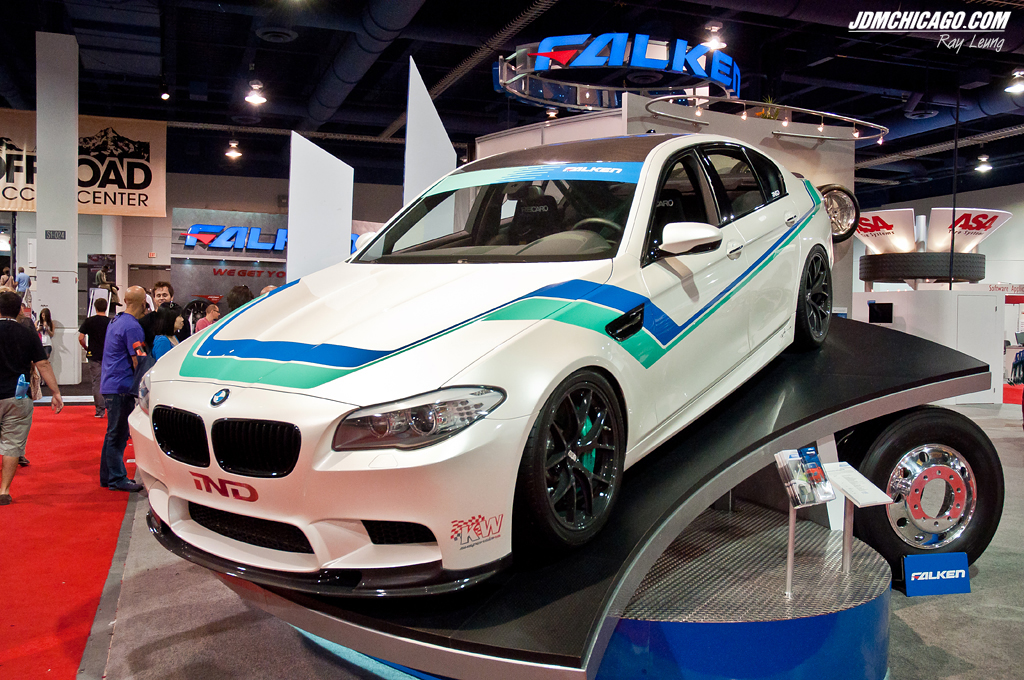 Our homies @ IND brought their M5 to SEMA this year.  Check out the M5 build thread here.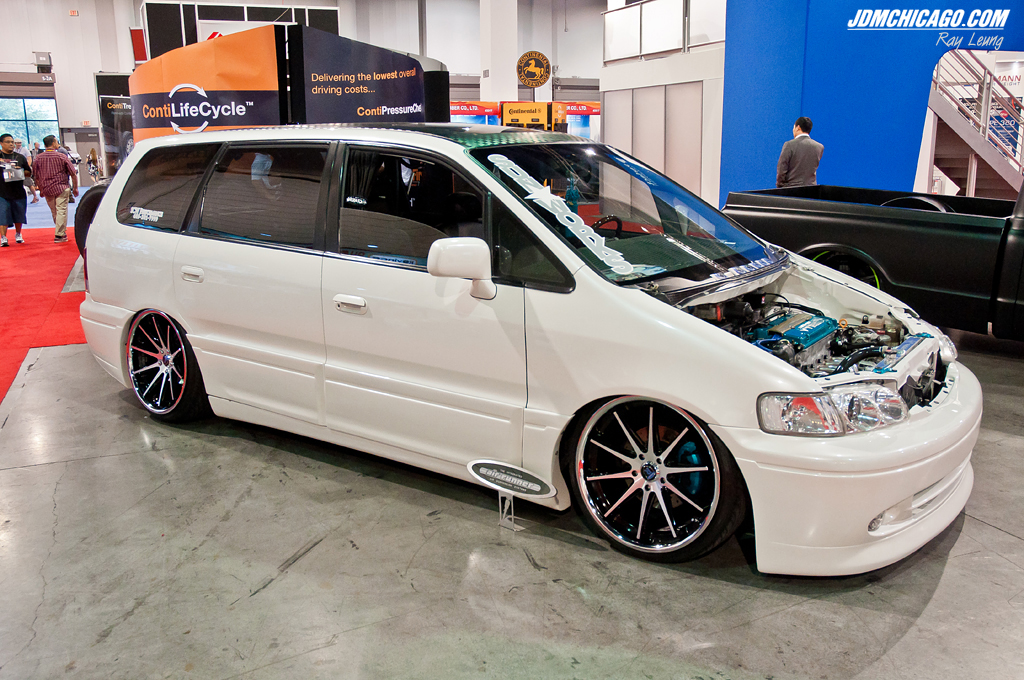 Honda Odyssey on Air Runner suspension.
Our friend's award winning TE27 on Enkei Compe prototype wheels. Even though Ray took this shot, he didn't notice the JDMC mini sticker. Can you spot it? Be sure to check out our feature of Patrick's car here.
Libery Walk Murcielago. Might not be everyone's tastes, but an attention getter!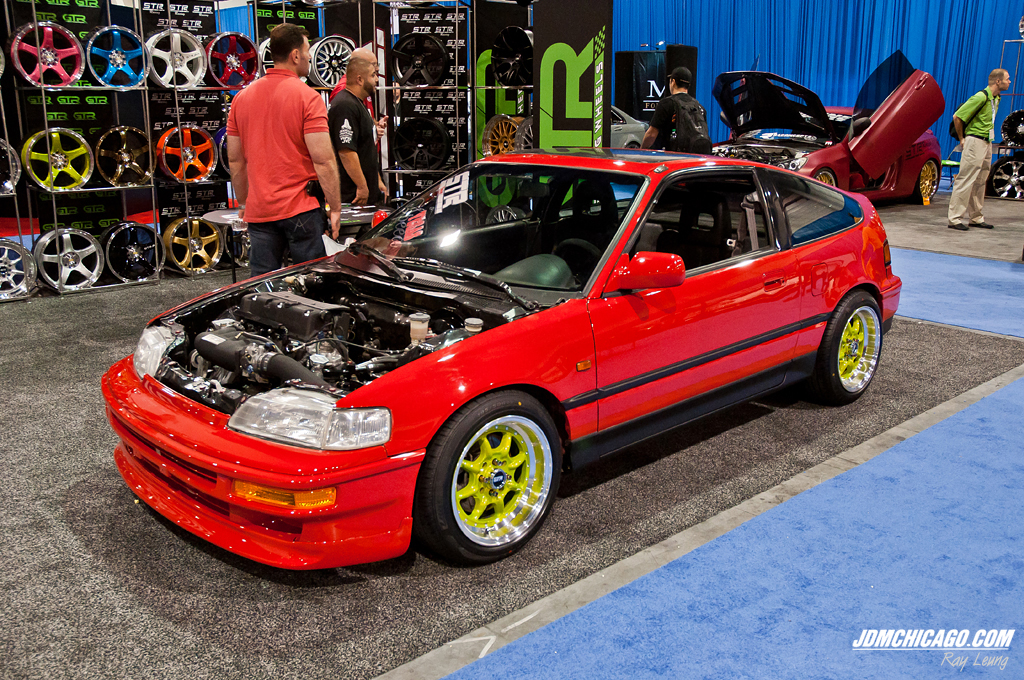 Very clean Honda CRX supporting some random replica wheel company.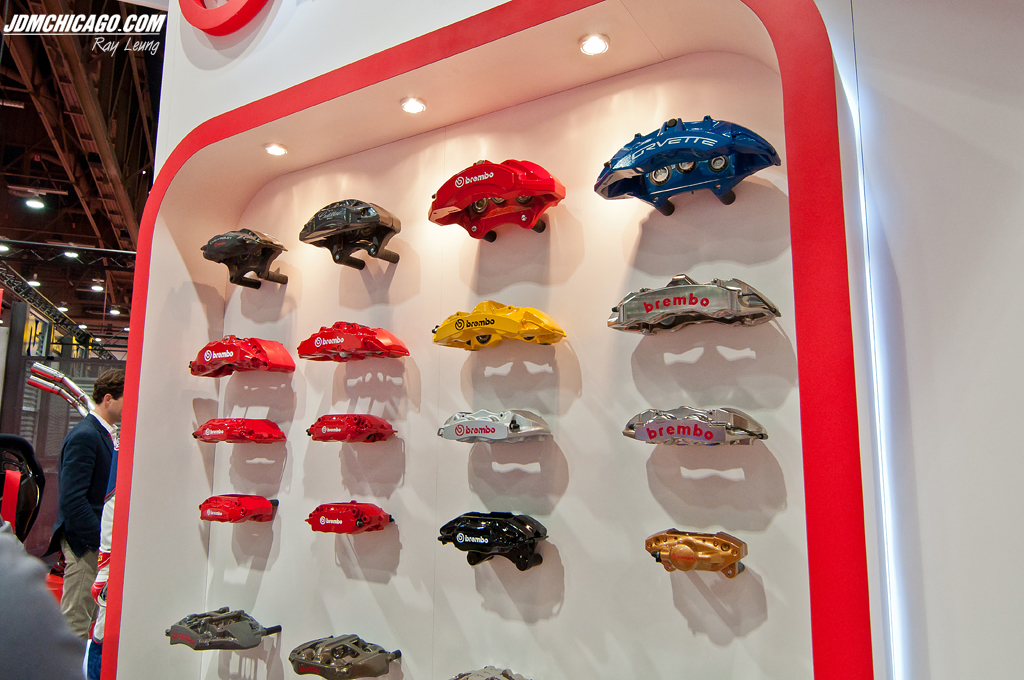 Brembo Brakes are always a staple at SEMA. Displayed are even some of their OEM products they have manufactured over the years.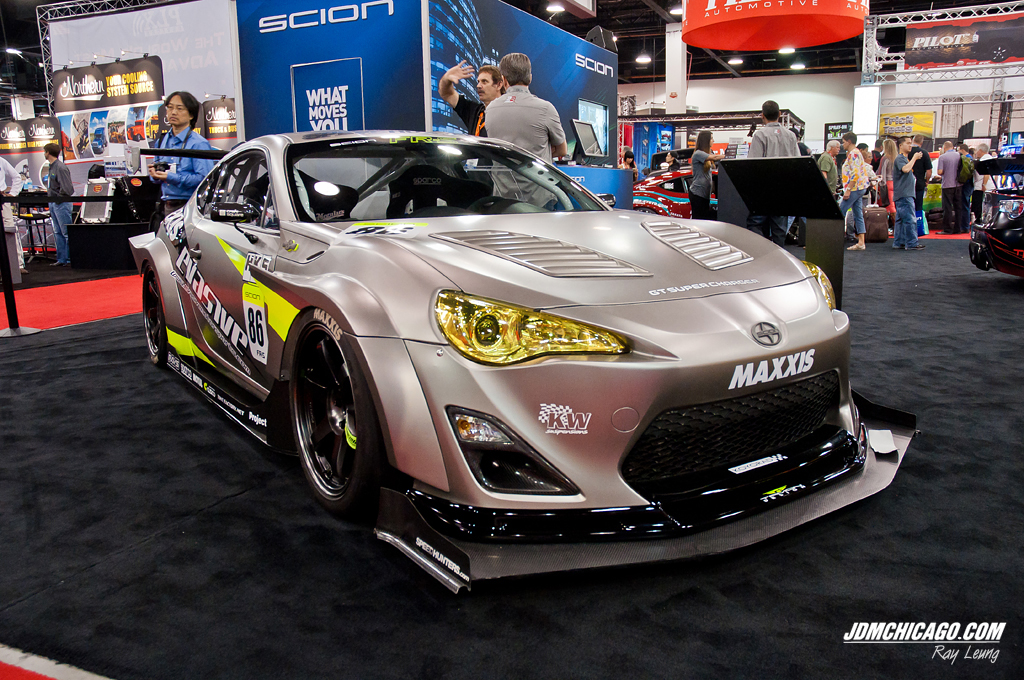 Evasive Motorsports's HKS supercharged custom FR-S on Volk TE37 SL's.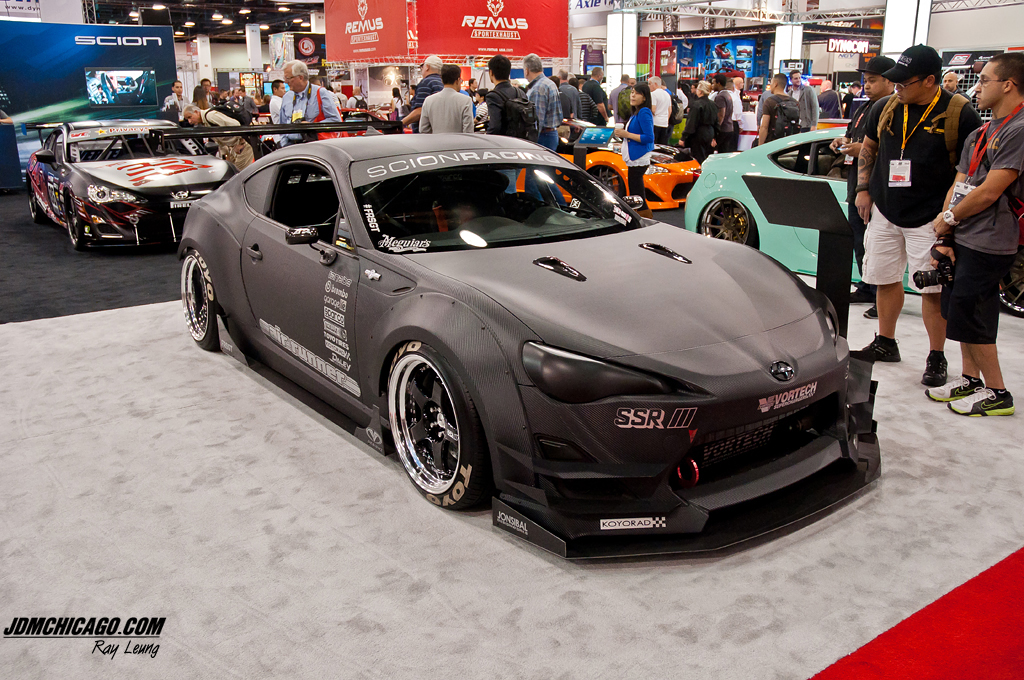 FR-S on SSR Professors. This car was one of the finalists of the Scion Tuner Challenge.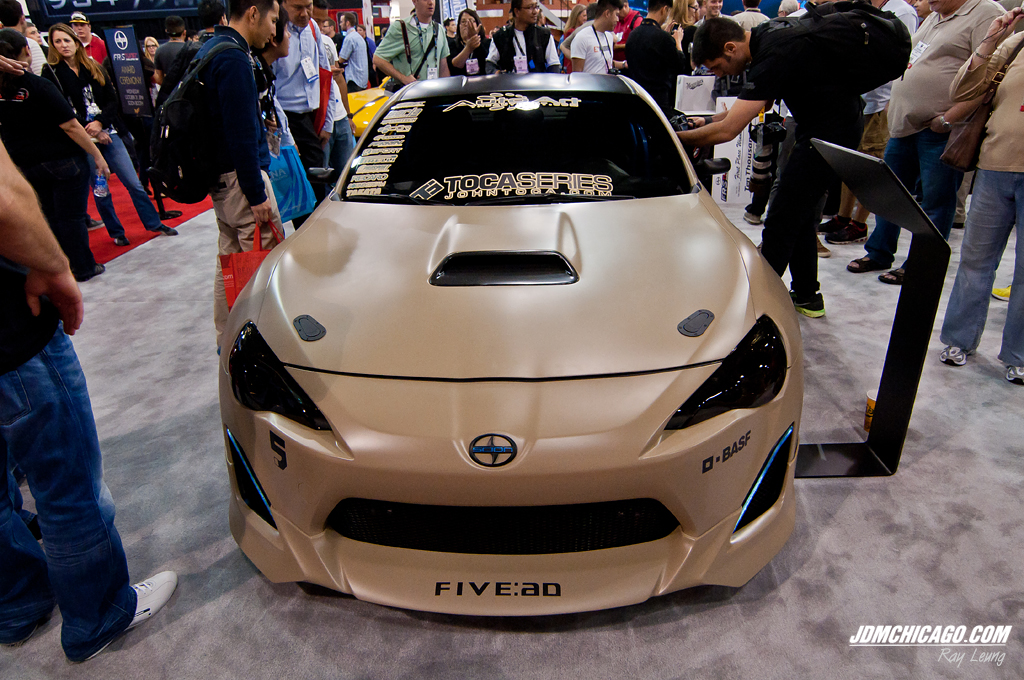 From Scion's site, "John Toca's "Carbon Stealth FR-S" ended up taking second place, with a build that was equal parts show and go. Toca's build was outfitted with a number of one-off carbon fiber parts, including a rear diffuser, roof, and hood scoop to decrease the car's already low weight. The motor in his FR-S was outfitted with a supercharger, and the interior outfitted with a variety of premium sound enhancements."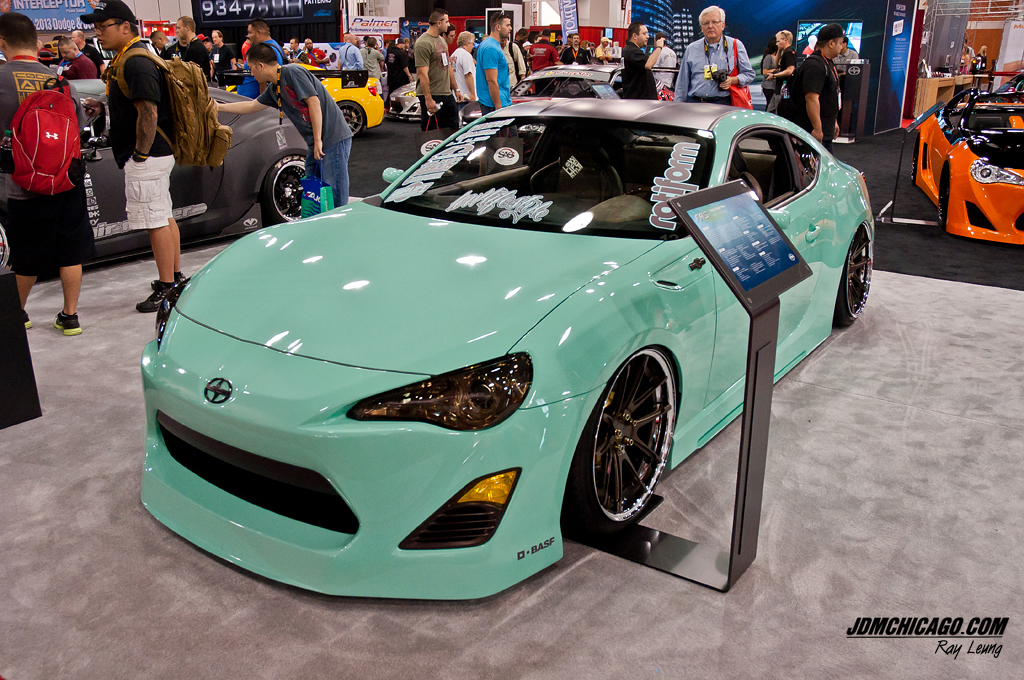 And here is the winner of the Tuner Competition- Chris Basselgia's "Minty Fresh" FR-S.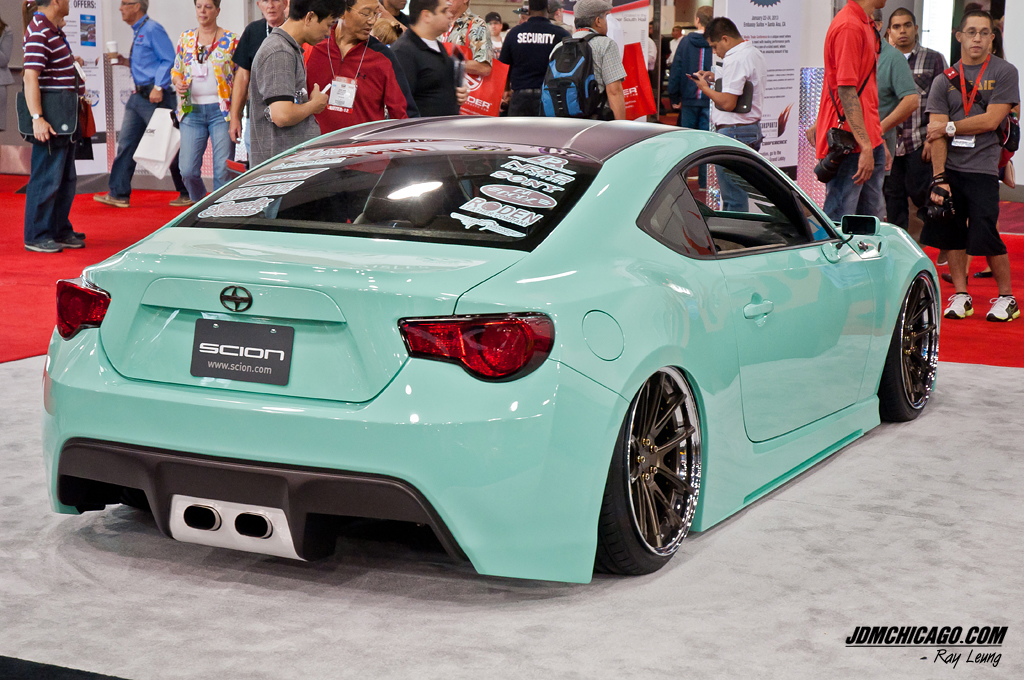 Rear shot of "Minty Fresh."  Build took about 3 months and along with the car, he took home 10k as the prize winner… must be nice!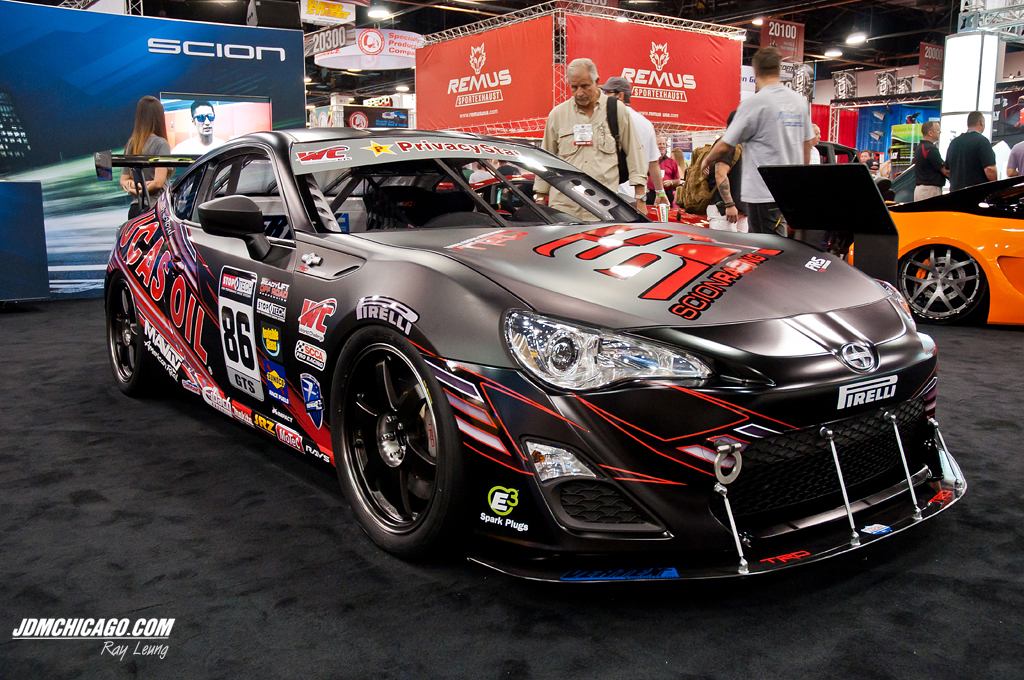 And yet another FR-S.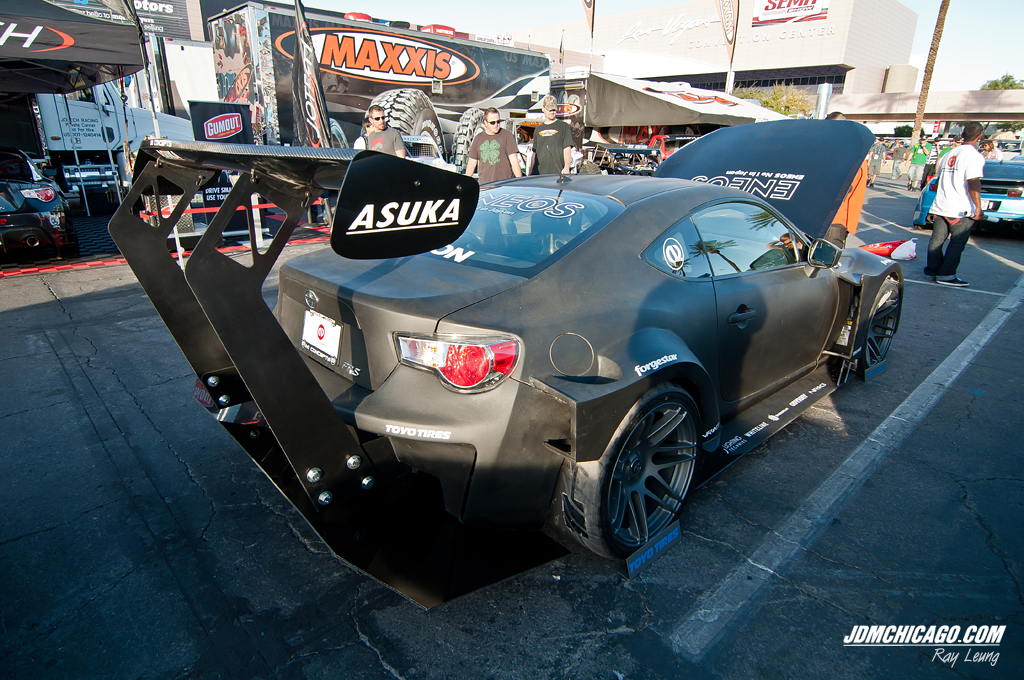 Yikes.  Alot of work obviously went into this FR-S here.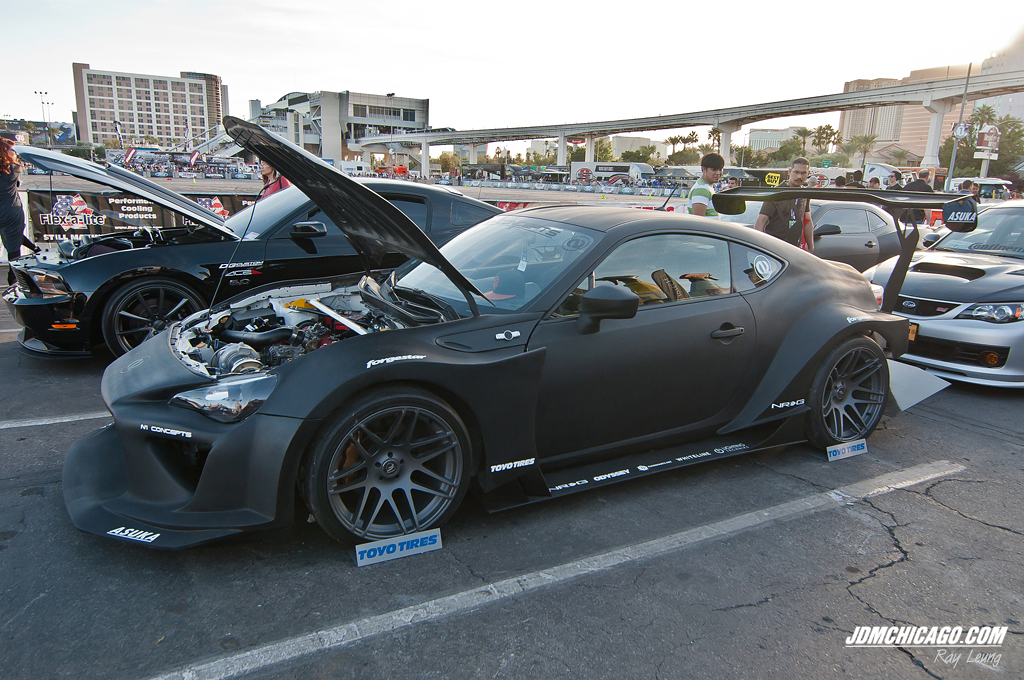 Unfortunately the rest of the car looked just as bad.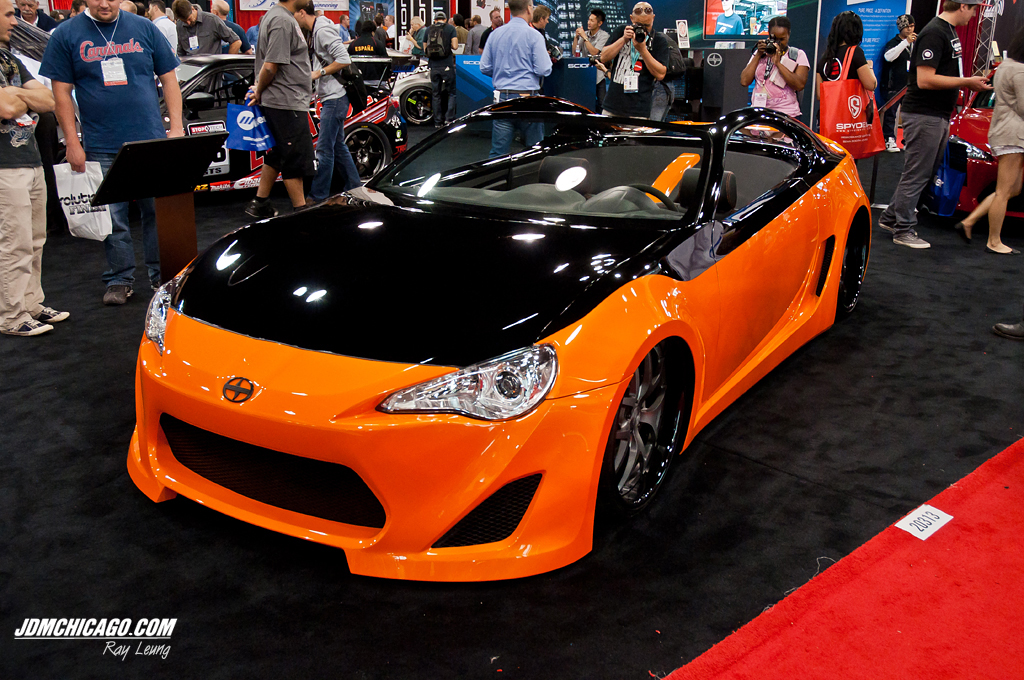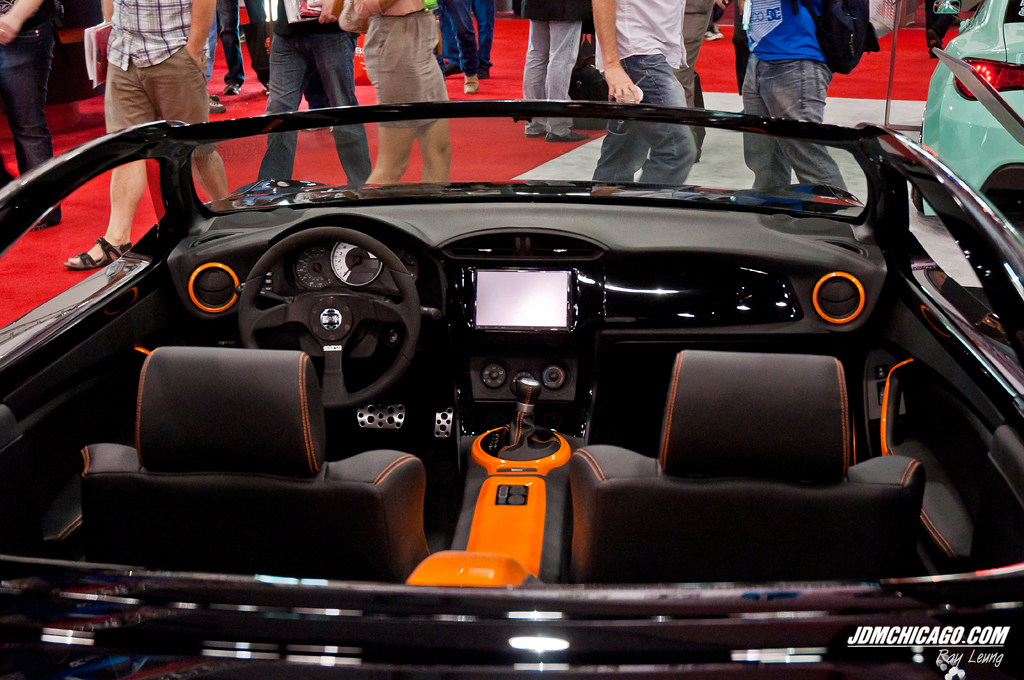 Saved the worst for last? Late 90's/early 2000's inspired FR-S build. Thanks again to Ray for the great coverage of SEMA and be sure to come by next week for a 370z feature!
-jdmchicago
Comments
comments