Sorry for the delay,  but we are back with our Part 2 coverage by Raymond Leung. If you don't know, Specialty Equipment Market Association (SEMA) has been around since the early 60's. They represent more then 6,000 companies worldwide and bring together all types of automotive-related companies. The annual convention is Vegas is something that every auto enthusiast should attend at least once. This is an industry-only convention,  so be sure to get your credentials set in advance before showing up! Today we'll focus on the wheels of SEMA.  Of course, most of our coverage will feature some of our favorite Japanese manufacturers.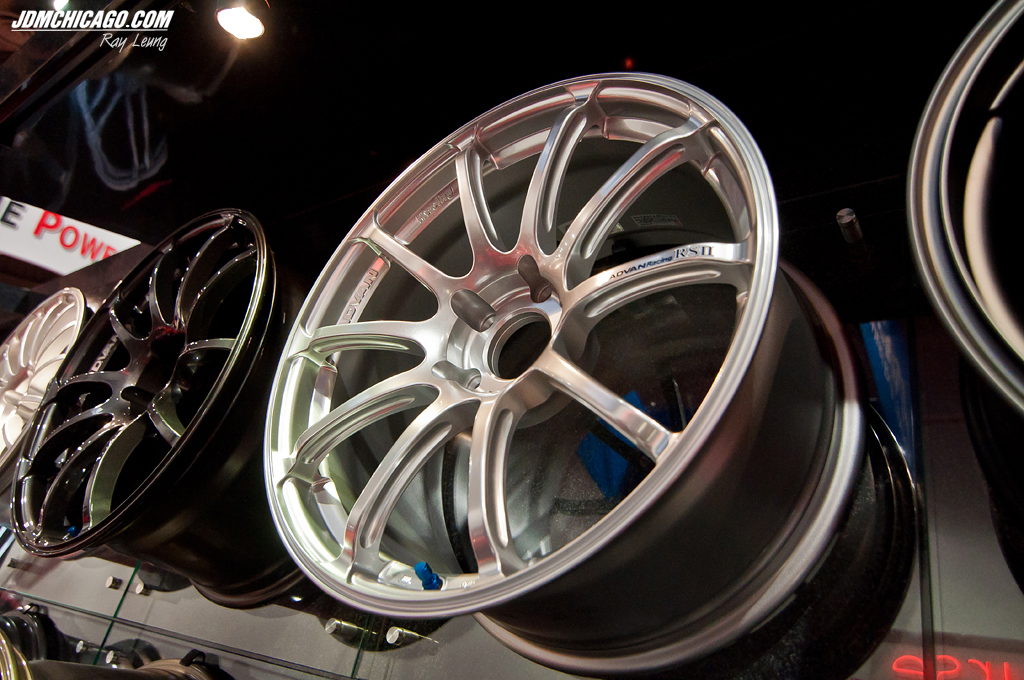 Yokohama/Advan offers some of the nicer wheels in the aftermarket industry today. Above are the new Advan RS II's which just recently hit our shores. The difference between these wheels and the original RS's is that these feature a machined side cut spokes, resulting in lighter wheels with enhanced rigidity.
Pictured above is the RS II in a Hyper Silver finish.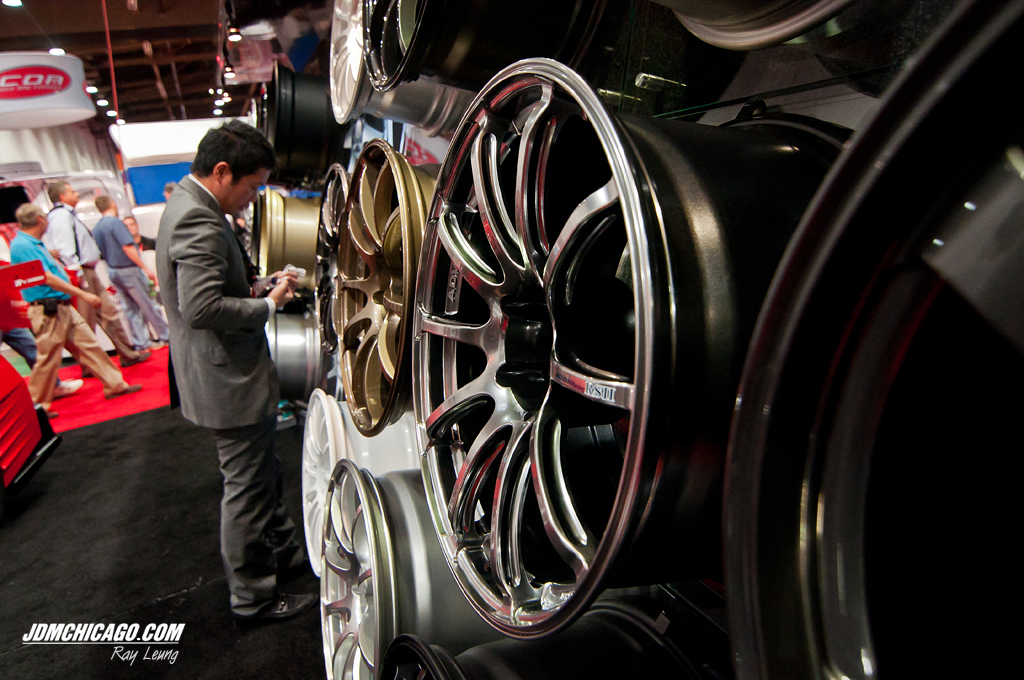 The RS II maintains the full-face 10 spoke design with concave spokes. Pictured above is the racing hyper black finish.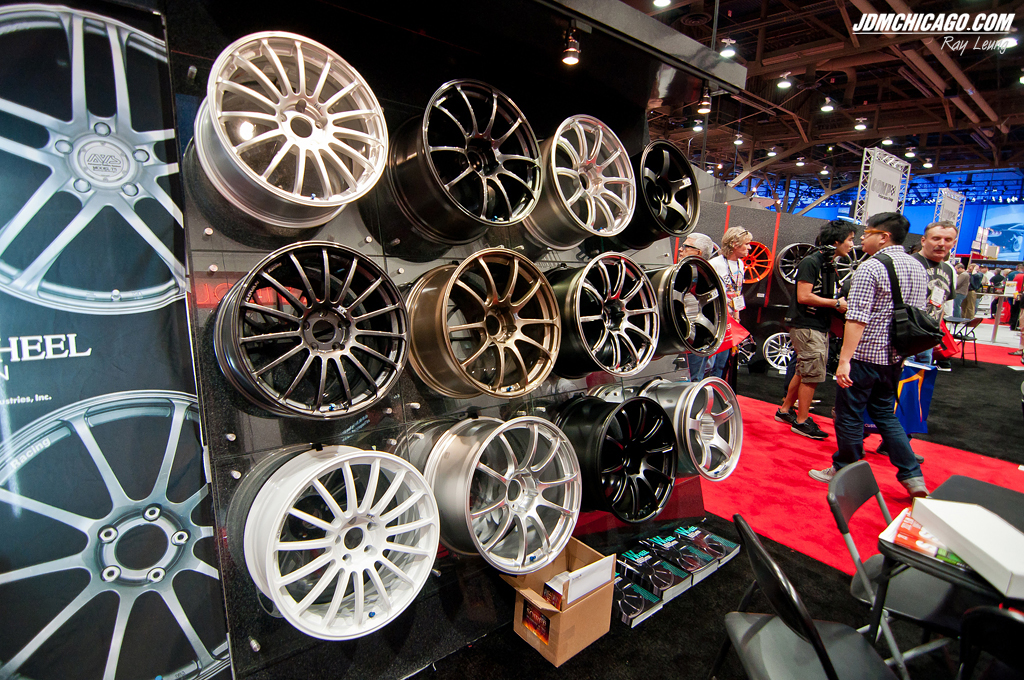 Advan wheel wall and looks like Ming from Fizz in he background with his hipster glasses.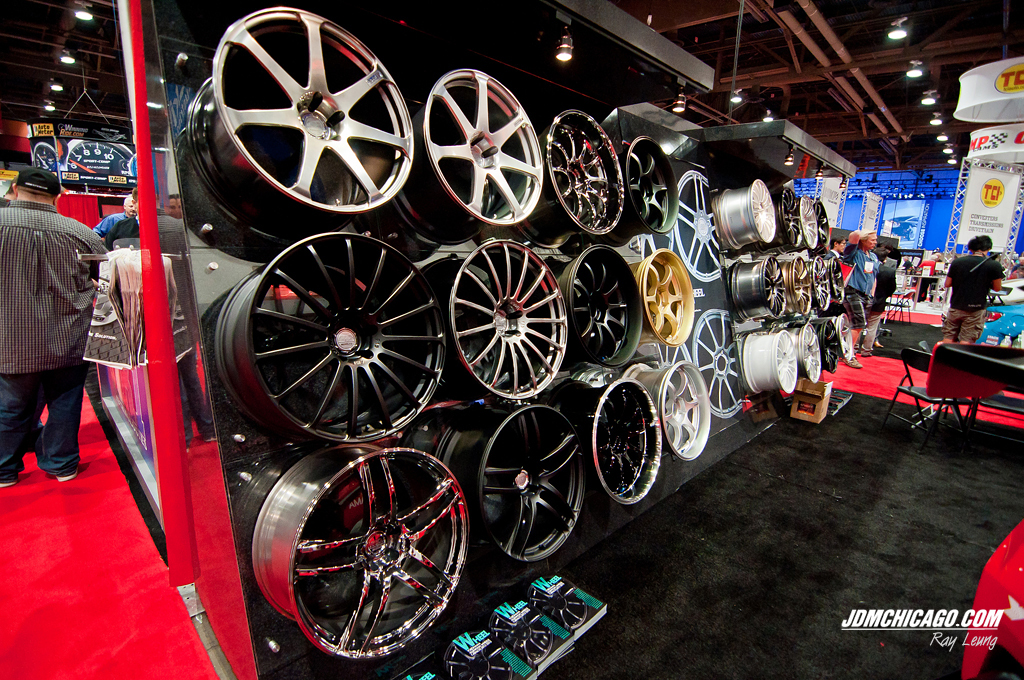 And the other side of the Advan wheel wall.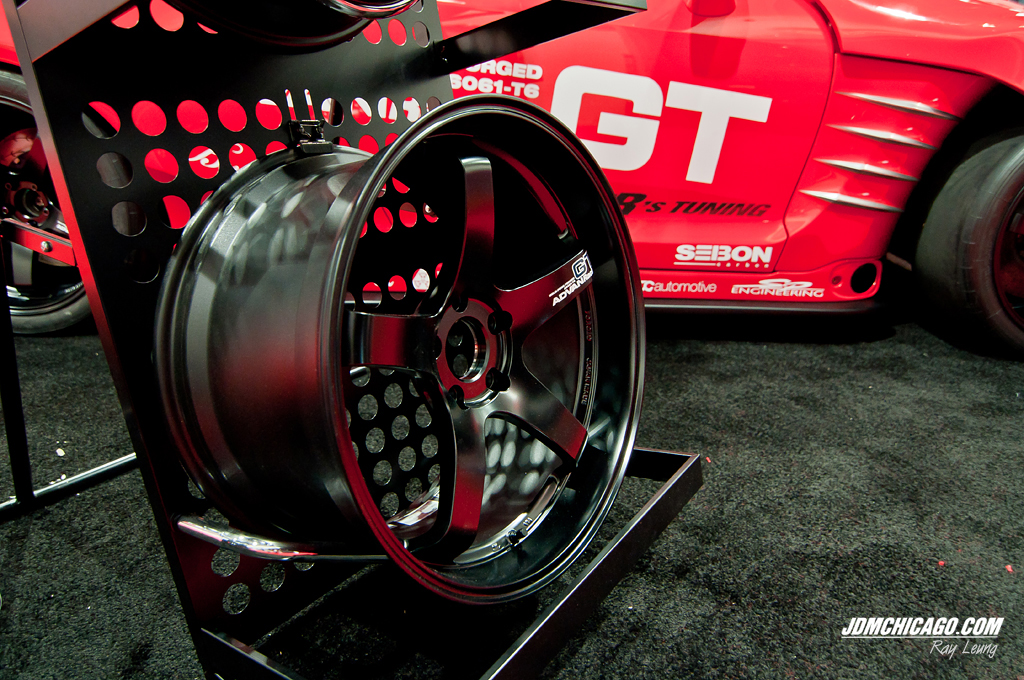 The Advan Racing GT wheel came out early this year, but nice to see new sizing being offered. These wheels are very strong Mold-Form Forged, using A6061-T6 aluminum.
Here are the GT's (Semi-Gloss Black) on a BenSopra GTR.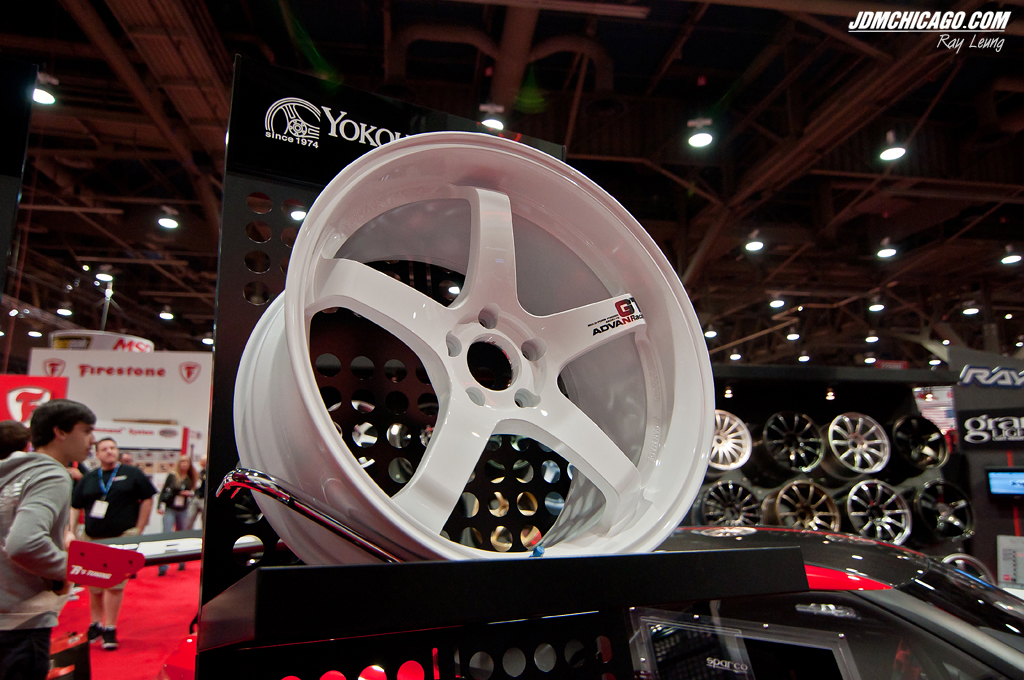 Advan Racing GT in Racing White.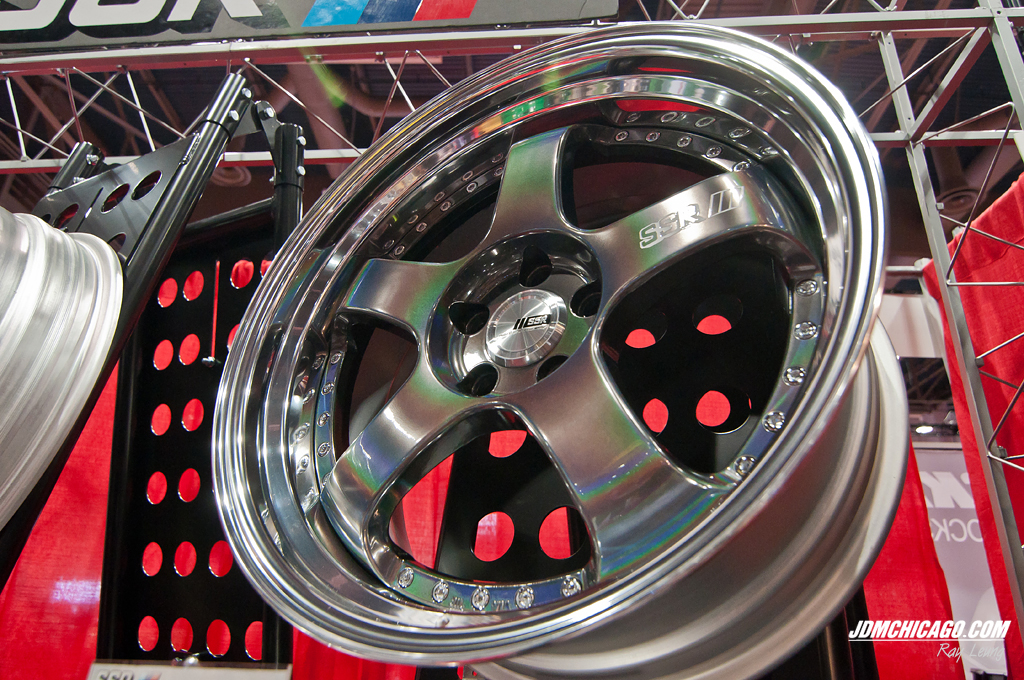 SSR represented well at SEMA, so let's go ahead and take a look at what they had to offer. Pictured above is the ever popular SP1's in a Spectrum Silver finish.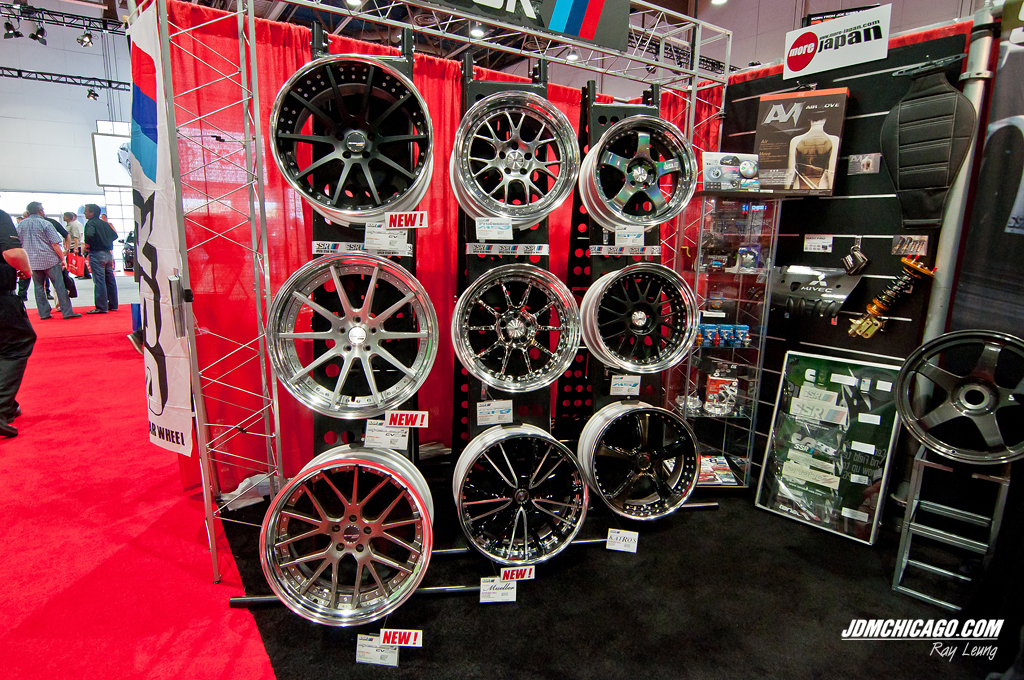 SSR Wheel Wall.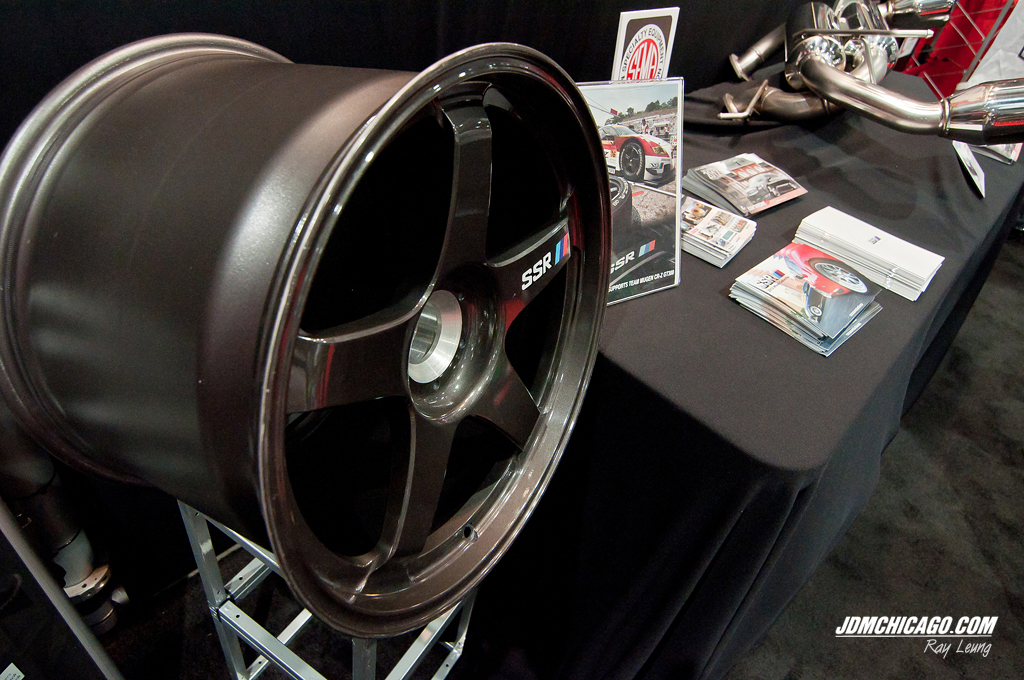 Not 100% of the proper name of these wheels, just know they are the replacements of the popular Type-C's.
Here is the new Executor CV01 from SSR. This is a three piece wheel in a black finish and polished lip.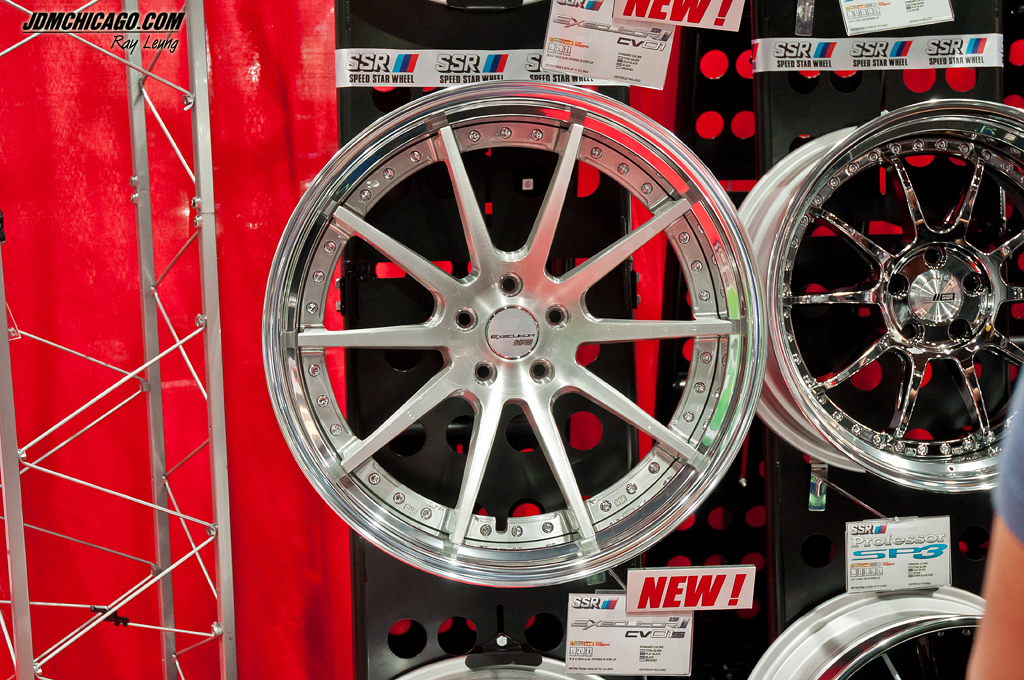 Here is the CV01 in a more traditional/classic silver look.  This particular finish is called "Titan Silver."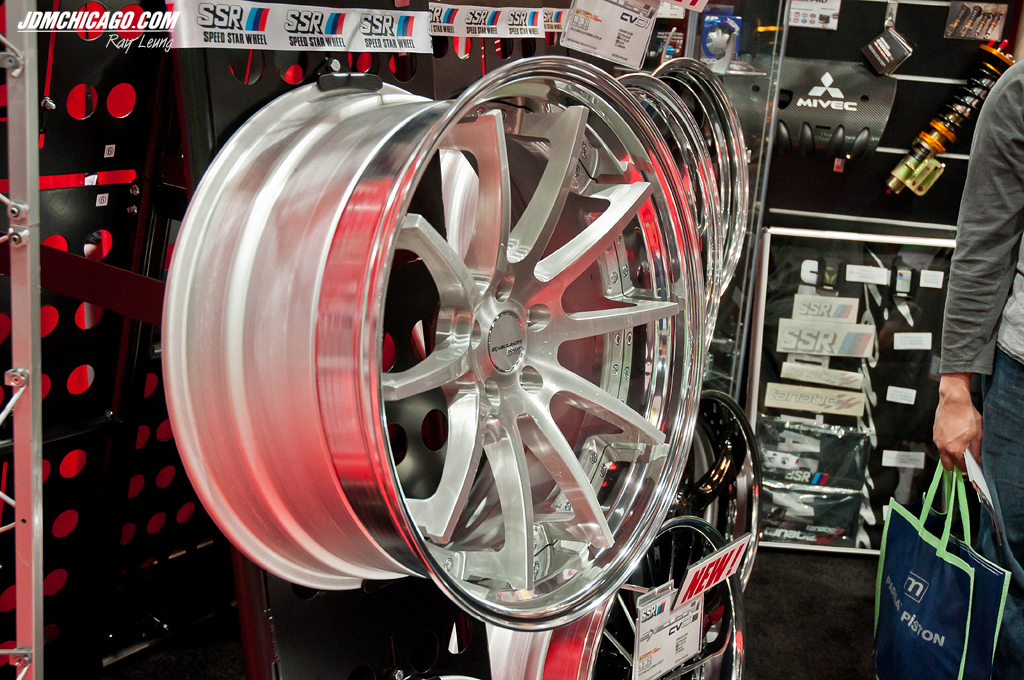 CV01 again in a super concave face.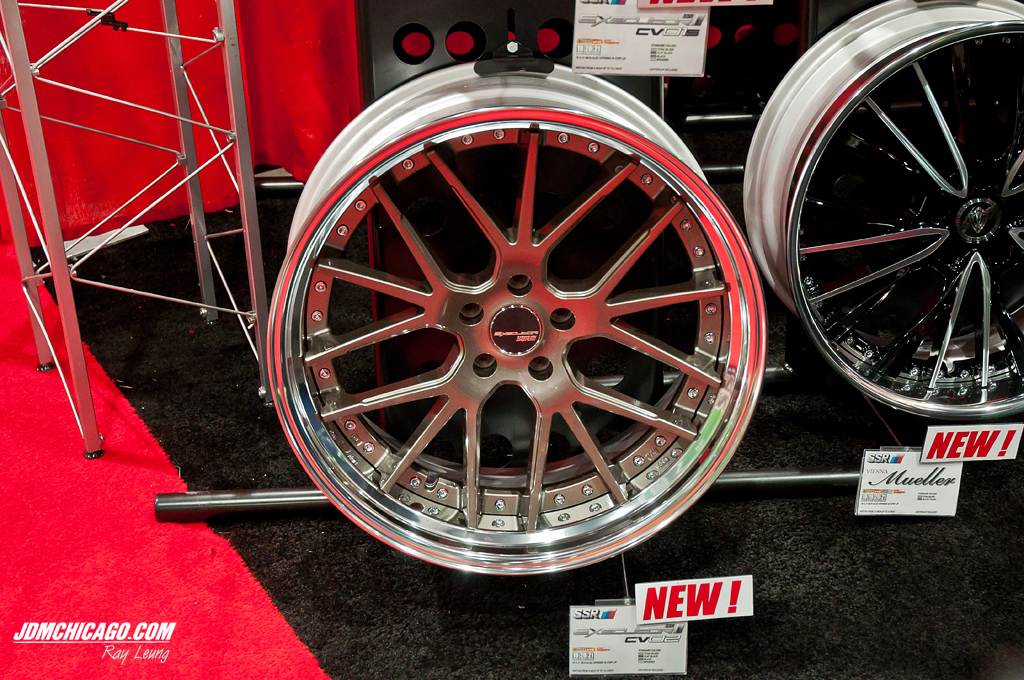 SSR Executor CV02. Available only in 19″, 20″, and 21."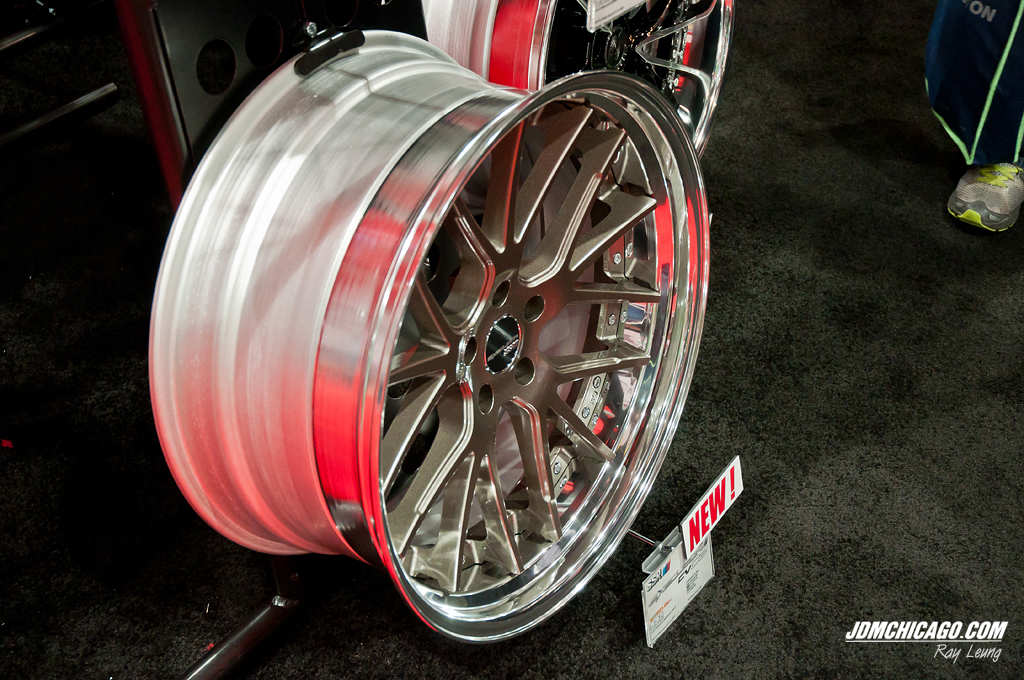 Side angle of the CV02's.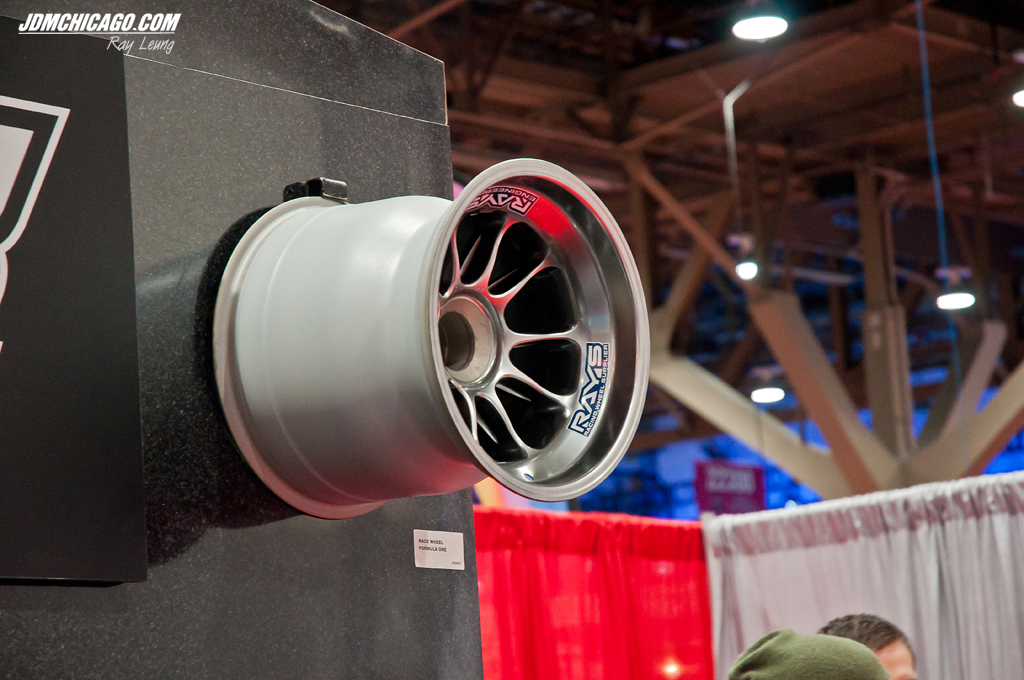 Rays always represents well at SEMA. Here is a wheel you definitely won't see on the streets- Rays formula 1 racing wheel. This is a  Forged 1 piece Wheel (Magnesium) Center Lock wheel.  I don't even want to know the price of these!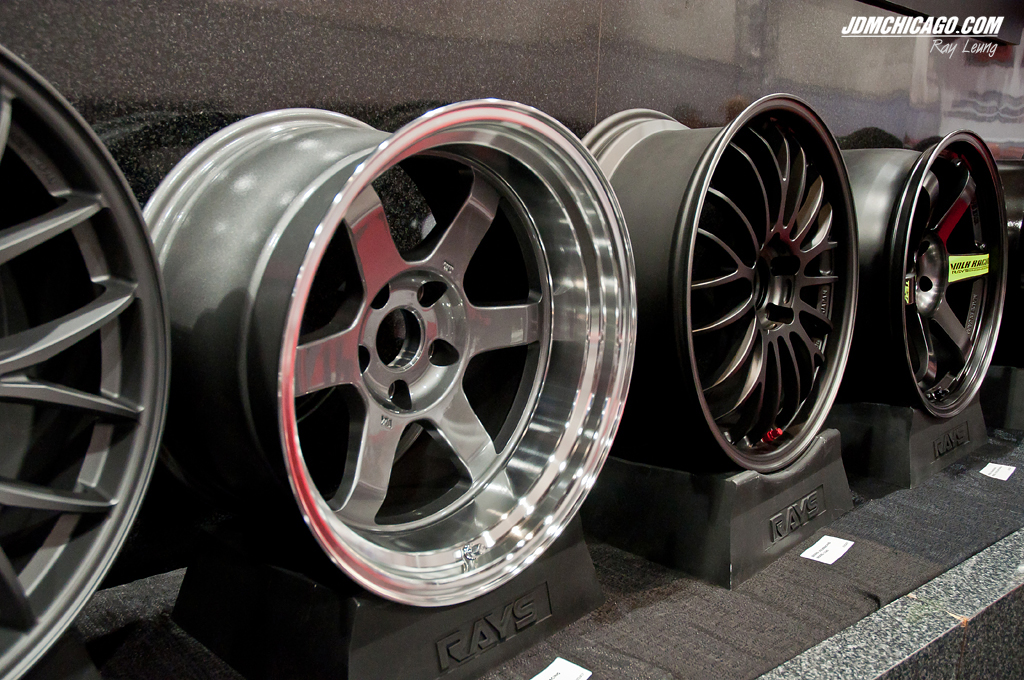 Volk Wheels (manufactured by Rays) have been some of the more popular aftermarket wheels in the tuner community for over 10 years. Recently we have been seeing a comeback of  retro-designs such as the TE37v.  You can get these bad boys in sizes 14″-17."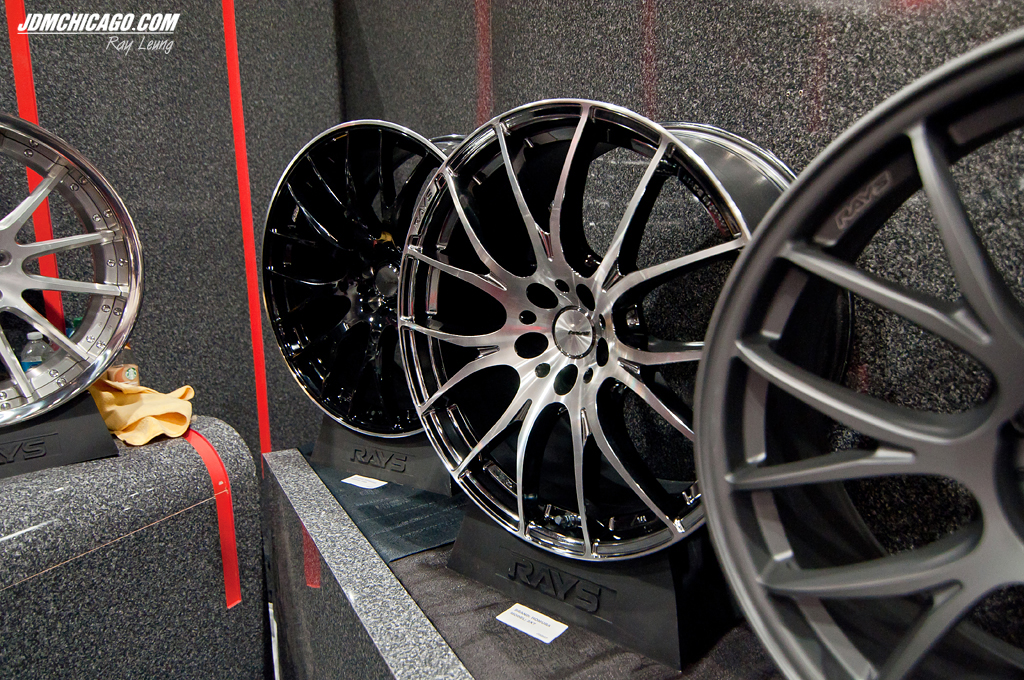 Rays Humura 2×7 Wheel. Although this is a 1 piece cast wheel, best believe the manufacturing process and materials used are 100x better then the crappy cast replicas coming out of China.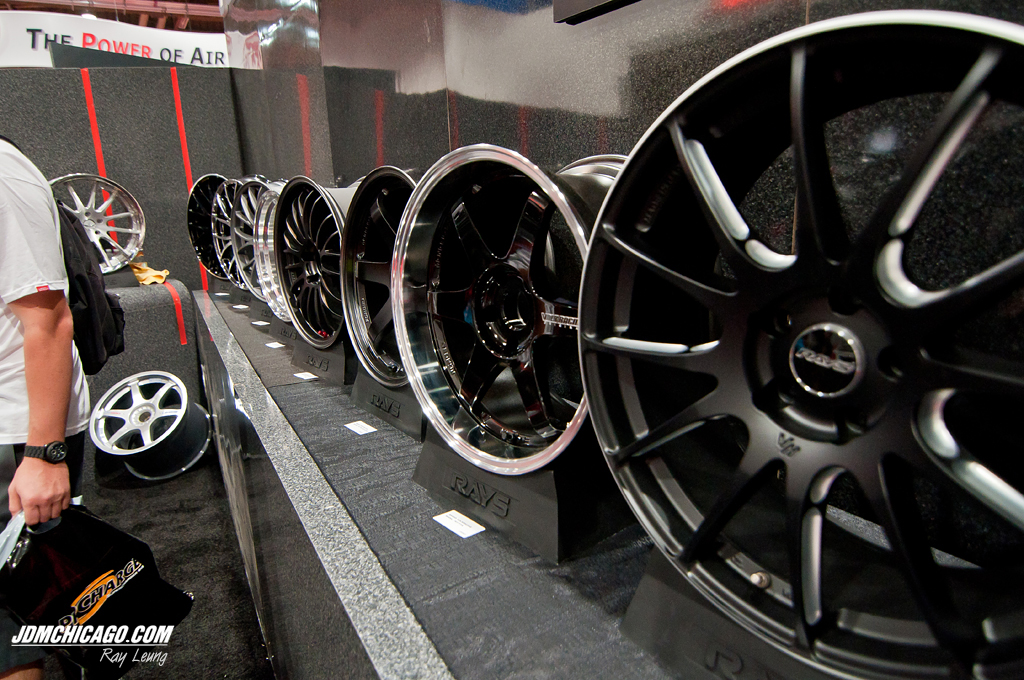 Volk TE37 Time Attack Edition Wheels (glossy black with the polished lip) and Volk G12's.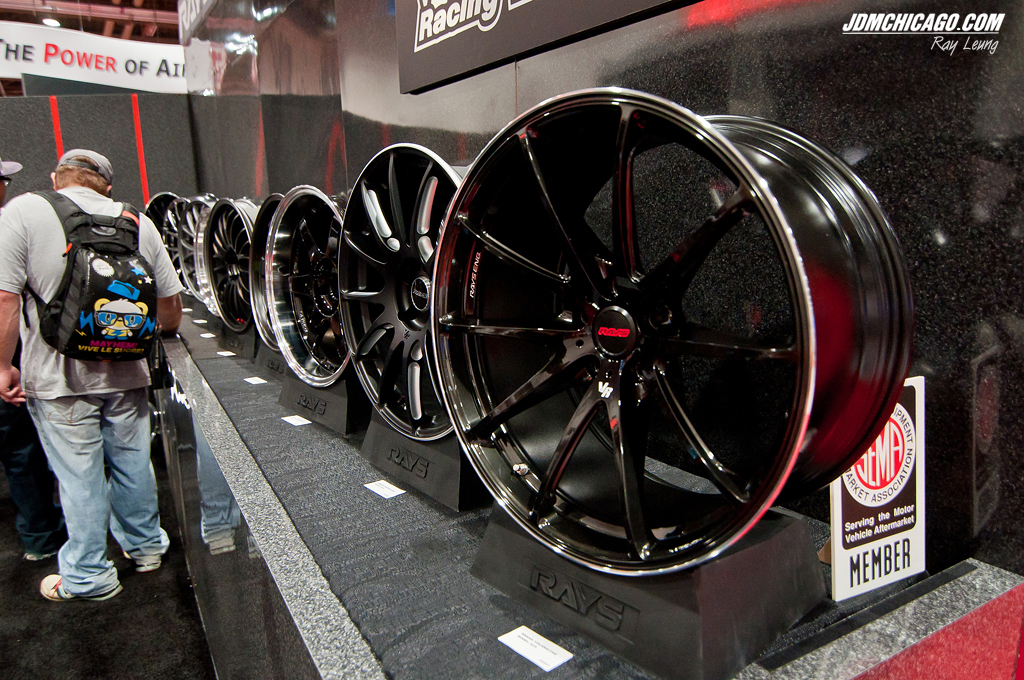 Volk G25 and our friend sloppy Joe in the background rocking an EQ bag!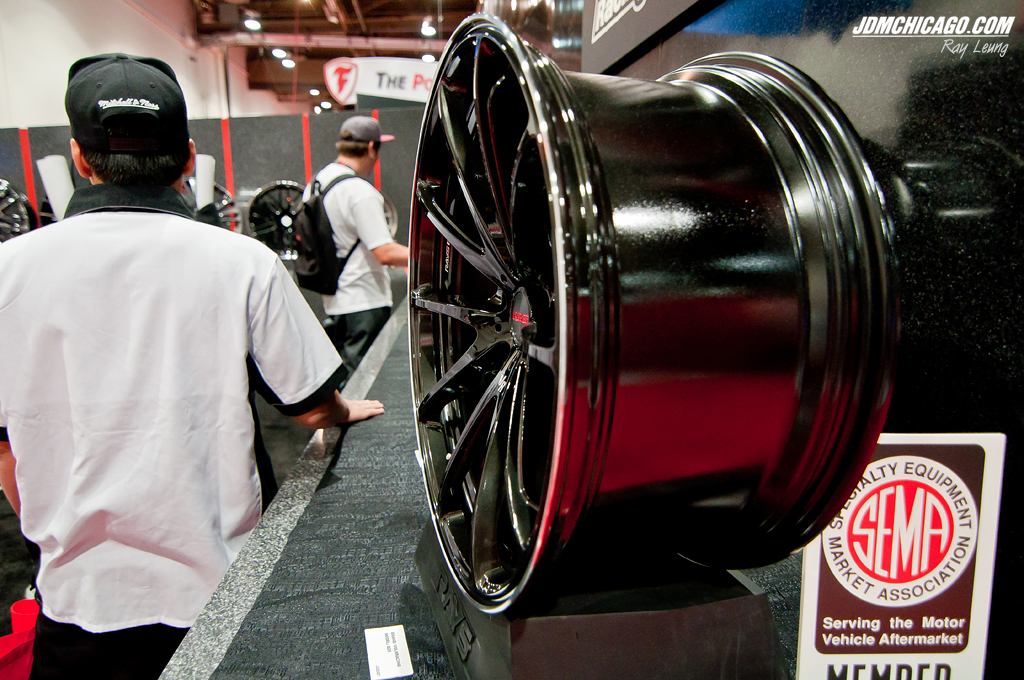 Another angle of the Volk G25 with Type 3 face.  That's it for now, more coverage in a few days!
Comments
comments