Black Gold
Clive Hendricks' 2002 Honda Civic Si
Words: Raymond Wu
Photos: Ethan Caldwell
Discuss this car on the forums by clicking here!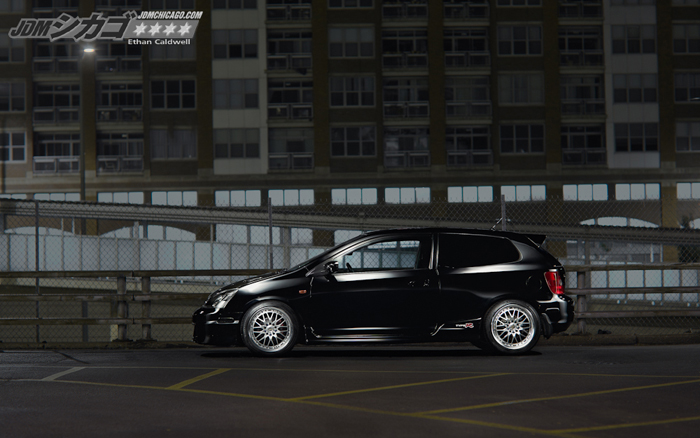 As a certain breed of people, we drive cars that are uniquely different and special. Some are built to race down tight and twisty gravel roads at breakneck speeds. Some are built to be a few tenths faster than a competitor on the track. Some are built to rule the streets with style and brute force. But of all cars built, few reach the legendary status of becoming an automotive icon. The Honda Civic is one of them. There is no other car that has represented the growths and ebbs of the import tuning scene. The Civic was the car of choice for the pimply teenager to throw on Altezzas, neon underbody lights, Black Widow body kits and lambo doors back in the late 90s. Then the teenager grew up to the JDM scene and the stalwart Civic become the car of choice for slapping on Mugen oil caps, Broadway mirrors, Air Spencer air fresheners, and JDM-spec front lips. Fast forward to present day and the Honda Civic is yet again leading the way. This time in the hellaflush scene. Yakima bike racks, massive negative camber, tires stretched to the brink, and excessive amounts of esoteric vinyl stickers have found their ways onto the Civic. Whatever the latest trend is, it is certain that the Honda Civic will play a role as an automotive icon representing the import tuning community in its entirety.
The specimen gracing this page is owned by Clive Hendricks. Having previously owned cars such as a Dodge Aspen R/T and an Audi 4000CS Quattro, he knows a thing or two about working on cars. However, his heart was always set on Hondas. The Honda Civic to be specific. Aside from being the automotive icon of tuners, the Civic has a rich racing heritage. Factor in the reliability and dependability associated with Hondas and it's easy to see why Clive was so drawn into the Civic. This particular 2002 Civic Si was located by Clive's parents in New York when he was living in Arizona. After securing some cash, the car was shipped to his front door without him ever driving it.
Clive immediately installed a Broadway mirror and replaced the Rotas from the previous owner with 5Zigen FN01R-C wheels. Over the course of 5 years, various other carefully selected parts were chosen and installed. After running the 5Zigen wheels for a while, replacements in the form of 17×8 Volk GTUs wrapped in Kumho Ecsta MX tires were installed. The front brakes were upgraded to Brembo rotors and pads tasked with stopping a car powered by an engine that took over a year to build.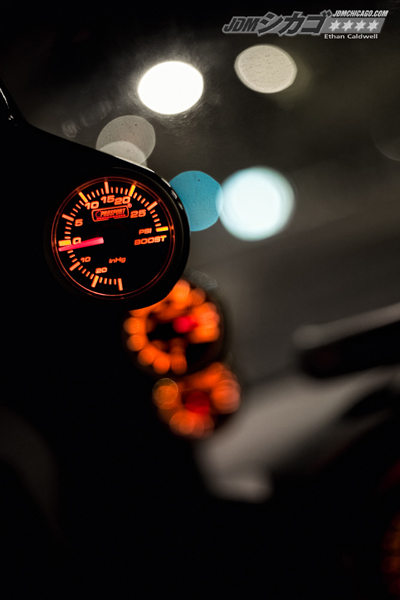 Clive was drawn not only to the Civic, but also the beating heart in the Civic's current form: The Honda K-series engine. Worthy successors to the B-series engines from Honda, these high-revving four bangers built on their predecessors' legacy, producing power and torque never before seen in a naturally aspirated inline four. From this potent base, Clive built a K24/20 Frankenstein hybrid a little bit different from what most are accustomed to. The core of the engine is a K20A2 block from an RSX Type-S. All the internals were replaced with forced induction in mind. Mahle forged pistons and Blueprint Racing forged connecting rods found their way into the block. The K24A2 head is from the Acura TSX and was modified with valve springs and titanium retainers from Blueprint Racing. The valves themselves remain the same. Brian Crower Stage 2 forced induction cams complete the package.
With the engine properly built to make as much power as possible down low, Clive turned to Jackson Racing for his forced induction needs. In order to improve the supercharger's efficiency, Clive brought the Jackson Racing blower out to High Speed Lab in order to coat the rotor which allows for more air to be pushed through. A bigger pulley from Pulley Boys rounds improvements to the supercharger. Keeping the engine breathing freely is an Injen cold air intake, Comptech race headers and a DC Sports catback exhaust. Feeding the monster engine is a revamped fuel system. An uprated Wahlbro fuel pump forms the basis, feeding an increased volume capacity AEM fuel rail that in turn feeds 650cc fuel injectors. An ACT ultra-light flywheel and a stage 4 clutch from Competition Clutch feeds the power to the 6-speed manual transmission.
In order to keep his Civic planted on the road, Clive looked to the big green suspension company from Japan for help. Tein Flex coilovers were chosen to be the base of Clive's modifications to the suspension. Since the Civic came with a 4-lug wheel pattern, Clive used a donor RSX Type-S to swap in a 5-lug pattern, allowing him a wider choice of wheel options. A DC Sports strut bar and body underbrace improve chassis rigidity while stronger Skunk2 rear lower control arms keep everything in check. An Ingalls torque strut helps keep the vicious motor static and vibration free.
On the outside, Clive kept things simple. Legitimate sideskirts from a Civic Type-R were installed along with a Honda Factory Performance front lip and rear wing. A replica Mugen carbon fiber hood made by VIS replaced the stock one adding ventilation and shedding front overhang weight.
The Civic's interior was also an exercise in simplicity. The most noticeable change is a Momo Tuner 320mm steering wheel. Oil pressure, temperature and boost gauges are attached to the A-pillar via carbon fiber pods. A Skunk2 shift knob is what Clive uses to row his gears. A Broadway rear view mirror finishes off the list of interior modifications.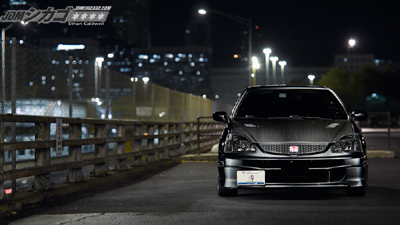 What Clive has created perfectly embodies what the Civic and the import tuning community represents. Clive took a perfectly good Civic Si and transformed it into his Civic Si. The EP3 Civic Si was never as popular as the earlier EM1 Civic Si, but Clive saw this as a bonus as it's unlikely any other car similar to his exists. The peaky, high-revving motor gave way to a fully built supercharged Frakenmotor that pumps out significant power in the lower rev ranges. The suspension was overhauled to be track-capable while retaining streetability. Creature comforts have been kept so that Clive can drive his car all year long. Despite a major transformation from a run of the mill Civic to a car that demonstrates strong capability on and off the track, in our culture, the cars we build are never complete. Even now Clive is plotting what he's going to bring to the table in order to take his Civic to another level.
Clive would like to take this opportunity to thank his parents for finding his car, his sister Lori for providing a roof over his head, his friends Chris, Dave Zeke, and Jose. He would also like to thank his friends at Fizz Autosports, Jason @ Suja1, Eddie @ Blueprint Racing, Eddie @ THMotorsports for their various contributions and assistance. Last but not least, God gets a big shout out too!
-JDM Chicago
-JDM Chicago
Modifications List
Drivetrain
K20A2 block
Mahle 10.5:1 pistons
Blueprint H-beam connecting rods
Stock crank balanced to 10,000 RPM
K24A2 head
Blueprint dual valve springs
Blueprint titanium retainers
Brian Crower Stage 2 FI cams
Polished intake runners
Hondata K-Pro tuned by Suja1
Jackson Racing Supercharger with rotor housing coating by the High Speed Lab.
3.7' Pulley Boys pulley
Injen cold air intake
Comptech race header
DC Sports catback exhaust
Wahlbro 255 fuel pump
AEM Fuel Rail
Precision 650cc injectors
Competition Clutch Stage 4
ACT Ultra-light Flywheel
Suspension
Tein Flex coilovers
DC TI-strut bar
DC underbrace
Skunk2 rear lower control arms
RSX 5 lug swap
Cor Sport adjustable Sway End links
INGALL'S torque strut
Footwork
Volk GTU 17×8 +34
Kumho Ectsa MX tires
Brembo slotted front rotors and pads
Exterior
Honda Factory Performance front lip
Honda Factory Performance wing
Real Type-R sideskirts
VIS Mugen replica CF Hood
RSX Sidemarkers
Painted headlights lights flat black
8k HID bulbs
UK Jack Badge
Honda Factory Performance badges
Interior
Momo Tuner Red stitch 320mm Wheel
NRG quick release
Skunk2 weighted shift knob
Type-R shift boot
Cor Sport aluminum shifter bushing kit
Prosport Oil Pressure, Oil Temp and Boost Gauges
CF Pillar pod and CF passenger pillar
Broadway rear view mirror
Click for High Res:
Comments
comments