Homin Lee and Chris Palomar's Honda S2000s
Words: Ray Wu
Photos:  Ginash George (Synth19 Photo)
Video: Mike Maravilla (Unscene Media Group)
Click here to discuss the pics/feature on the forums!
JDMC x UMG Feature: A Pair of Sebring S2000s from Unscene Media on Vimeo.
It is all too apparent that we have a preference for twins. While we've had our fair share in the past, it would be silly to prematurely compare these two vastly different pairs. The two treasures presented to you today are a complete contrast. Unrestrained aggression gives way to elegant form. Technology and excessiveness is replaced with proven simplicity. Meet Chris and Homin's S2000s, adorned in graceful Sebring Silver. These lithe and svelte roadsters appear to be identical to a casual onlooker. However, a closer inspection yields differences that separate one twin from the other.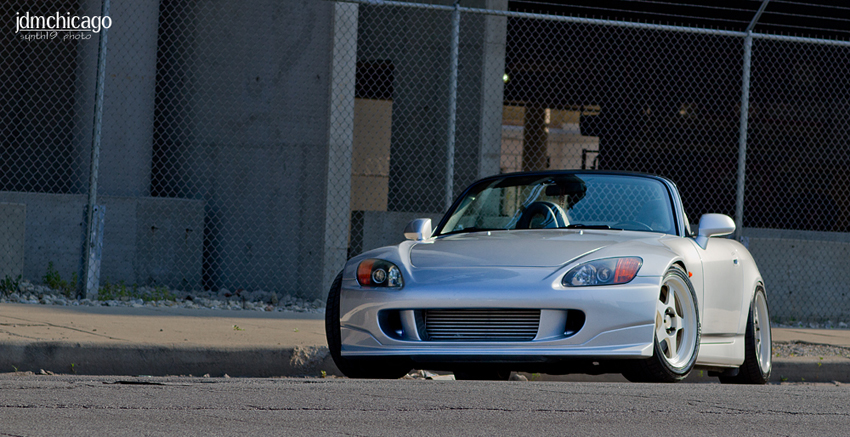 The first difference worth noting is that these cars have different owners. Both Chris and Homin had been Honda guys for years. Chris started off with an Acura Vigor before moving onto an EG project which was sadly stolen. Homin started off with an EJ Civic and moved onto a 01 Integra GSR before slowing it down a bit. Chris was the first to take his car under the knife with Homin only recently starting to work on his car this past winter. Chris has owned his car for 5 years whereas Homin picked his up 2.5 years ago. Both owners have come to known of each other and became friends when their own friends started getting the cars confused.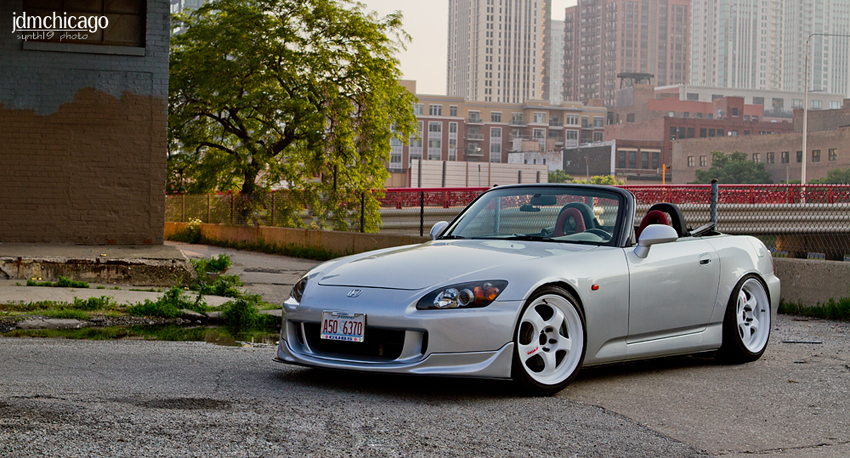 Despite the few years difference between when the cars were purchased and the fact that neither owner knew each other originally, both chose the very classy Sebring Silver. And as the similarities there begin, so they also end. Chris owns a 2003 AP1 whereas Homin owns a 2005 AP2. Chris's revs up to 9000RPM while Homin's redlines at 8400RPM. The beating hearts may be nearly the identical, but each owner decided to change the status quo. Chris decided to go with a turbo setup that revolves around a Turbonetics T3/T4 50 trim with a .63ar exhaust housing. A 38mm Tial wastegate keeps things at a safe boost level and a GReddy RZ blowoff valve releases excess pressure. Chris chose to bolster his setup with an Ultimate Racing oil relocation kit with a separate oil and drain line and a Godspeed intercooler kit. Siemens 650cc injectors dump exactly the precise amount of fuel necessary to keep the engine working efficiently. All this mayhem is controlled through a Hondata K-Pro and produces about 360WHP. While Homin has played with the idea of a supercharger, he went with a more reliable N/A route instead. His car breathes through a PRM intake and spent gases are spit out through a straight pipe. Chris chose the same intake and uses a 2.5" downpipe that feeds into a relatively quiet Apexi WS2 exhaust. Both cars were tuned at Profunction.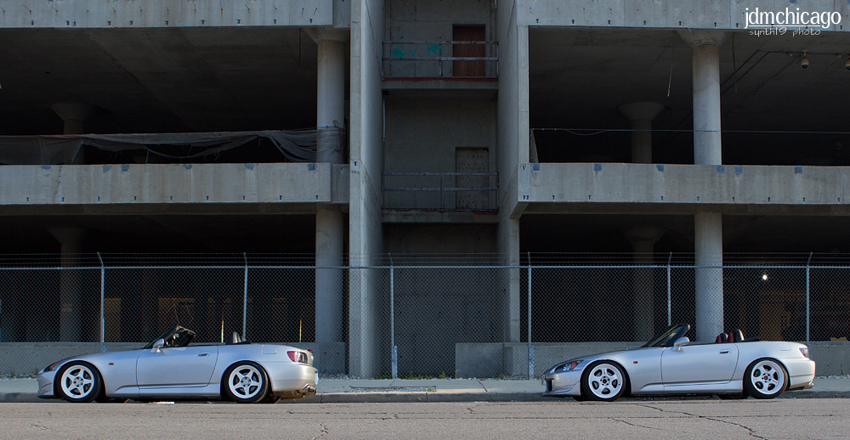 The most noticeable feature that these twins share are the offsetting white shoes. Even then the similarities end. Chris chose a set of 17×9 Desmond Marquis Promada Regamasters, whereas as Homin has a staggered Work Meister S1 setup with 18×9.5 in the rear and 18×8.5 in the front. Both owners chose a +38 offset on their wheels. Looking past the shoes, it's noticeable that both twins have an aggressive hunkered down stance. And despite the major differences underneath the hoods, both run exactly the same suspension setup centered around Stance GR+ coilovers.
Neither owner decided to let excessive gaudiness ruin the close-to-perfect lines on the S2000. Chris picked up 30mm wider Downforce front fenders and the subtle Amuse front bumper that adds functionality without looking out of place. Homin has decided to keep his car simple and only added a front air splitter.
While both twins have progressed quite a bit from how they were originally, their owners are far from done. Chris intends on adding some J's Racing aero, upgrading the brakes and perfecting his turbo setup to up the fun factor in his street machine. Homin currently intends on keeping his car N/A that sees light track duty. Regardless, as the mods begin to get flow, these twins will start to develop further and further apart, separating from each other and specializing in a particular niche within the car world.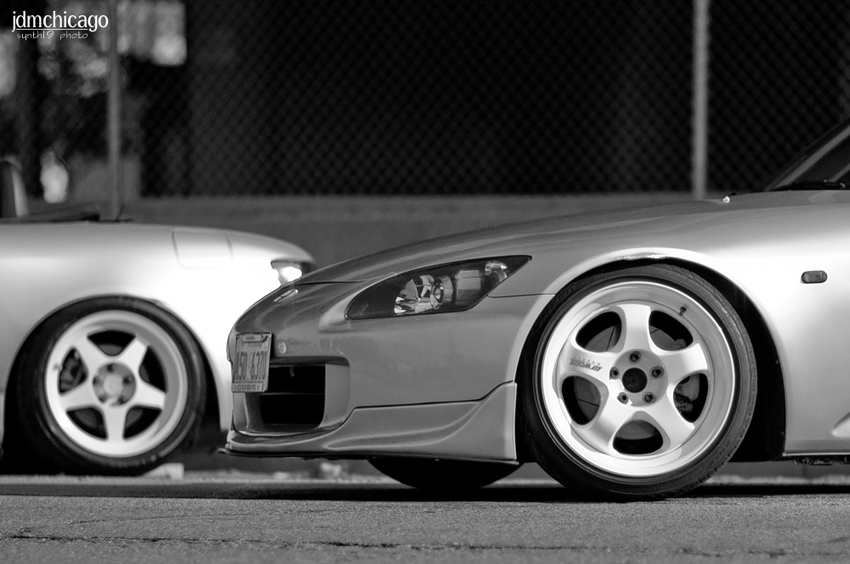 While these two cars have often been mistaken for one another on Chicago's streets, it would be unwise to think that they are the same. Outward appearances notwithstanding, these twins have different and unique personalities defined by the differences in their owners' goals. The twin that belongs to Chris is more comfortable on the streets with a dual-personality powerband that gets ferociously fast in the higher rev ranges. The twin under Homin's care is the younger of the two, but will surely develop into a talented all-rounder with panache for style and speed. Chris would like to thank his brother, parents, girlfriend and all his other friends for giving a helping hand while Homin would to thank his friends from the Risky Devil crew, Junkhouse, T2Films, Togue Factory, SeenIT, THMotorsports and AJ Gillet for all the help they've contributed as well.
-JDM Chicago
High Res Gallery:
Comments
comments