Today we are featuring Phuc's ITR out of Norcal. This set was shot by our good friend Patrick Lauder from Quick Works Photo.  Just a bit of a back story before we go into this build- Several months ago we lost dozens of important automotive publications. Honda Tuning, Modified Magazine, and Import Tuner are just a few that all folded.  This was truly a sad day as the harsh reality of a dying print world hit home. Phuc always had a dream of being published in Honda Tuning, but unfortunately this aspiration never came to fruition.  Instead of wasting the photos, Patrick and I talked about putting these up on JDMC. We may not be as cool as a magazine, but at least we can show Phuc some love in the aftermath of Honda Tuning's demise.
Phuc has always been a "honda guy" and started out with a '91 civic. Although he completed some minor work to the hatch,  the build was cut short when a really good offer came out of the woodwork. On the same day that Phuc sold the car, he found his ITR while surfing online. Within a day, Phuc contacted the previous owner and a deal was struck.
Although the Integra looked fairly clean upon initial inspection, the car was not perfect. The engine of the ITR was originally supercharged. Because of excessive oil burning and other issues, the engine was torn down and rebuilt. The cylinder head received a full race port job with skunk2 internals. Phuc also decided to ditch the supercharger in order to go the NA route. You'll also notice some minor wire-tucking to get the bay a clean look.
Phuc practically has every Mugen item made for the ITR. In addition to the seats; he has also sourced the intake, headers, exhaust, and aero from Mugen.
Subtle OEM details from Honda include double stitching and Type R badges.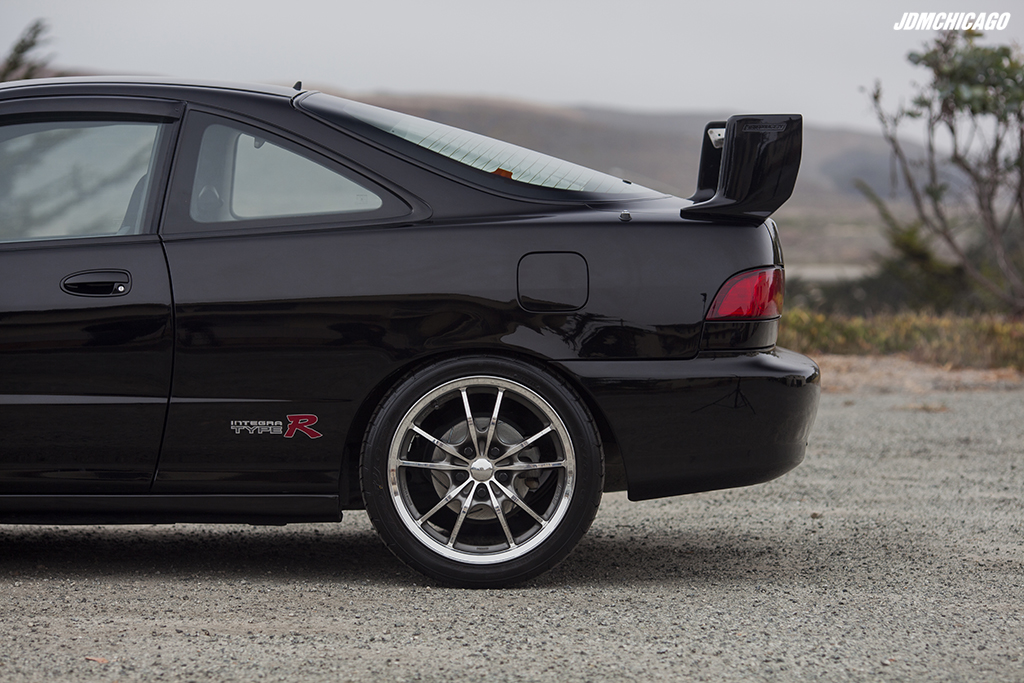 Phuc's favorite modification to his car are his Mugen Mf10 mirror face wheels which he had polished.
It doesn't get any cleaner.
Phuc is fairly done with his Type R. He built the car with purpose- Something reliable and good looking. Big power wasn't that important to Phuc. Most ITR owners will probably agree with Phuc's sentiments. Thanks again Patrick for the photos and glad we could get this car featured!
Modification List:
Exterior: Mugen front bumper ,Mugen GenII spoiler, Polished Mugen Mirror Face MF10 17×7 ,JDM ITR HiD ,Front end conversion, Vis Carbon hood Jdm ITR visors
Suspension & Brakes: JDM TEIN HA, Mugen Front & Rear strut bars ,Mugen Hard bushings, Earls Stainless steel Brake Lines, Skunk2 camber kits, Acura Legend 2 pot brake calipers, PowerSlot F&R rotors
Interior: JDM ITR Rear seats, JDM ITR Steering wheel, JDM ITR Clock and radio ,block off Mugen meter bezel ,Mugen Pedal set, Mugen shift knob, Mugen S1 seats, Mugen seat sliders
Engine: B18C5 fully balanced assembled with JDM ITR Pistons and Acl Bearings CC cyljnder head Race port and polished head ,Skunk2 Stg 2 cams, Skunk2 pro cam gears ,Skunk2 complete valve train, Skunk2 valve cover dress up, Max Bore Ported throttle body, Ported intake manifold, Rc 310cc injectors, B&M fuel regulator & fuel pump, Hondata s200 Mugen header, Mugen cat back, Mugen intake, Mugen fan switch, Mugen thermostat, Mugen radiator cap, Chasebays full wire tuck, Exedy clutch and lightened flywheel, Koyo race radiator, Beatrush cooling panel
Comments
comments